My wife, my little cousin, his wife and I tied a couple on after enjoying our food last night at Craft Beer Market in Toronto. We left the restaurant in great spirits with craft beer fragrances on our breath and smashed potato crumbs in my beard. My golf shirt is soaking as we speak to get the tangy rib barbecue sauce stains loosened.
Comforted by the extensive beer knowledge that seemed to come with every server in the joint, we all felt relaxed and well taken care of for our entire visit.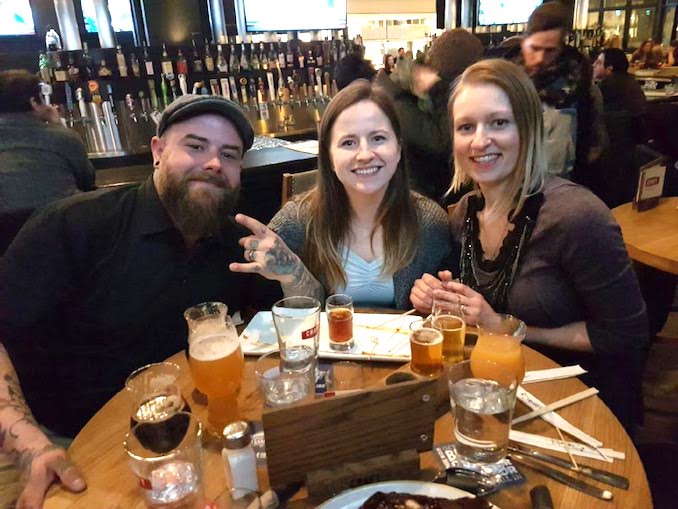 From the organized host, who knew we were coming and enthusiastically showed us to our table immediately, all the way up to the Assistant General Manager Andrew James Gordon, whose beer knowledge is extensive and fervour is top notch, Craft Beer Market is a dominantly-complete force in the Craft Beer World and very much worthy of telling you all about in detail.
We started off with some pulled chicken sliders. Andrew made sure I had a nice gulp of Brewdog Punk IPA before having my first bite. He pegged this old Punk Rocker perfectly. The pairing was memorizing. The tangy spice of the pulled chicken's sauce along side the pungent hoppiness of the Punk IPA turned my salivating mouth into a diversified flavor factory. Homemade buns too, yum!
Sometimes I wish I could eat a sloppy burger instead of going out for sushi and using chopsticks. Luckily for my wife and our guests, I was sloppy-burger-free. However, I still used chopsticks to feed myself some lovely fast food sushi. Bacon-wrapped love pockets of fast food health dilemmas just the right size to fit comfortably into my food locker.
I paired these little fellas with a black cherry lager whose name I have seemed to craftily erase from my memory. We all blame Andrew and the deliciously well-rounded flight of beer that came house-selected for this forgetfulness. Mmm the sweet taste of memory loss.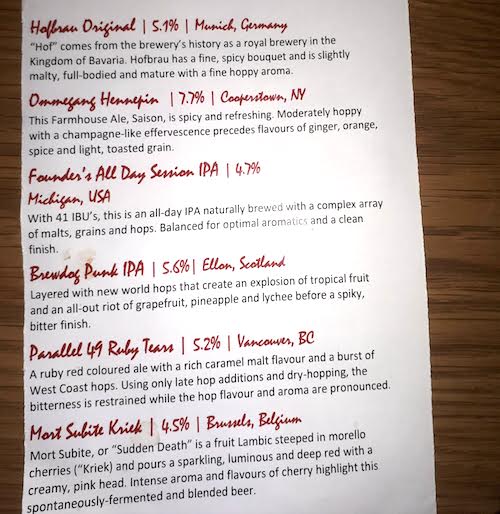 As we sat and enjoyed fluffy small talk with our neighboring tables, we all noticeably slid more snuggly into our seats. Hands moved to faces in acts of slouched-comfort. We had settled into the experience that is Craft Brew Market.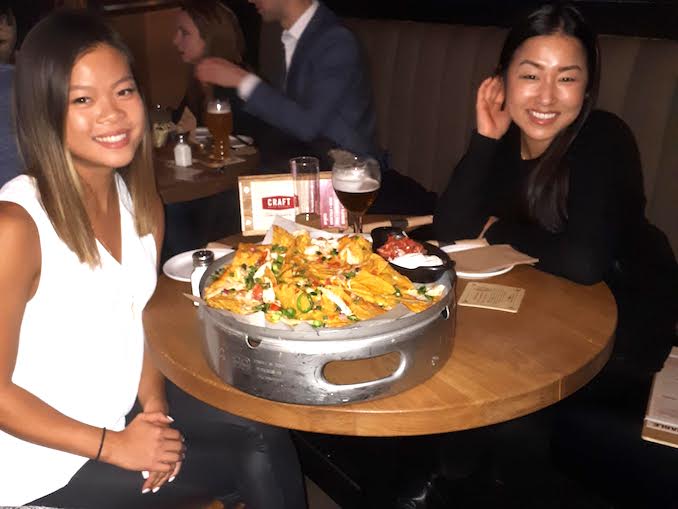 Red Line 'Pistols At Dawn' Latte Stout was the highlight of the night for me. A light brown thin foam is thirst-quenching and uplifting while the dominant coffee notes are fulfilling of your delicacy-cravings in every way. I saved this beer after Andrew told me to drink it with my ribs. I think I may ask Andrew to move in with me and my wife. Wow.
Sometimes ribs can end up tasting processed if done wrong. The marinating and dry rub sessions can grind a meat's connective tissues into semi-digested paste.
When eating meat off of the bone I like to pretend I am a caveman. It's a childhood thing that stuck hard eh. Knowing that it is indeed meat I am tearing off of the bone and not simply unknown food 'paste' falling onto my lap is important for my act of pretending to be more realistic.
The ribs we had last night were just that. Firm enough to need to tear but soft enough to tear away. I wish I could save the sweet southern tangy sauce crusted on my dirty shirt but alas, there are rules within our household. The matching of my caveman-self with these ribs and the latte stout was excellent. I really felt like a caveman for a bit dudes. Thanks!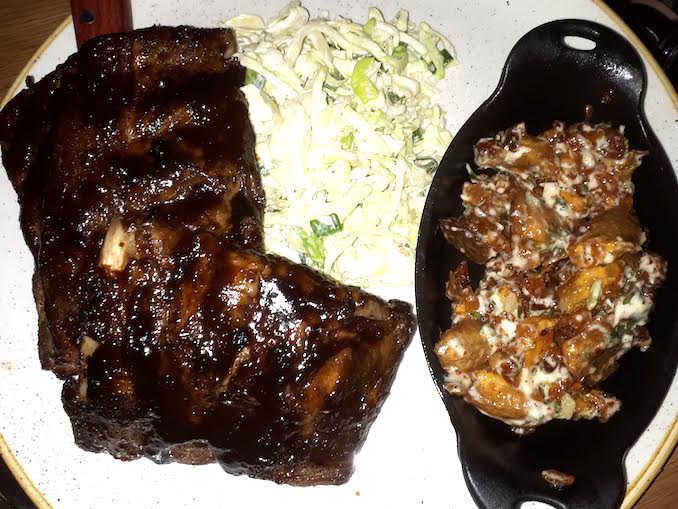 Along side the ribs was a classic coleslaw shred. It was nothing too fancy but it soulfully added to the palette. Some garlic smashed potatoes also came as a side with the ribs.
The par-boiled smashed potatoes that got deep-fried and then dosed with galic aioli before sailing through the river that is my intestines were simply delightful.
Make sure to ask server Jenn C about some fabulous ways to pair Bellwoods Tropical Jelly King Sour, Calobogie Brown Milk Stout or any other of the 140+ beers available on tap with the perfect dish of food to complement. That's right, 140+!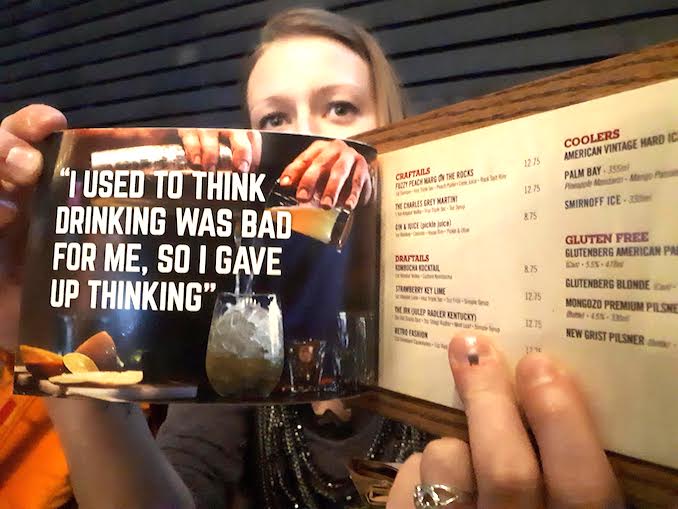 It is hard for me to be critical of a business who is supporting local farmers and brew masters to serve an experience that is bountiful and educational. The food was spot on and scratch. The cooks were all having a blast and that shines quality to me as a chef and a beer lover. If the cooks are happy, typically a place is ran fairly while keeping good food and beer in the foreground of any decision that get's made.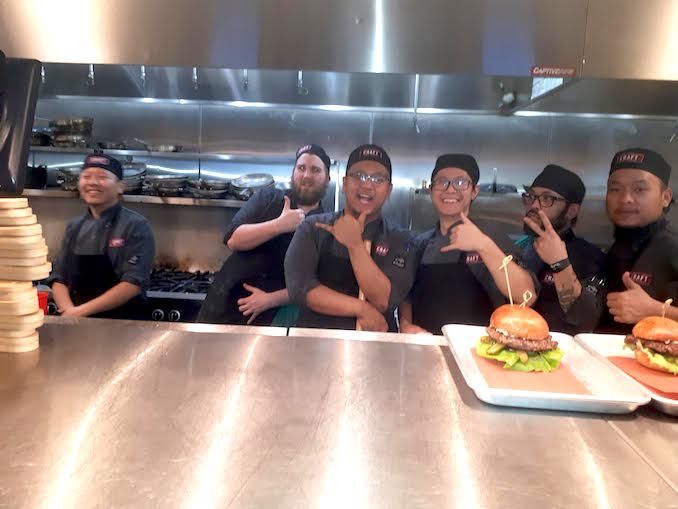 Make sure to check out Craft Beer Market in Toronto next time you are around Adelaide. You won't be disappointed.
Craft Beer Market
Stay Clean, Stay Green.