When we step into Melrose on Adelaide from the swirl of snow and the harsh winter winds howling through downtown, a candlelit glow instantly wraps us in an intimate warm light. It's our first visit to a much needed new cocktail bar, tucked away in a heritage building only steps from Scotiabank theatre and the commuter hustle of Queen and John, where you're constantly surrounded by the corporate glare of chain restaurants.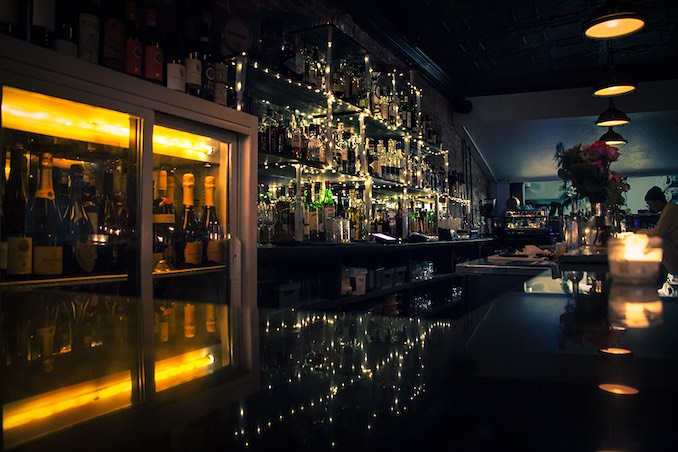 Melrose on Adelaide's atmosphere is dark and inviting, with pleated banquet seats that are a throwback to Hollywood noir. Secluded nooks and crannies wrap around columns and the entrance staircase, giving the single large room the feel of three or four private lounges, perfect for an after work rendezvous or date night without the kids. It's an immediate and welcome escape from the rush and neon of Entertainment district.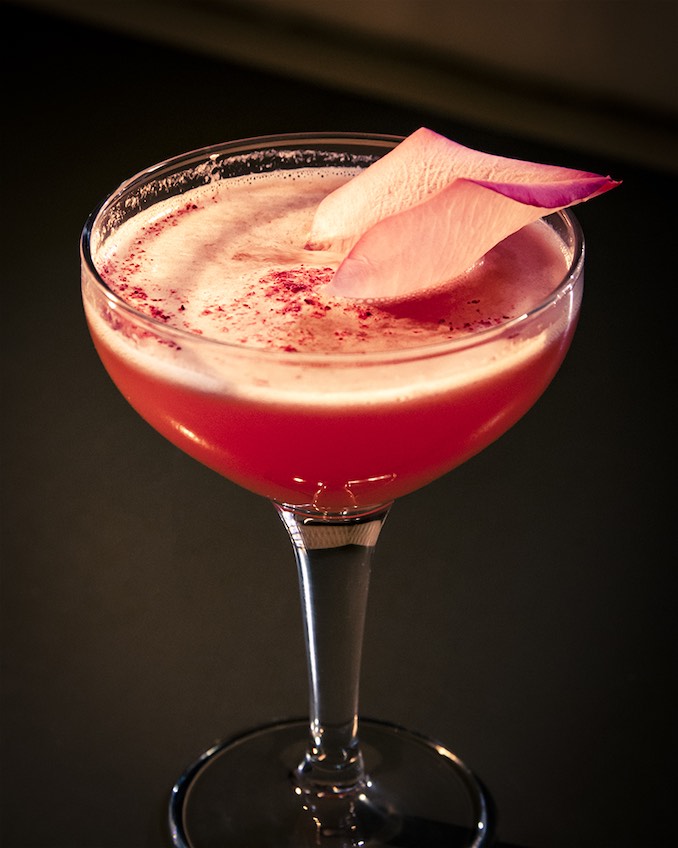 We start with a dozen oysters. I have an impeccable old fashioned with smokey mole bitters, and my friend tries one of their signature drinks, Into The Rose Garden, a nuanced pink cocktail with citrus and floral flavours elegantly layered on Aviation gin and garnished with a rose petal.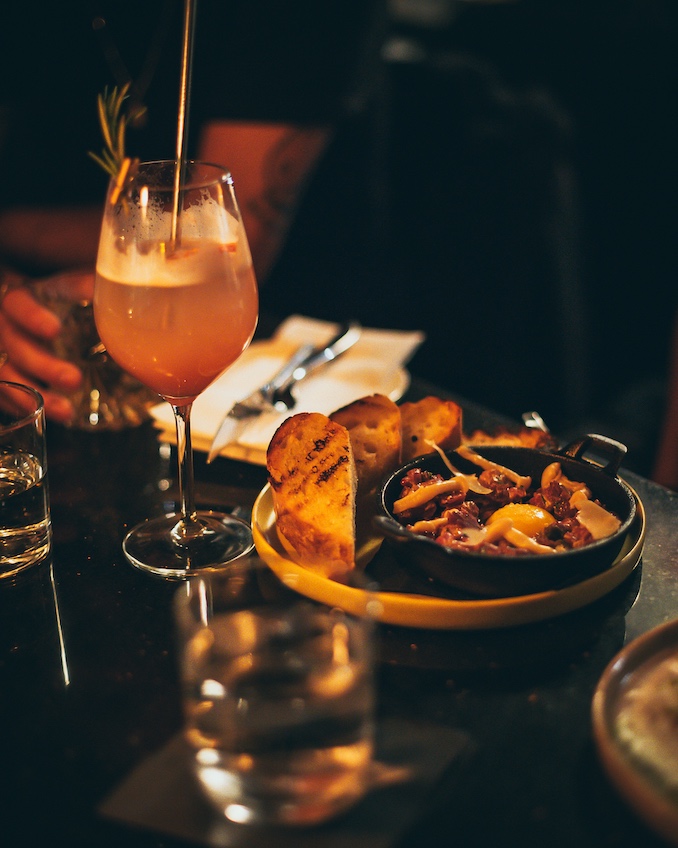 For our next round we order a beef tenderloin tartare, dressed with capers and beautiful beech mushrooms, and a perfectly grilled octopus with blistered tomatoes and fingerling potatoes. Both dishes are surprisingly generous portions for a place where the cocktails are clearly the main draw. My guest has a sparkling aquavit fizz whipped up by the bartender and I try a lavish take on a Negroni Sbagliato with just a taste of Dolin Rouge and a splash of prosecco.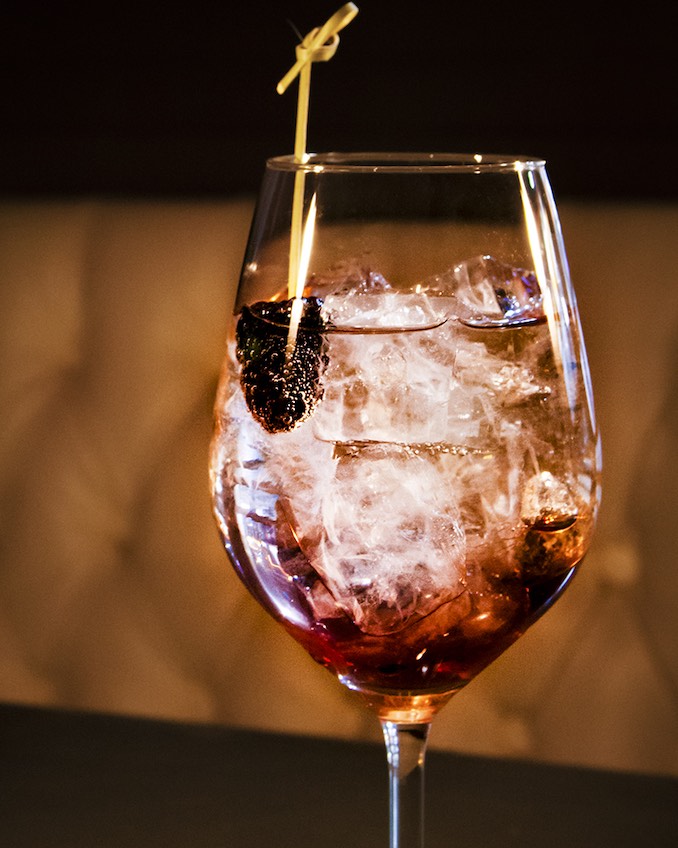 Because we plan on staying a while, and the drinks are as strong as they are enticing, we order the house and vegan charcuterie options to nibble as we sip. A positive sign of the times, the vegan charcuterie is more than an afterthought, and has an array of delectable treats: a rich, garlicky cashew cheese, red pepper hummus, and a spicy vegan chorizo standout. But my favourite bites of the night are as classic as they are luscious: a pecorino cheese heavily laced with the earthy, umami of truffles, and razor-thin slices of bresaola, air-dried and salted beef that's turned a deep, almost auburn shade of purple in the months it hung to cure.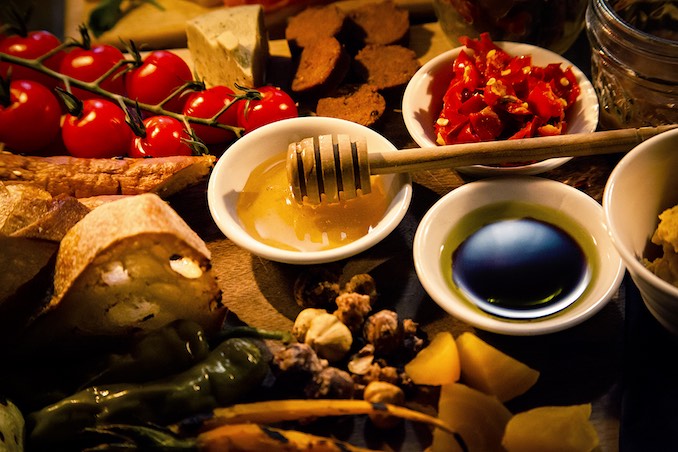 We finish our night with two last drinks, both spiked with caffeine because that makes us feel less indulgent, and because it's the kind of place you want to linger for awhile and immerse yourself in the room. The Spirited Away has a European sensibility, fruity Calvados and Grand Marnier paired with bitter Rinomato Americano, while the Cold Brew Boulevardier matches the unlikely combination of Wild Turkey 101 with my personal favourite, Campari, and house-made cold brew for a truly unique taste of coffee and cranberry bitterness matched with the cloying sweetness of a premium American bourbon.
Overall, Melrose on Adelaide shows us a fantastic time. Rather than going deaf at a superhero movie across the street, we're glad we've sunk into a romantic, boozy escape from winter in the city, watching the candlelights flicker in our cocktails.