Homegrown Business: Erika Mozes, co-founder of Hyr, has created the new "Bumble" that connects employers and workers in this gig economy.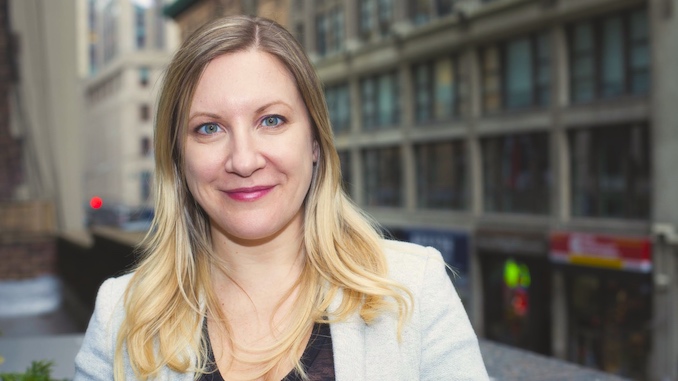 Erika Mozes is living proof that you can turn a brilliant idea into a successful business with a little hustle. Her "uh huh" moment came one afternoon when she and her partner were at Bier Markt in downtown Toronto. The patio, that was supposed to be closed, was filled with guests due to unexpected warm temperatures leaving servers scrambling and apologetic for slower than usual service. Call it her eureka moment, when she thought 'wouldn't it be great if this restaurant could find the help they need in an instant?'
Fast forward to February 2017, and Erika and her partner launched Hyr, an app that instantly connects businesses in the hospitality and retail industry to hourly waged workers within minutes. Hyr now connects over 13,000 workers and over 250 businesses in markets such as Toronto, New York, LA, and is rapidly expanding.
***
On building a successful business.
I started my career as a political staffer for the Liberal Government where I literally carried backpacks before eventually moving into the issues management department. From there, I joined McDonalds where I worked in Public Affairs. In this role, I became aware of the challenges that franchisee owners were having finding hourly waged workers to staff their stores.
My partner and I decided to create the solution with Hyr, a mobile platform that connects traditional businesses with professionals when they need each other. For the first six months I worked full time at McDonalds, and on weekends and weeknights I would work on the business. The Hyr brand is built to attract workers who want to earn a bit of money, elevate their lifestyle and pick up a few extra shifts each month.
When we first launched, we focused exclusively on the hospitality industry posting front of house positions, such as bartender, host and server roles. As we grew, we eventually expanded the platform to include back of house jobs, such as kitchen roles. This past summer we incorporated the retail industry onto the platform.
We now employ nine employees between Toronto and New York, and we work with recognizable brands, such as The Thompson Hotel, Bisha, Canadian Tire, Hemingway's and Carbon Bar, to name a few.
On building a brand where workers want to share their story.
I have built a brand where our workers like to share their success stories. One woman in particular picked up one week of shifts at Hero Certified Burgers before the holidays because she couldn't afford to buy her daughter the gift she wanted. At the end of the week, she not only was able to afford to buy the holiday gift for her daughter, she was also offered a full time job.
On the advice she would give other entrepreneurs.
It's important for entrepreneurs to know that having a good idea is one thing – but it all comes down to execution. I would encourage entrepreneurs to talk about their ideas with others, rather than keep their business idea to themselves. When we first started Hyr, we talked to both customers and businesses about our idea to see if it made sense.
From these initial conversations, we learned that there was a need in the market. We were even able to secure investment from some restaurants to build our company into what it is today.