The key to great ramen noodles is the broth, and Zac's recipe is rich in umami flavours. Add hearty vegetables, and it's the perfect soup for winter.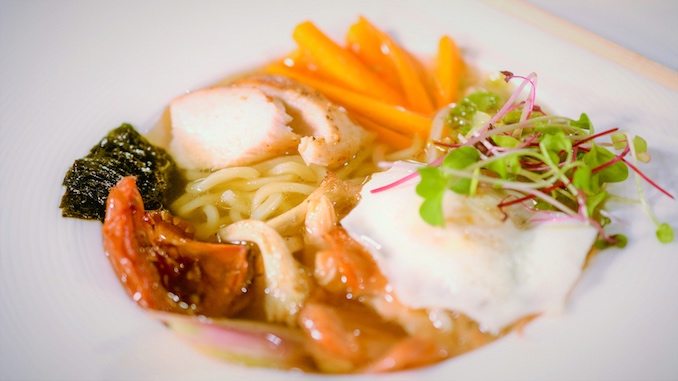 Zac Kara's Ramen Noodles Soup
Serves 2
Total Time: 90 min
Ingredients
Chicken Broth
-4 chicken drumsticks
-5 cups water
-1 tbsp. sesame oil
-1 tbsp. soya sauce
-½ tsp. balsamic vinegar
Garnish
-2 tomatoes, quartered
-Olive oil
-2 boneless, skinless chicken breasts
-Paprika, to taste
-Salt and pepper, to taste
-½ tsp. butter
-3 sprigs thyme
-6 shiitake mushrooms, thinly sliced
-3 green onions, thinly sliced
-1 ¼ cup bean sprouts
-3 carrots, julienned 
-1 package ramen noodles
-2 quail eggs
-1 watermelon radish, thinly sliced
-1 package seaweed, cut into small squares
-1 package microgreens
Directions
1. For the broth, add sesame oil, soya sauce, balsamic vinegar and drumsticks into a large pot, and fill with five cups of water or until the water fully covers the chicken. Place on medium heat and cook for 40 minutes or until chicken is fully cooked.
2. Place tomatoes on a sheet tray and drizzle with oil and a pinch of salt and pepper. Cook in oven preheated to 400 degrees fahrenheit until tomatoes have shrunk and are slightly crispy, about 20-25 minutes.
3. Heat a medium sized saute pan on medium high heat and add a drizzle of olive oil. Season chicken with salt, pepper and paprika and add to hot pan. Cook on both sides until golden brown, about 6 minutes per side. 
4. Turn off the heat and add butter and thyme to pan and baste over the chicken. Once the butter has browned, remove chicken from the pan and place in a glass baking dish. Place in 400 degree oven for five minutes to completely cook through. Remove from oven and rest for 10 minutes before cutting into bite sized pieces.
5. Heat a pan over medium heat lightly saute carrots with olive oil and salt and pepper. Once they are slightly softened, add in mushrooms, green onion and bean sprouts and saute about 2 minutes.
6. Heat oil over medium heat and fry quail eggs. After 20 seconds, flip the egg and continue to cooks for another 15 seconds.
7. Prepare ramen noodles using package instructions.
8. Divide ramen noodles into two bowls and ladle with broth. Top with carrots, mushrooms, bean sprouts, quail egg, chicken breast, radish, and micro-greens and serve.