From July 2020 to March 2021 VIBE Arts ran the NExT (Network and Explore Together) black youth mentorship program. The program consisted of 12 artists who went through professional development workshops, networking opportunities, and 1 on 1 mentorship sessions with a roster of black artists, creatives and professionals.
On March 25th NExT debuted their exhibition launch for the end of the program. The virtual exhibition was held at the Saint Lawrence Centre for the Arts, showcasing a wide variety of artworks and elements of art forms such as music, photography, film, poetry, dance, painting on canvas, writing, and graphic design. Young artists got to present their work, explain their creative process, and spread their name to viewers who tuned in from all across the world from locations as far as the UK, Ireland, Los Angeles, and Bermuda.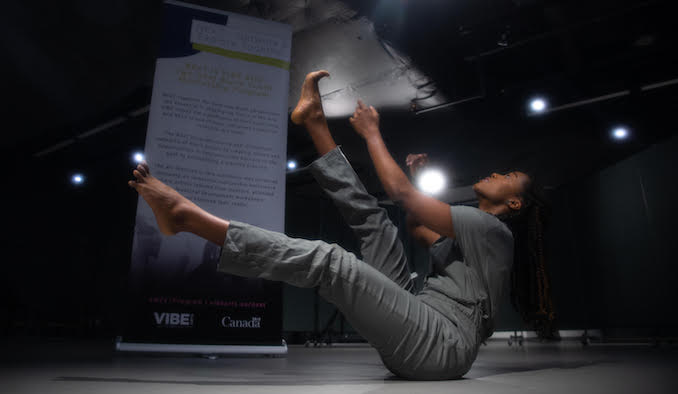 Through the NExT program, VIBE aims to provide an opportunity for youth black artists to build a stronger network within the art community. The NExT program creates spaces through the lens of the black lived experience, providing youth with black mentors who are highly skilled professionals in their creative fields, such as art curators, directors and photographers. They also strive to create an opportunity for artists to create work, in order to build their portfolios and experiences as artists. "We aim to provide free programs to under resourced communities, because they need it the most", said VIBE artistic director Onika Powell.
The main focus of the NExT program is to help youth navigate not just the arts and creative sector, but the world as a black creative. "There are so many barriers in place, that it's not set up for them to succeed but more to fail so we want to make sure we're equipping them and we're giving them the knowledge so they know how to navigate creative spaces", said Onika. By participating in the program, many mentees have gained long lasting relationships with mentors as well as career-long guidance. While sessions between mentors and mentees were scheduled for once every other month, many pairings developed an organic relationship and thus went above and beyond to communicate frequently. Through these relationships, NExT is building a network as strong as possible for black youth in the arts sector.
The experience also works to build confidence, as Onika said, "we are really trying to give them the support and let them know 'you are able to succeed, you are worthy of everything that you dream of and want to work hard towards and just supporting them on that journey. The confidence in each and everyone of them has grown immensely since the program started in the beginning of July".
Art and creativity plays a crucial role in youth's lives and development, and for youth creatives to be able to create work at a high level during one of the most unprecedented times for our world was more important than ever. "For the black community art is part of our history, it shows we keep our history and pass along our knowledge and information", Onika said. "In the black community we express our heritage and our lineage through so many avenues in so many art forms, through paint, dance, spoken word, fashion, and a lot of that has been displayed in our exhibit". For many, art can also provide a bright spot among chaos. Many NExT participants expressed that going through this process was very therapeutic during a time of civil unrest when it was difficult to create.
To visit the virtual exhibit visit www.tolive.com/next, online until May 11, 2021.