For many people, the idea of planning a dinner party can bring on stress and miss the point altogether: enjoying time with guests. From the owners of leading Canadian event management and catering company comes Sebastien and Sheila Centner's first book, Eatertainment – a beautifully photographed, all-in-one entertaining guidebook to make entertaining at home as simple as can be.
Sharing their decades of expertise, Seb and Sheila provide readers with practical tips and tricks for entertaining regardless of prep time, availability or budget, with instructions on everything from setting the table, to picking flowers for a center-piece, to even planning an easy loot bag for guests to take home. Featuring more than 140 recipes, 12 different types of events and 3 planning difficulty levels (Simple Entertaining, A Little More Effort and Pulling Out All The Stops), Eatertainment is a thoughtfully-assembled guidebook for anyone looking to host a stress-free gathering – no matter what kind of event you throw.
Sebastien and Sheila shared their tasty recipe for Cornish Hen!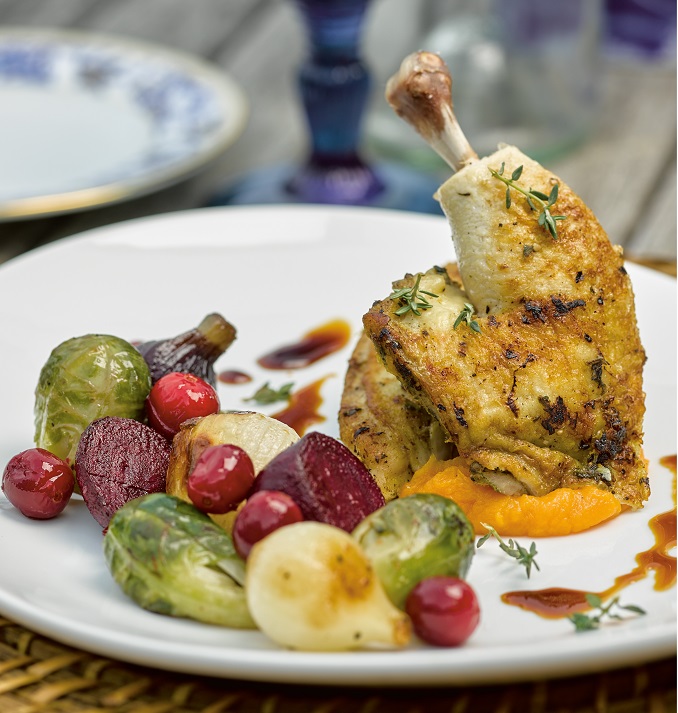 Cornish Hen
Yield: serves 6–8
Prep time: 15 minutes
Cook time: 30–45 minutes
Ingredients:
5 garlic cloves, minced
21⁄2 tsp sweet paprika
5 tsp herbes de Provence
1/2 tsp sea salt
21⁄2 tsp black pepper
21⁄2 Tbsp olive oil
4 Cornish hens
1 Tbsp grated lemon zest
1 Tbsp flat-leaf parsley, finely chopped
Directions:
1. Preheat the oven to 350°F.
2. In a small bowl, combine the garlic, paprika, herbes de Provence, salt, pepper, and oil to form a paste. Set aside.
3. Pat dry the Cornish hens with paper towels. Cut them along the breast and backbone to halve them—keep in mind, this is different than spatchcocking. There are some excellent videos on YouTube on how to do this.
4. Rub the hens with the seasoning paste.
5. Heat a large cast iron pan on the stove over high heat. Sear the Cornish hens, skin side down, until the skin is crisp and releases easily from the pan, 3–4 minutes.
6. Transfer the hens to a large baking sheet or dish and let cool enough to handle. Push the drumstick meat down the bone by about 1 inch. (When you're serving these with the sweet potato mash, this will give the fancy effect of showing the bone sticking straight up on the plate).
7. Cook the Cornish hens until their internal temperature is at least 160°F, but not more than 180°F. The timing can range from 25 to 40 minutes, depending on the size of the hens, so use a meat thermometer to be sure.
8. Remove the hens from the oven and sprinkle with the lemon zest and chopped parsley. Reserve the cooking juices.