For our latest Charitable Choices we have chatted with the folks over at Haven Toronto about the work they do serving Toronto's elderly men who have been impacted by poverty, homelessness and social isolation.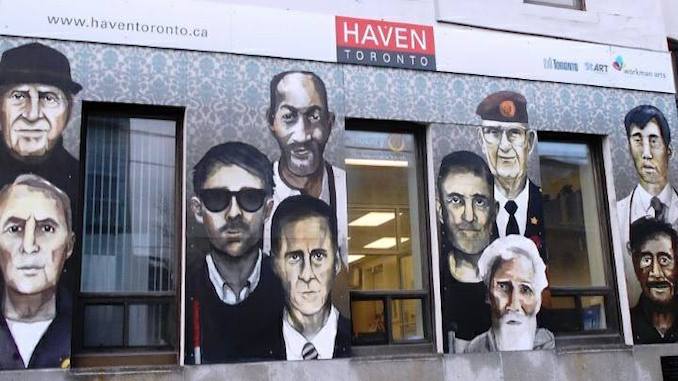 Describe your charity in a few sentences.
The only facility of its kind in Canada, Haven Toronto is a drop-in centre dedicated to serving elder men age 50+ who have been impacted by poverty, homelessness and social isolation.
Haven Toronto is a sanctuary that provides crisis and housing support, healthy meals 3 times daily, onsite nurses and support for basic needs (including clothing, computers, internet and laundry).
Open 365 days a year, Haven Toronto has thousands of clients and sees, on average, 400 clients a day.
What problem does it aim to solve?
On any night, there are over 8000 people who are living on Toronto streets and in city shelters. Seventy-five percent are men. Thirty percent are over the age of fifty.
When it comes to homelessness in Toronto, elder men, age 50+, are over-represented and under-served. Haven Toronto provides these clients with a safe space where they can form and cultivate friendships and become part of a community.
In addition to improving the quality of life for elder homeless men, Haven Toronto promotes awareness and advocacy.
When did it start?
Haven Toronto first opened 85 years ago, in 1933, under the name the Good Neighbours' Club. The centre was founded by May Birchard, a former city councilor and trustee.
What made you/founder want to get involved?
May Birchard, a social activist, was disturbed to see veterans of the first world war waiting in line at soup kitchens. Recognizing that veterans deserved much better, Birchard opened a centre in Winnipeg and in Toronto.
The Toronto centre continues to operate today with services supporting the broader group of men age 50 and older. The average age of new clients is 57. Most clients have come into homelessness late in life, the result of a loss of employment, workplace injury, change to family status including divorce and death, and health issues.
What was the situation like when you started?
Haven Toronto moved to its current location, 170 Jarvis Street at Shuter, in April of 1966. In 1972, a report indicated that there were 1,000 people who were homeless in Toronto, with a city population of 713,000.
How has it changed since?
Today, the number of people who are homeless is over 8 times greater than in 1972. As a percentage of the overall population, the number of people who are homeless has doubled in that same time.
Most alarming are the stats specific to the elder people, the fastest growing segment of the homeless population. The number of homeless seniors doubled in 4 years, from 2009 to 2013.
A report with updated numbers regarding homelessness in Toronto is expected in November of this year.
What more needs to be done?
The issues around poverty and homelessness are broad in scope; from the collection of data, to the development of policies and the implementation of programs.
On an individual basis, more needs and can be done to address the stereotypes of homelessness and changing public perceptions of the homelessness. One such example, that homelessness is a choice.
A City of Toronto study shows that 93 percent of people who are homeless in Toronto wish they had a place to call their own. But housing that is affordable is hard to come by. The average individual in Toronto is spending over 30 percent of their income on housing. The average one bedroom apartment in downtown Toronto rents for over 2 thousand dollars a month. And the wait list for rent-geared-to-income housing is over 8 years.
How can our readers help?
There are three impactful ways readers can make a difference in the lives of those less fortunate.
One, donate their time volunteering in the clothing room and in the kitchen and dining room. Two, donate items including books, new and used clothing, and hygiene products like toothpaste, toothbrushes, soap and shampoo. And three, donate money to support vital programs and services. More information is available on our website.
Finally, readers are encouraged to follow Haven Toronto on social media, to share our stories of homelessness and hope, and to subscribe to our monthly digital magazine.
Do you have any events coming up?
Haven Toronto hosts an annual event entitled 'Hurts To Laugh', two days of comedy featuring local and national talent. Last December's event included appearances by Daryn Jones (from the Rick Mercer Report and MTV Live), Miguel Rivas (from The Beaverton), the improv troupe, Notorious, and Jay Michaels of NEWSTALK 1010. In early September, Haven Toronto will announce details of the December 2018 event. Proceeds support programs at Haven Toronto.
Where can we follow you?
More information is available on our website and the centre can be followed on Facebook, Instagram and Twitter.