Toronto has become a hotspot for international restaurant brands. The latest coming from Japan is AFURI ramen + dumpling. Named after the legendary Mount Afuri it is considered the father of Mount Fuji. AFURI takes the beloved ramen noodle bowl to the next level by not only making their own noodles and broth daily in-house but uses practices that are steeped in honour and tradition. Authenticity and high standard of quality is in every dish and every bowl.
Mount Afuri is known for its pristine waters and considered a sacred mountain where harvested locally farmed ingredients are revered. The first AFURI Ramen kitchen was located at the base of the mountain. Their reputation quickly grew with local and international ramenheads.  David Chang (Momofuku) praised AFURI for their innovative take on the popular dish.
In 2016, AFURI opened their first location outside of Japan and the first AFURI ramen + dumpling the following year. Today, they have 30 locations throughout Asia, North America and Europe. On July 2, AFRURI ramen + dumpling opened its first location in Toronto. Two other locations in Canada include Vancouver and Richmond, BC.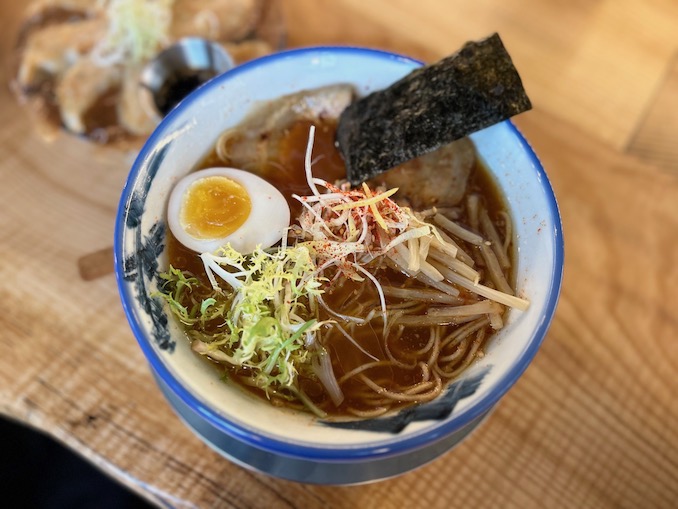 What makes Afuri so special?
Firstly, the noodles and the broth are made fresh daily. Noodles are handcrafted methodically and meticulously using a proprietary mix of flours including ones from Japan. This, they tell us, gives the noodles their uniqueness in taste. Noodles are thin-cut, then boiled, shaken and finally folded carefully into the broth. Part of what is also unique is the brand's belief in transparency. They want their customers to see how each bowl of noodles is created. The prep kitchen and noodle room are in full view. And the broth pot is the biggest we've ever seen!
When you take a look at AFURI's menu, you'll notice that yuzu plays an important part to the flavour profile on their signature dishes. Considered the crowning glory of Japanese citrus fruits, yuzu sets this ramen shop apart from the others. It adds a light hint of delicious freshness to the bowl of soup noodles.  Their yuzu fruit is imported from traditional farmers in Kochi, Japan.
Their chashu (pork) is hand-rolled and slow-cooked in house. Then, it's thick-sliced and grilled to order. Then, their chi-yu (chicken oil) is infused with aromatics is an integral part of their chicken broth.
Also, the noodle bowls were made specifically for Afuri. Each one is hand-painted by artisans with their signature blue and white colours. Each one depicts Mount Afuri through delicate brush strokes.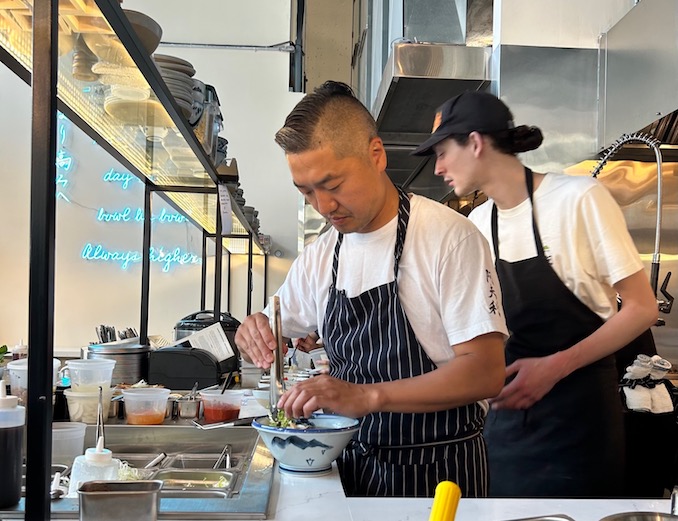 So, what should you order?
Generally, I tell people to order the restaurant's signature dish. It's always a great place to start. Yuzu Shio Ramen is what Afuri began with. We learned they created this for health-conscious diners in mind and without any artificial ingredients — no colouring agents, artificial preservatives, or synthetic flavour enhancers.
If you're ready to jump to something more, then go for the Yuzu Ratan. The menu says it's a bit spicy but I didn't find it spicy at all. But my tolerance for spice is good. If you haven't tried tsukemen (dipping noodles) here's your chance. You can order it cold or warm. The Yuzu-Tsuyu is what we had.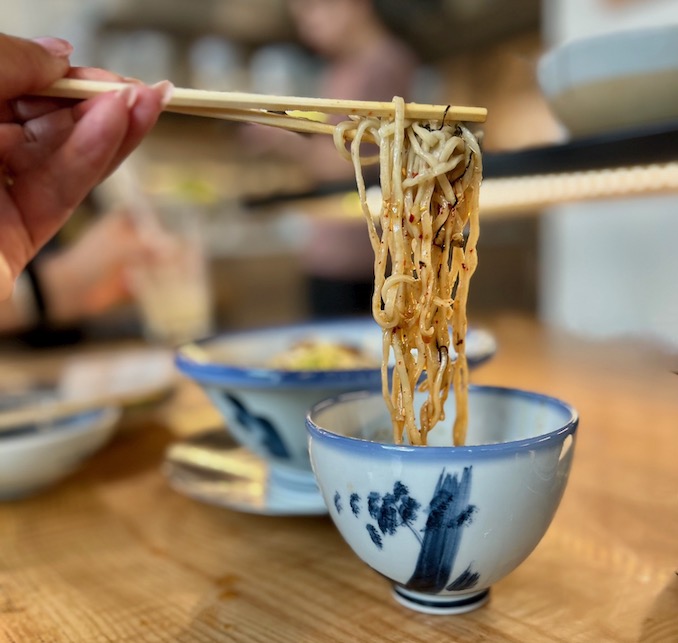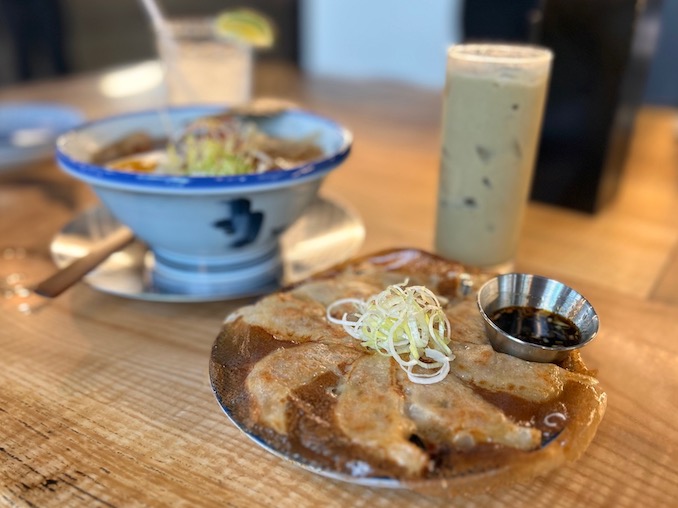 Also, be sure to try their Winged Buta Gyoza. We were told to be sure to enjoy that the moment it lands on your table to experience the slight crunch before sinking into the pillowy dumpling.
During the summer, the watermelon salad is refreshing and a great palate cleanser. Chicken Karaage fans will be excited for their version as well but you might want to try the Ikageso (squid) karaage as well as the Takoyaki octopus balls.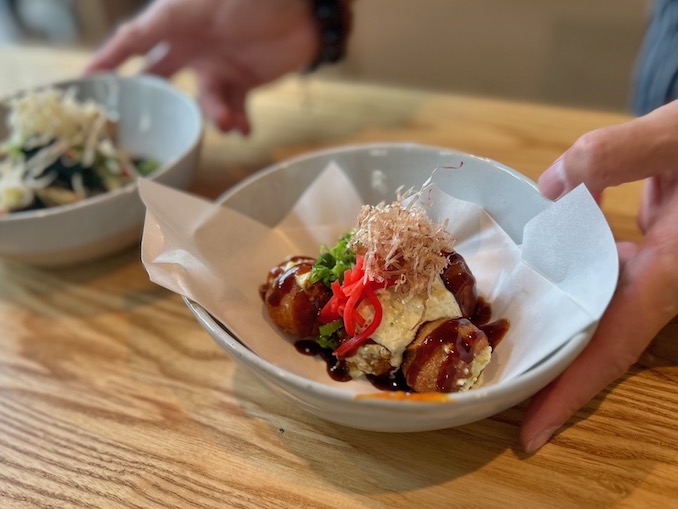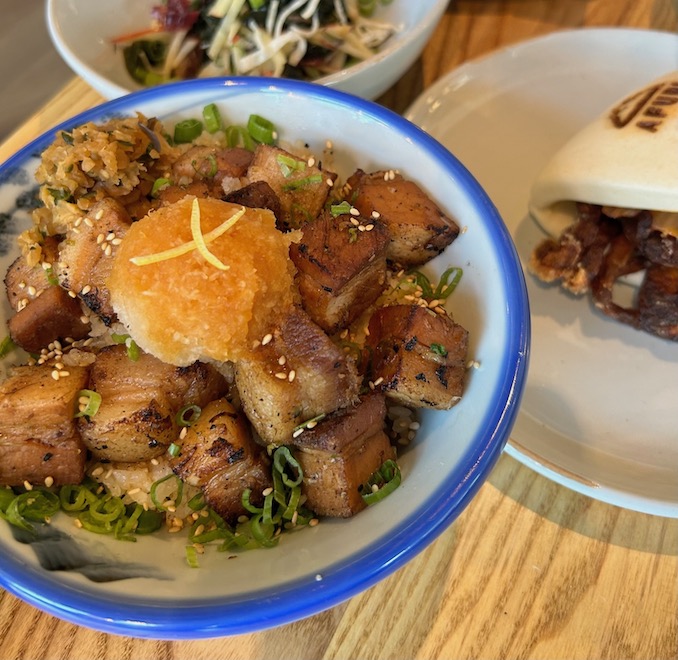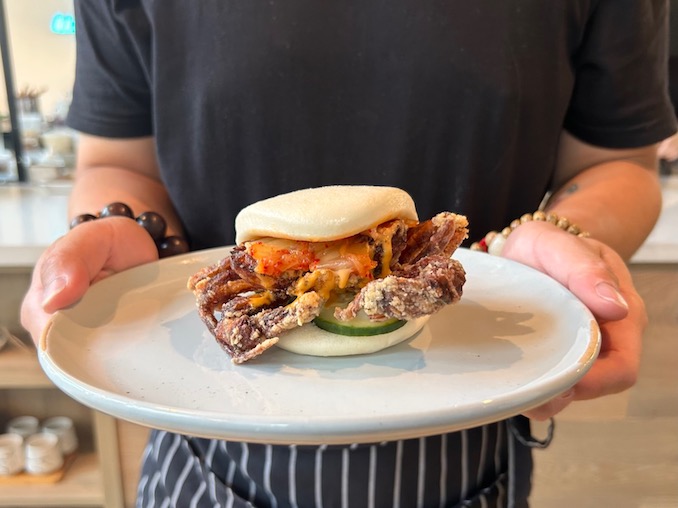 Their in-house drinks are special even the non-alcoholic ones. We LOVED their house made Ginger soda and Suika Soda. But they do have an extensive beer and cocktail program.
AFURI ramen + dumpling is located at 411 Church Street in Toronto.