I admit that I'm obsessed with skin care. As a teen I carelessly spent endless days on the beach boasting about how much I didn't "need" sunscreen because I was naturally blessed with fast tanning, sun-kissed skin. I didn't burn. I just radiated. At least that's what I thought. Then I grew up and my skin revealed the long-term sun damage that were layers deep. I've spent many years now trying to repair the damage and trying to prevent it from getting worse. I give far more attention to taking real care of myself than ever before. Facials use to be something for pampering at the spa but today, facials are much more than a treat. There are facials with results that last and the Hydrafacial has been one that has received a lot of buzz from beauty industry insiders and consumers alike. So, when we heard that Canadian skin care company Caryl Baker Visage began to offer them we needed to find out more and try it for ourselves. Conveniently located at CF Eaton Centre it was easy enough to head over there during a lunch break.
What's all the hype? The Hydrafacial uses specially designed machinery that costs a fortune for a salon or spa to have as part of their services.  It's considered a favourite amongst celebrities and regular folks for it's immediate and long term results. At this location there are two treatment rooms to cater to the downtown crowd. There's another one located in the underground PATH at First Canadian Place. Both are popular locations.
Nicole Stiletto, the company's educator tells us the Hydrafacial is gaining popularity here. Why? She tells us it's an invigorating treatment that offers instant noticeable results with no downtime or irritation. People are learning that it's available and are curious to try, or they've had the treatment in the US and are convinced by the results and are seeking the treatment out here.
The HydraFacial into a category of its own. "With its unique serum delivery system, the multi-step treatment cleanses and extracts to get rid of impurities and dead skin cells while at the same time quenching skin with vital nutrients like antioxidants, peptides and hyaluronic acid," said Stiletto. "It's the combination of all facial treatments together in one!"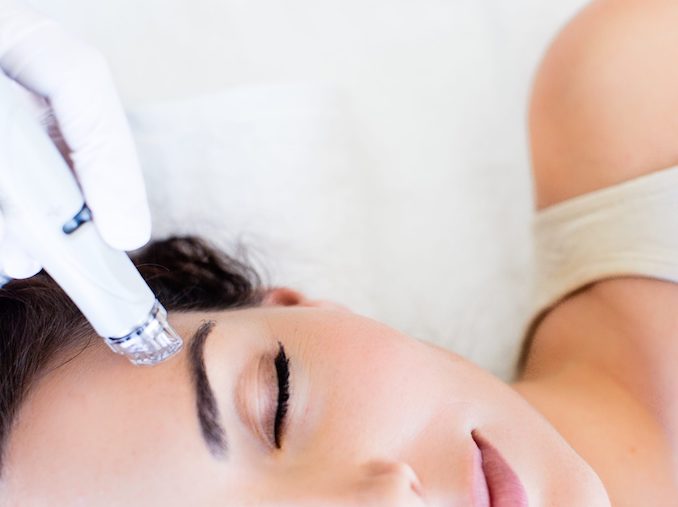 Why this is so different and gaining so much popularity?
NS: It's a medical-grade hydra-dermabrasion device that carries out a patented three-part regimen — cleansing, exfoliating, and then infusing skin with intensive serums. Rather than blasting the skin with grit, as traditional dermabrasion does, this gentler approach vacuums out pores while simultaneously pushing in potent actives, which moisturize, brighten, plump, and protect. The machine's hand piece holds patented "spiralized" treatment tips equipped with "vortex technology" — the whirling force that both gives and takes away. Beyond the standard three steps, there are targeted add on, or added boosters which take aim at unique skin concerns, like brown spots or nagging lines.
Step 1: Cleanse + Peel: Uncover a new layer of skin with gentle exfoliation and relaxing resurfacing,
Step 2: Extract + Hydrate: Remove debris from pores with painless suction. Nourish with intense moisturizers that quench skin.
Step 3: Fuse + Protect: Saturate the skin's surface with antioxidants and peptides to maximize your glow.
What makes it different here is that the line Rawceuticals is also incorporated with this treatment. Why it's a good one and it's exclusivity to CB?
NS: The HydraFacial MD skin care line is what is used with this treatment. I used the Blend moisturizer from the Rawceuticals Collection as a finishing product only. Finishing products can be customized to each individual client based on their skin needs. The Blend is a fantastic option because of the cold pressed technology used in the formula of ingredients making it a highly concentrated antioxidant defence against the environment, pollution, bacteria and dehydration.
Why is it called a facial? Having tried it for ourselves, we think it's much more – it can address so many targeted skin concerns. Tell us more?
NS: HydraFacial hits the sweet spot — it's more than a basic spa facial, but less than a laser treatment. Making it a rare unicorn among no-downtime offerings, its payoff is immediately apparent: It quickly improves texture and tone, and even help conditions like acne, without any residual irritation or peeling. The unparalleled radiance-imparting properties make it so highly requested before red-carpet events and weddings — it really delivers that extra glow.
There are three levels on this facial Signature, Deluxe and Platinum. Tell us the difference?
SIGNATAURE:
Step 1: Cleanse + Peel: Uncover a new layer of skin with gentle exfoliation and relaxing resurfacing,
Step 2: Extract + Hydrate: Remove debris from pores with painless suction. Nourish with intense moisturizers that quench skin.
Step 3: Fuse + Protect: Saturate the skin's surface with antioxidants and peptides to maximize your glow.
DELUXE:
Begins with the Signature HydraFacial and its complimented with a customized booster:
Growth Factor Boost – Minimizes the appearance of fine lines and wrinkles to restore skin health and vitality.
Dermabuilder Boost – Minimizes signs of aging and recharges skin with a patented combination of peptides.
Britenol Boost – Minimizes the appearance of dark spots and sunspots for an even complexion.
For the Deluxe AND Platinum versions: Each booster is complimented by LED light therapy. There are two therapies to choose from, Red to stimulate a healing response in the skin and promote collagen production or Blue to help kill P.Acne bacteria that contributes to breakouts and congestion.
Both lights help to induce product penetration allowing the booster serum to penetrate into the deepest layers of skin!
PLATINUM:
Begins with Lympathic Drainage over the entire face (with glass cups) to evacuate toxins and eliminate build-up in the skin tissue that may be contributing to certain skin conditions. This also allows the skin to better receive the treatment and is also relaxing!
This one continues with the Signature HydraFacial that is complimented with a customized booster — same options as above! (The Britenol Boost was what I chose for you!)
Total booster treatment time is 12 minutes and can be a single light or a combination of Red and Blue to cater to the client's specific needs.
Currently available at Eaton Centre location and St. Catherines but it will be rolling out to other locations in the near future? 
At the moment, we only offer Hydrafacial at our Toronto – Eaton Centre and Pen Centre in St. Catherine's location. We're quickly learning and seeing the traction of the magical Hydrafacial service and what it can do! In doing so we will soon be offering Hydrafacial at our Upper Canada Mall, Limeridge, and Devonshire Mall.
My thoughts:
The treatment is relatively quick compared to other spa facial treatments. It takes on average about 30 minutes. So, it's perfect to sneak away from the office if you're in the downtown area. There is no recovery or down time so you can confidently get back to your desk in a blink of an eye (you can ask the skincare specialist to also touch up your make up there too). This may sound strange but there is some satisfaction knowing that your pores are getting gently vacuumed. I much prefer this over the traditional extraction methods of squeezing and possibly causing more damage to the skin. While the wand is sucking out all the bad stuff, it's also hydrating and nourishing leaving you with a nice dewy glow. It's been a couple of weeks now and I'm still enjoying the results of clear skin. Not sure if it also helped prevent more clogged pores from happening but I'm pretty happy with the longer lasting results. I would definitely go again.
Who's it for?
Both women and men would find the Hydrafacial worth including in their skin care regime. It's great for targeting specific skin issues including acne prone, dark spots, fine lines, uneven skin tones, and enlarged pores. Teens would benefit especially those who have to deal with blackheads. It's recommended to go once a month. Price starts at $199 CDN.