The Blumz is a fine jewellery store and piercing studio located on King Street West in downtown Toronto. We spoke with their founders Anna & Ion Blum to learn more about what they do.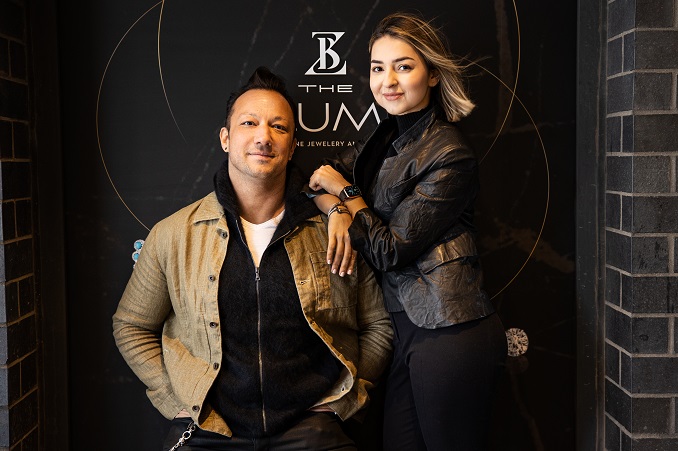 What is your business called and what does it do?
The Blumz is a house of fine jewellery and piercings. Living with hope, purpose, imagination, and vision, we cultivate beauty through high-end jewellery brands and the designers we represent. We embody love and self-expression through ear curations and piercings.
What made you want to do this work?
The Blumz is a beautifully curated space that allows our clients the opportunity to have a unique full-service experience. Guests are invited to have their ears personally styled, with unique ear curations from a variety of high-quality jewellery collections. This styling along with the ear piercing all happen on-site and can be done all in the same visit. Up until now, this type of experience hasn't existed so we are incredibly excited to fill this gap in the market. Ear piercings are beautiful, and our process is art.
What problem did you want to solve with the business?
The Blumz sets our to create a new experience for consumers by combining two industries – the world of fine jewellery and piercings. We have created a full-service solution in a stunning space with high-quality products and unparalleled customer service.
Who are your clientele/demographics?
We are currently seeing a trend, where young professionals are predominantly getting piercings, yet our clients come from all walks of life. We see musicians, athletes and individuals who have a strong desire to dominate the corporate world and who want to showcase their ears as art. Everyone is welcome, and everyone belongs at The Blumz. Our clients vary in age, gender, race, and ethnicity and we aim to help people feel fashionable and fabulous.
How does your business make money? How does it work?
We represent and sell multiple jewellery lines and provide piercings services, ear curations, permanent bracelets, and engraving. Our business is built on 5 principal pillars:
1. We understand the needs of our clients.
2. We exceed expectations.
3. We treat everyone with integrity and respect.
4. We create an experience like no other.
5. We have fun during the process.
Where in Toronto can we find your profession?
Our flagship store is located at 343 King Street West. King West is recognized as one of the trendiest areas in Toronto and we are near many of the city's top hotels such as The Hyatt, Nobu, Bisha, Soho, Ritz, St Germain, and many others. We are also accessible via the city's public transit system
What is the best question a prospective customer could ask a member of your profession when comparing services? Give the answer as well.
The number one question we get asked is – What kind of jewellery can you use for your piercings and how are the piercings done?
The Blumz offers the largest selection of hypoallergenic and nickel-free jewellery in Ontario. Choose your favourite piece of jewellery which is made from a variety of metals such as surgical steel, titanium, 14k yellow, rose, and white gold. Once you've selected your piece, you will have your piercing done by an in-house trained piercer, using a halo needle, which provides a fast, effective and almost painless experience.
What is the best part about what you do? What is the worst part?
The best part about what we do is getting to see how happy our clients are with the experience and finished result of what we have created. From the moment they book their appointment, to the moment they finally get their piercing, we get to be part of the excitement.
The worst part for us is when we cannot be client facing. Our entire business is about creating an experience and building relationships. We can't do that when we count inventory!!
What is your favourite joke about your own profession?
Most piercing jokes are probably too risqué to be mentioned in this article, but we have a saying: You pick it, we stick it.
What are your social media channels?
Follow us on Instagram, Facebook and Tiktok
PAY IT FORWARD: What is another Toronto business that you love?
That's a hard question. There are so many great privately owned businesses in Toronto that we would love to give kudos to such as Pop Health Bar, Delysees, La Paella and Othership to name just a few.