SHE NEVER DIES is a follow-up gender-swapping horror flick to the cult favourite HE NEVER DIES that starred iconic punk rocker Henry Rollins as an immortal cannibal navigating the complexities of modern society. If you're a fan of the genre then you probably already have this on your radar.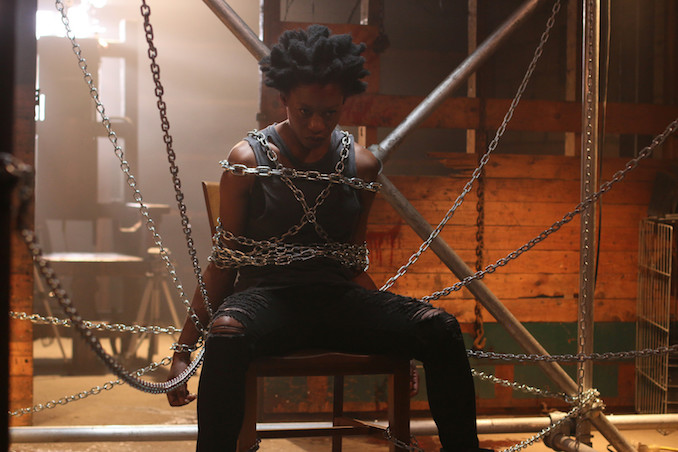 Toronto-born Olunike Adeliyi (WORKIN' MOMS, TAMMY'S ALWAYS DYING, CHAOS WALKING) stars as lead character, Lacey, a socially detached loner cursed with immortality and her never-ending tedium of existence. In her attempts to keep her cannibalistic compulsions in check, she seeks out the darkest souls humanity has to offer and faces her inner demons while simultaneously finding her next meal. SHE NEVER DIES follows in the tradition of shows like Dexter and Santa Clarita Diet featuring a lead character who has a moral compass and tries to only kill 'bad' people.
The film was written by Jason Krawcyzk and directed by Audrey Cummings — a Canadian female writer/director who focuses on horror. SHE NEVER DIES is her third feature horror film and it recently held it's Toronto premiere at the Blood in the Snow Film Festival.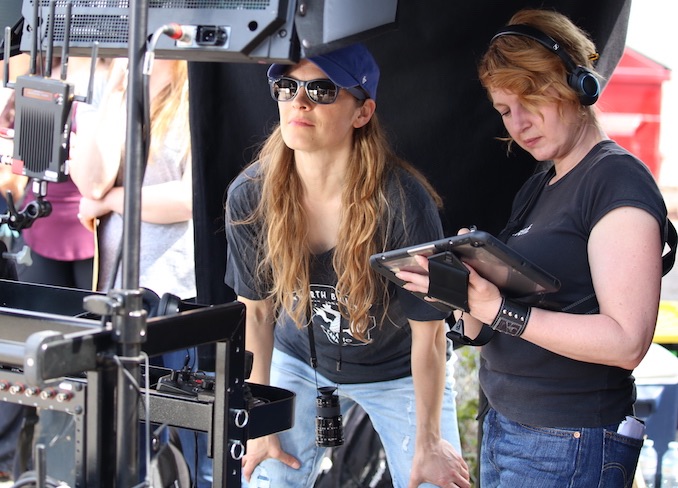 We recently had the chance to chat with Audrey Cummings to learn more…
This is a companion piece to the cult hit HE NEVER DIED, the lead role has been swapped out for a female. Their innate hunger is the same. Olunike Adeliyi plays the lead, Lacey, what's her story?
AC: Much like Henry Rollin's character, Lacey is also a biblical figure plagued with an immortal existence for something she did so long ago. Both characters cannot die and both need to eat bone marrow in order to keep their compulsions in check – though they go about their lives quite differently.
What do we need to know before seeing this film?
AC: Nothing! She Never Died is a sister film to the horror/thriller/comedy He Never Died and lives in that same world of the Cain mythology, however, the film stands on its own. It's not a sequel so you don't need to have seen the previous film; though it's a great film to watch regardless.
What do you love about making horror films?
AC: What I love about this film is that it doesn't really fit into any specific genre. It's got a mix of a lot of things, which made working on it incredibly fun. It has elements of the supernatural, horror, thriller, drama and comedy with a little ass-kicking thrown in there The script was so unique and I felt drawn to what I believed I could bring to the table as a director.
What are people curious about when you tell them you work in this realm?
AC: People always seem to wonder why I like making genre films so much. I've always liked it. My teenage years were marked by the number of scary films I would watch to scare the crap out of myself. I love the experience it puts you through – all your senses come alive. The other reason I love making these types of films is that I love the genre audiences so much. They're so much fun and welcoming and they are insanely supportive.
Aside from the blood and gore, what do you hope audiences will discover?
AC: I hope they enjoy it! It's an action-packed horror/thriller full of twists and turns with strong female characters that kick-ass and lots of unexpected humour.
What do you love about this genre and were there any challenges?
AC: It's full of unique and complex ideas that are endlessly fascinating to me. The challenges are always the same: low budget and therefore tight shooting schedules with a very ambitious script that contains fight sequences, death scenes, special effects, lots of on set blood and prosthetics – and it's a big challenge to be able to pull these things off really well with limited time and resources.
What's your favourite scene?
AC: I have so many favourite scenes it's hard to choose. I feel like everyone brought so much to the table in every single scene. I still laugh at the offbeat humour, I love the dynamic of the three-person motley crew trying to take down the sinister and incestuous brother/sister team and all of the diner scenes are fantastic.
About Audrey Cummings — a graduate of the Canadian Film Centre's prestigious Director's Lab Program. Cumming's feature directorial debut was the award-winning horror/thriller BERKSHIRE COUNTY, which won her nine awards, including Best Director and the Grand Jury Prize for Best Feature Film at Shriekfest Los Angeles, making her the first female to win the award in the 17-year history of the festival.
Her second feature film DARKEN, a sci-fi thriller which takes place in a parallel world, won her six awards, including Best Director and two Best Feature Film Awards. SHE NEVER DIED is her third feature film. Cummings also has several award-winning short films, including A Stolen Moment, Les jeux d'enfants and Burgeon and Fade, which won her the Jackson-Triggs Award for Best Emerging Canadian Filmmaker at the WorldWide Short Film Festival as well as the WIFT Kodak New Vision Fellowship Award for Best Emerging Canadian Female Director. Cummings was also the recipient of the Barry Avrich Award for Emerging Canadian Filmmaker at the Toronto International Film Festival.