Our latest featured charity is the Sunwing Foundation, a company that aims to support and encourage youth education and development in the destinations they serve as well as supporting local initiatives such as funding to build and renovate local schools, fund sports clubs, recreational activities and camps. We spoke with Marissa Maheu-Mendes about her work with the company.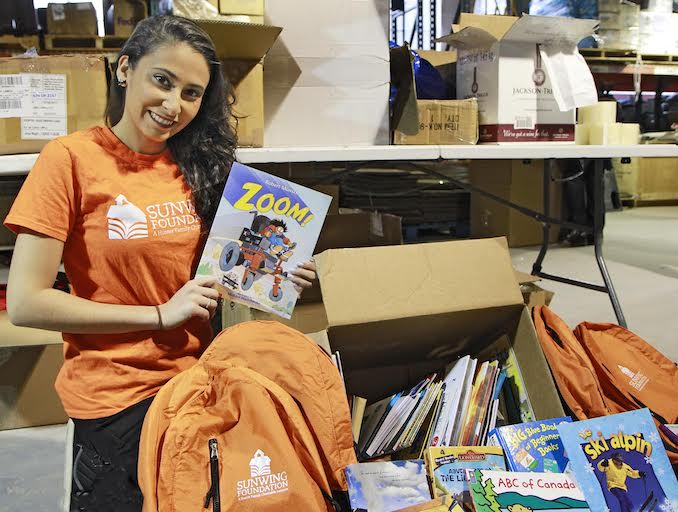 Describe your charity/non-profit in a few sentences.
A charitable initiative established by the Hunter family, the Sunwing Foundation reflects the Sunwing Travel Group's enduring commitment to support youth education and development in the communities where it operates in the form of project funding or the transport of humanitarian aid. The Sunwing Foundation is funded by the Sunwing Travel Group together with charitable donations received through Sunwing Airlines' Spare Change Program, where every dollar raised is matched by the company, no administrative fees are collected and 100% of the proceeds go to charity.
What problem does it aim to solve?
The Sunwing Foundation aims to support and encourage youth education and development in the destinations we serve, which are often lacking the resources to support these initiatives on their own. Additionally, the Foundation supports local initiatives such as funding to build and renovate local schools; plus, funds sports clubs, recreational activities and camps. Finally, the Foundation partners with relief organizations and charities to transport aid and supplies to communities affected by hurricanes and other natural disasters.
When did you start/join it?
I began to work with the Foundation in April 2017 when I became the Public Relations Supervisor for Sunwing. The first major initiative I was involved in was setting up a packing party in partnership with GlobalMedic to send humanitarian aid to Cuba, St. Maarten and other destinations that were affected by Hurricane Irma and Hurricane Maria. Since then we've worked on a lot more initiatives and have expanded our operations to include the Flying Start Program. The program is very simple, but effective. We invite people to donate their children's gently used reading books and fly them down on Sunwing Airlines to be delivered to schoolchildren in our destinations who do not have ready access to books to have their own personal library. We've also made donations to schools themselves to add to their resources.
What made you want to get involved?
Having worked for a charitable Foundation prior to joining Sunwing and having been involved in numerous charity events, it was important to me to continue to give back. The Sunwing Foundation's mission of giving back to the destinations we serve resonated with me and I was excited to come on board and help in any way I could, taking on more and more responsibility as the Foundation grew and progressed.
What was the situation like when you started
In April 2015, the Sunwing Foundation launched its first large-scale project and built a new school in Trelawny, Jamaica, called the Spicy Hill Early Childhood Institution. This supported over 75 students and their teachers could have a welcoming and safe facility conducive for learning.
How has it changed since?
Today, the Sunwing Foundation continues to support the Spicy Hill Early Childhood Institution along with other schools. In early 2018, the Sunwing Foundation launched the Flying Start initiative – designed to donate reading books, backpacks and other essential school materials to ensure a successful education for children in need across the destinations we fly to. Since its launch, we've donated over 5,000 books and hundreds of backpacks filled with school supplies to numerous destinations.
What more needs to be done?
There is always something more that can be done for children and their education. We are continuously working to come up with new projects and initiatives as well as looking to partner with various organizations, schools and orphanages to help better prepare children for the future.
How can our readers help?
If you have a collection of books or school materials to donate or if you represent a school or local youth organization that would like to participate in the Flying Start program, please contact us at foundation@sunwingtravelgroup.com.
Do you have any events coming up?
The Sunwing Foundation and leading optical company, Hakim Optical, have teamed up to bring holiday cheer to local children in the Caribbean and Mexico. All you have to do is bring in a new or gently-used book to a participating Hakim Optical location near you between now and January 6, 2020. The donations collected at Hakim Optical locations will be flown down on board Sunwing Airlines, where they'll be distributed to local school children in need as part of the Sunwing Foundation's Flying Start initiative. When you make your donation, you'll have the chance to enter into the contest to win an all-inclusive vacation for two adults and two children to Riu Emerald Bay in Mazatlán, Mexico. Everyone who donates also receives a $50 Hakim Optical gift card to be used against the purchase of prescription eyeglasses. For a list of store locations, visit: https://sunwingtravelgroup.com/Hakim
Where can we follow you?
Facebook – @SunwingFoundation
#SunwingFoundation