McGee Maddox is full of energy when I met him at the Princess of Wales Theatre. I'm sure he's been on the press circuit all morning answering zillions of questions. But he was still going on full tilt. Never missing a beat. As one of the most celebrated Principal Dancers from the National Ballet of Canada, he's returned to Toronto with the cast of AN AMERICAN IN PARIS — a musical inspired by the Academy-Award winning film and most awarded new musical of 2015 and winner of four Tony Awards. Wait. Did I say musical?
Maddox plays the lead role of Jerry Mulligan in this production — a demanding role requiring him to not only dance, but sing and act night after night. "It's a different schedule from ballet where there may be just two days for a performance that I've prepared for," said Maddox. "But I love it! It's exciting to perform in front of 2000 people every night."
Maddox trained at Houston's Ballet's Ben Stevenson Academy, joining Houston Ballet as an Apprentice in 2005. He joined The National Ballet of Canada in 2009 and was promoted to Principal Dancer in 2014. Maddox debuted as Leontes in The Winter's Tale, Albrecht in Giselle, and L'Aviateur in the world premiere of Le Petit Prince. He has danced principal roles in numerous ballets including Swan Lake, Romeo and Juliet, Onegin, Cinderella, The Nutcracker, Don Quixote, Alice's Adventures in Wonderland, andHamlet among many others. He has performed contemporary works by John Neumeier, Alexei Ratmansky, James Kudelka, Wayne McGregor and Jorma Elo.
We had a chance to sit down with Maddox to see what it's like being a triple threat on tour.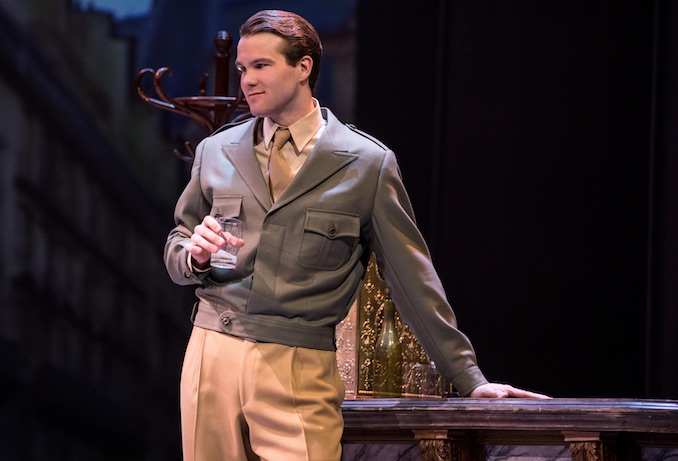 How many cities have you been to with this production already?
Maddox: You ready?  Denver, L.A., Costa Mesa, Tempe, Seattle, Portland, Pittsburgh, Cleveland, Kansas City, Des Moines, Chicago, Atlanta, San Diego, Washington, New Orleans… 22 cities….
Okay. What's your favourite?
Maddox: Toronto.  I live in Toronto, so I'm happy to be back home and sleeping in my own bed on my own pillow. I'm also looking forward to unpacking. I haven't done that in over a year.
You came from the ballet world so what's the transition into a musical been like?
Maddox: It's been an enormously fun challenge. But that was my expectation. I knew I was going to dive in head first and I knew I was going to learn a lot. I've really fricken enjoyed it all! I'm loving it. I love the people I'm meeting. I love the show and the material we're working with. All of it.
On top of the whole experience of touring and learning a completely different theatrical art form, it's been pretty thrilling.
Was that pretty daunting for you at all?
Maddox: Of course. But I wanted the challenge. I wanted to beat my own expectations but I must admit that it's been an enormously fun time. At this point in the tour we are starting to realize that we're going to be done all the cities by July 1st. I actually don't want it to end.
Is it true that you didn't see the original film "An American in Paris" until you got the part?
Maddox: I really kind of just abstained from the movie for a while because I knew that the show was actually very different from the film. It's has a much darker narrative in the stage production. The movie, which was in 1951, is pure escapism especially being six years removed from the most horrific event in human history. The show actually deals with Paris post-war. There's a lot of talk about the war and demons from what all the characters have just seen and gone through.
But from watching the movie? It was easy to see how loveable it was. First of all, it's just gorgeous.  Gene Kelly and Leslie Carron were amazing in it.
It's interesting because when I talk about this production, often people think that it will be a remake of the movie. Do you hear that often?
Maddox: Sure. It is…but it isn't. The story, the heart, the beauty and the dancing is there but the show is a much more involved narrative. The movie was just pure escapism. There's an enormous amount of escapism in this show but it's also a Craig Lucas play with a lot of Christopher Wheeldon dancing.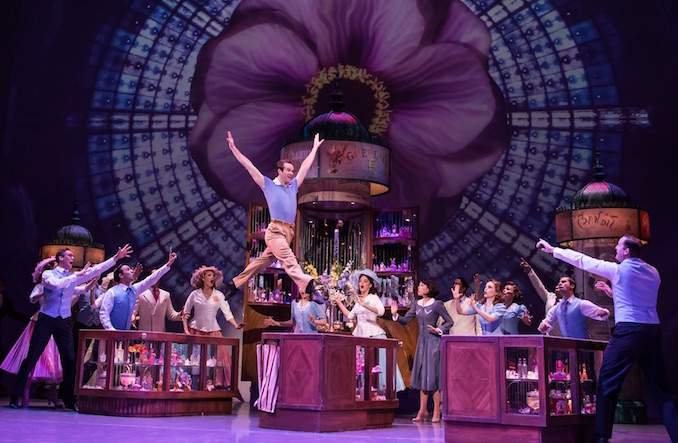 So, do you find that the blend of musical and ballet draws a different crowd than you're use to?
Maddox: The show is a full book of Gershwin music and, of course, the music is very prominent and successful in theatre. I think the real cross pollination is having ballet fans involved and being interested in the show. Mostly because Christopher Wheeldon is attached to it. So, I think the audience is very much a musical audience. They have a expectation of what they want to see and I think they are pleasantly surprised. I lot of people, I think, come not expecting just how much dancing there is. There's a lot of singing and acting but there's a lot of dancing. The show actually starts off with a ballet so you're kind of immediately and completely seeing a different discipline and language. You're forced to confront it because you're going to be taking it in for the rest of the show in many different shapes and forms. There's a huge Radio City style tap number and we've got a full abstract ballet. Dance breaks are here there and everywhere. There's a lot of movement to tell the story.
Wow! Sounds like a lot of work on stage!
Maddox: Oh, yes, it is. But honestly, you just need to take care of yourself.
What's the best thing about being part of this production tour?
Maddox: The people. I get to work with a lot of fantastic artists and we have fun telling the story. I mean, we have to, we do it eight times a week. The material does not get boring.
Even after all this time on the road?
Maddox: Yeah, I'm 240 shows out and I'm not done with it yet.
Inspired by the Academy-Award winning film, AN AMERICAN IN PARIS is the romantic story about an American soldier, a mysterious French girl and an indomitable European city, each yearning for a new beginning in the aftermath of war. Directed and choreographed by 2015 Tony Award-winner Christopher Wheeldon, the show features the music and lyrics of George Gershwin and Ira Gershwin, and a book by Craig Lucas.
The production opened to widespread critical acclaim at the Palace Theatre on Broadway in April 2015 after its world premiere at the Théâtre du Châtelet in Paris. The New York production closed in October, 2016 after playing more than 600 performances.  A West End production of AN AMERICAN IN PARIS ran from March 2017 – January 2018 at the Dominion Theatre.
The score of AN AMERICAN IN PARIS includes the songs "I Got Rhythm," "Liza," "'S Wonderful," "But Not For Me," "I'll Build a Stairway to Paradise," and orchestral music including "Concerto in F," "Second Prelude," "Second Rhapsody/Cuban Overture" and "An American In Paris."
AN AMERICAN IN PARIS is now on stage at the Princess of Wales Theatre in Toronto through April 29, 2018. For more information and tickets visit www.mirvish.com