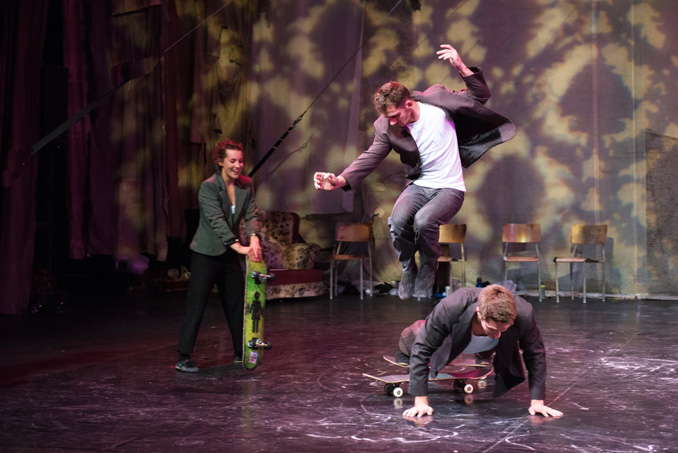 There's a refreshing new show in town that is sure to delight all ages. TRACES By Les 7 doigts de la main (The 7 Fingers(of the hand)) features seven performers who defy gravity and show us just how incredible humans can really be. Well, some of us. I only wish I could do half of what they can!
The show is non-stop action that left us breathless.  It is currently on a North American tour stopping in Toronto until January 3, 2016 at the Panasonic Theatre.
TRACES was created in 2006 and has toured in 25 countries and 200 cities around the world. They've been invited to perform on America's Got Talent and were also noted on TIME magazine's Top 10 List in 2011.
The seven young fresh faced performers begin by introducing themselves to the audience and where they are from  – Quebec, Australia, France, China, and US. We also learned a few personal facts about each of them along the way. They are cute and fun but don't let that fool you, they are athletes with true strength and power.
The sole female of the show Anne-Marie Godin, heralds from Quebec. She shows great agility and concentration in her acts. While some of the acrobatic feats seem very "been there done that", I did remind myself that there's still no way in hell I could do what she can! There's a fun little act involving a reclining chair with Godin that is quirky and refreshing.
TRACES is filled with incredible talent and as the show moves on, the skills get more intense. Many thrills left us in awe. They've worked in some parkour moves as they leap, tumble, climb, swing, and fly in all directions along side some traditional acrobatic movements and a few dance moves too. Props like basketballs, chairs and skateboards are used as the performers weave around each other to pulsating music.
There are several instances where their strengths were truly spectacular having the audience gasping "How? There's no way!"
The setting was of a make-shift shelter which had a gritty and urban feel. Performers added to this by giving us a feeling like something catastrophic was about to happen. TRACES uses the whole stage, right to the edges – I held onto my seat several times hoping the performers wouldn't tumble or fly off the stage.
TRACES is a great entertaining break from the busy-ness of the season and is perfect for all ages. Show runs 90 minutes without intermission.
Visit mirvish.com for more details.