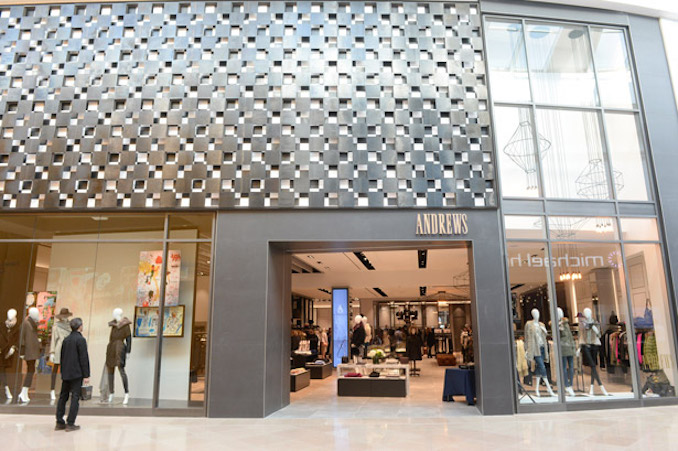 Homegrown Toronto business Andrews recently opened their third fashion retail store in Toronto.
Andrews' first store was opened in Yorkville in 1991 by siblings Darren Mason, Beverley Lerner and Cheryl McEwen, followed by their second store in Bayview Village in 1999. The new store has opened in Sherway Gardens in time for their 25th anniversary and is still operated by Darren and Beverley.
Andrews focuses on luxury womenswear which includes both hot European designers such as Fabiana Filippi and American brand Vince as well as the top trends from Canada including brands like Mackage, Smythe, Greta Constantine, Suzi Roher, and Line.
I got to chat with the owners about the changing times and what they have in store for the new spot.
***
What was in fashion when they started in 1990 compared to now?
The popular fashion when we started out in the 90's was coordinated knitwear, earth tones, khakis, Bordeaux. There was a focus on coordinating, but now fashion is mix and match and more of a juxtaposition.
In the 90's Maxi coats were very popular and now this season it has reemerged as an outerwear trend. The wrap coat was also one of our big sellers and once again we are seeing it make a full circle being something a lot of designers are putting out again.
A lot of the jewellery was gold back then, now people are mixing their metals and not focusing on just one type of metal. We see a lot of mixing of the silvers, golds and rose golds.
The Chanel tweed was very popular in the 90's, it has made a comeback except with more raw edges and a cooler vibe.
Evolution over the past 25 years in both the elements of style and the fact that people really want a cooler experience in and out of the home. With social media and technology, people have greater access to what is in style and what the celebrities are wearing. Connectivity of the speed of which people like to shop and want to be served, they have access to global fashion.
Was there any new approach to the new store? (design, stock, layout)
Yes, there has been complete evolution in our layout, lighting, service, and merchandise mix. It has been a complete transformation in terms of our offering and how we cater to our customer as well as present the collections.
What are some of your favourite Toronto Businesses? (Other than Andrews).
We love all of our Toronto partners and work closely with our suppliers and designers.
What is the best part about doing business in Toronto?
Our wonderful customers!
Anything else we should know about?
We provide department store selection with boutique like intimacy. We focus on providing a transformative shopping experience to empower our customer to create and explore. Our strength is value added service, selection, and a huge focus on quality. It all starts with style, we keep a global eye on the industry to bring our customers fashion from around the world.
[rspad300x250]