As a food writer and photographer I'm always on the hunt for something new and interesting to write about. I was so pleased to receive an email from Ian Ritchie of Greenbelt Microgreens, inviting me to visit the farm and sample their product. Upon looking up their site I realized the greenhouse is located in Stouffville not far from where I grew up in Markham; I was intrigued. How had I never heard of this place? My only opinion of microgreens was that they looked pretty as a garnish on my plate but I can't say I ever gave them a second thought. And I had certainly never noticed a massive greenhouse in the area.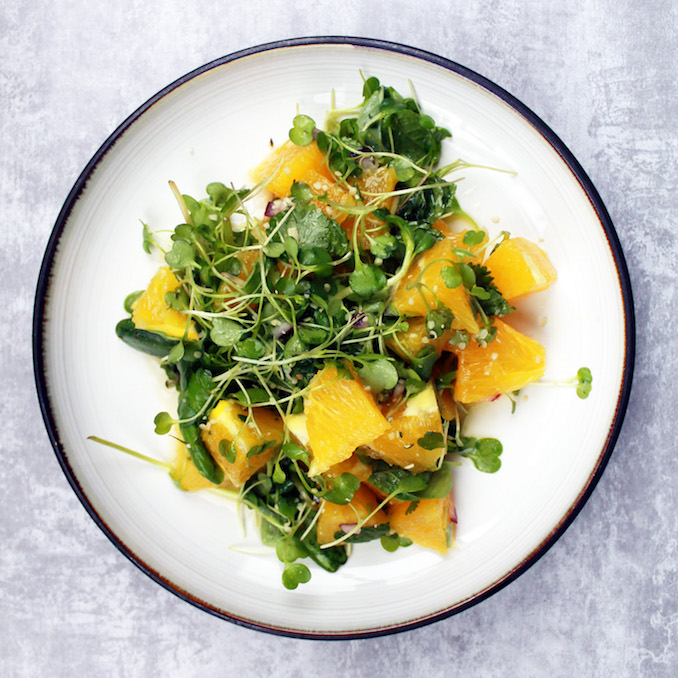 Visiting Greenbelt was eye-opening. The structure was massive and lined with beds of gorgeous, bright microgreens; any perfectionist's dream. Ian and owner Michael Curry walked me around the farm, offhandedly pointing out details that I was quickly making mental note of. We produce those deep red microgreens for Susur Lee. These beds of grass are all headed for Booster Juice. Their technology and soil mix are proprietary, incorporating nutrient-rich ingredients like algae and coconut fiber. I watched as a container slid across a conveyer belt collecting soil and then seeds along the way.
Why microgreens?
Each bed was uniform and grown to that variety's ideal height. Micro greens like basil, cilantro, and arugula, and sprouts like sunflower and pea all look so delicate and pleasing up close. But don't let their size fool you, they have a lot to offer in terms of health.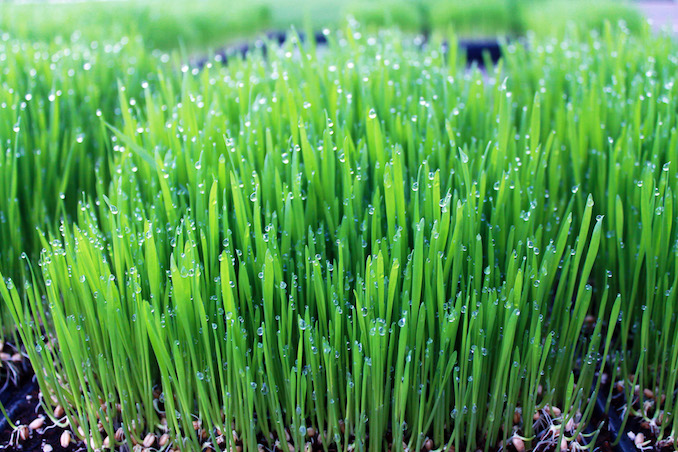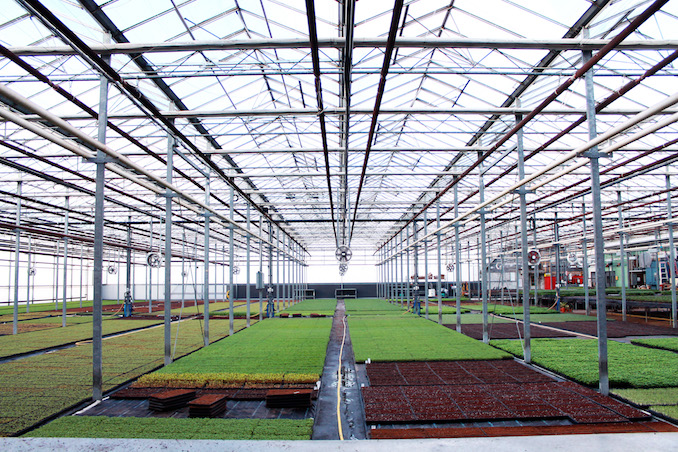 "While the research available on the nutritional content of Microgreen's is limited (USDA report 2012), research has shown that they contain significant amounts of nutrients and vitamins.  Combine this with their great taste, and yes, you do have a great resource for building up our nutritional intake.  They're also kid-friendly and can literally be used for anything.  I like to think of microgreens as the swiss army knife of vegetables.  No matter what you're cooking in the kitchen, microgreens are up for the task." – Ian Ritchie
They also had a lot to say about supporting the local economy with sustainable farms
"Local and sustainable farming is extremely important to us.  We care greatly about the community that surrounds us and always make sure that we're a positive contributor to it.  We believe that sustainable farming and hiring locally is one of many ways to guarantee that we do just that.  In addition to this, by growing locally we find that we are able to interact with our customers and their clientele in a much more personal way.  For example, most our customers are within an hour drive from our greenhouse.  This means that they can visit our greenhouse regularly and there isn't a square inch of our operation that we wouldn't show them at any time of the day.  How many suppliers to grocery stores can make this same claim? Local farming creates accountability and that's a good thing. I'd also like to add that locally grown food tastes deliciously fresh and who wouldn't want that." – Ian Ritchie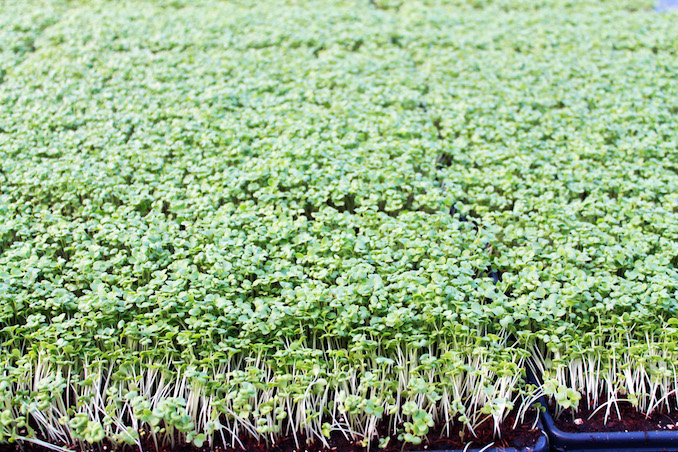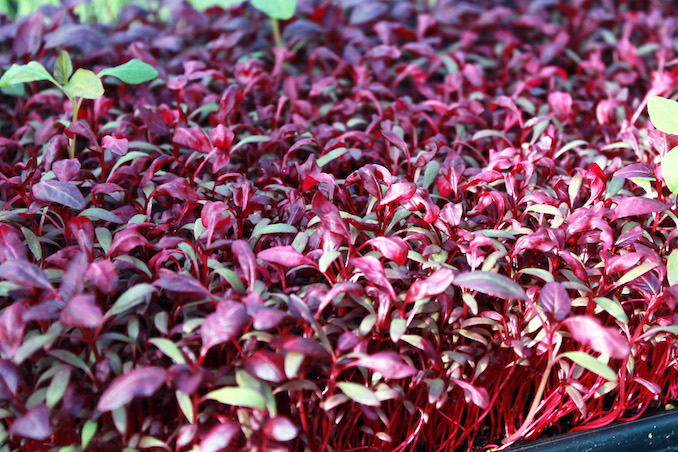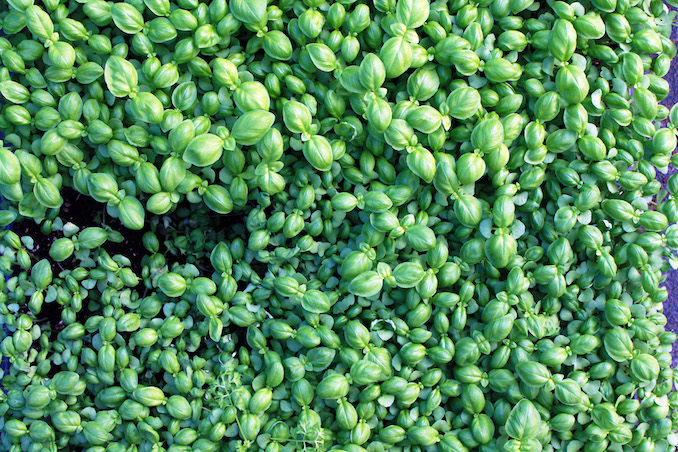 How do you use them?
I brought home a tray of micro-basil, sunflower sprouts, micro-arugula, and mixed salad greens to play around with. Several micro-basil-infused martinis later I was roasting the sunflower sprouts to make healthy baked chips, topping my pasta with a handful of micro-arugula, and tossing a fresh salad of mixed greens and sprouts with a light olive oil dressing. Ian was right – you can literally add them to anything. It was a welcome injection of flavour and nutrients, and needless to say my camera loved them too. As a person with many severe food allergies I'm always so happy to add a new type of food to my "can eat" list. Vegan or vegetarian? Spice up cold or hot salads, noodles, or bowls with a handful of sprouts or micro-herbs for a real boost of flavor. Blend them into your smoothies, sprinkle over eggs, twirl into spaghetti. Try them once and you'll be hooked.
Well, I'm now on the microgreens bandwagon. A local company producing a sustainable crop of nutrient-rich, delicious, and interesting greens. What's not to love?
Check out their website for more info.