For this week, Chefs Toben Kochman and Elana Kochman shared with us this delicious Wild Mushroom Risotto Cakes with Lemon Garlic Aioli and Fresh Chives recipe.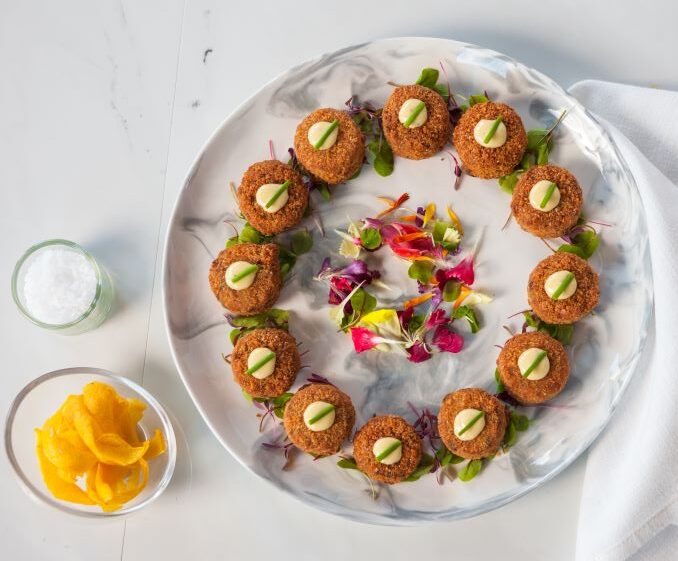 Wild Mushroom Risotto Cakes with Lemon Garlic Aioli and Fresh Chives
By Chef Toben Kochman – Co-owner and Head Chef at Toben
MUSHROOM RISOTTO CAKES
Total Prep time: 40 minutes
Total cook time: 40 minutes
Total punching and breading time: 2.5 hours
Ingredients:
-250mL classic cooked cremini mushrooms, semi-finely chopped (see recipe for mushrooms below!)
-2 cups Arborio rice
-3/4 tbsp butter (starting butter)
-1 ½ tbsp butter, cubed (finishing butter)
-1 tbsp olive oil
-1 cup red onion, finely diced
-1/3 cup pureed garlic
-1 cup grated grana padano cheese
-1 cup white wine
-1/4cup lemon juice
-4 cups vegetable stock, hot
-1.25 tbsp kosher salt
-1/2 tbsp ground black pepper
-1/4 baking sheet (very short sides)
Directions:
In a large rondeau or pot, heat the starting butter and the olive oil, sweat the red onion and garlic until softened and translucent.
Add in the Arborio rice and allow to 'toast' for a few minutes, season with ¼ of the salt and pepper.
Deglaze with the white wine and allow to simmer until most of the wine has evaporated, add in ¼ of the hot veg stock, another ¼ of the salt and pepper and allow to cook until most of the chicken stock has evaporated, making sure to stir regularly to allow natural starches to develop. Repeat this step 3 more times until all the stock, salt and pepper is used up making sure that the Arborio rice is just under 'al dente'.
Fold in the chopped mushrooms, grated grana, the cubes of finishing butter, lemon juice and adjust seasoning if necessary.
Transfer the risotto to a baking sheet and spread evenly, ensuring the surface is as level as possible. Allow to cool, wrap and leave in fridge overnight to be punched the next day (using the "one ring"), re pressing and punching all scrap until there is almost no waste. Freeze overnight, bread, refreeze and bag next day.
CLASSIC COOKED CREMINIS
Total prep time:20 minutes
Total Cook Time: 10 minutes
Ingredients:
-1.5 lt cremini mushrooms, trimmed and sliced
-1 tbsp Chopped shallots
-1 tbsp Pureed garlic
-2 ¼ tbsp Butter
-40 ml vegetable oil
-100 ml White wine
-3/4 tbsp kosher salt
-1/4 tbsp black pepper
-8 ml chopped thyme
Directions:
In a heavy-bottomed saute pan, on high heat add oil. Add in enough sliced mushrooms to cover the bottom of the pan in a single layer. Allow the mushrooms to cook and brown.
Add in the shallots, garlic, thyme and butter and cook for an additional 30 seconds, stirring to as to not burn. Deglaze with the white wine, season with salt and pepper. Transfer to a baking sheet to cool.
Repeat this process until all the mushrooms have been cooked off.
Reheat risotto cakes in oven for 5-8 minutes until the surface is bubbly to ensure they are re-crisped. Let rest for 3-4 minutes before serving, as they retain a lot of internal heat and are easy to burn a guest's mouth.
Add 2ml dot of aioli to each risotto cake, and garnish with chive stick laying across on an upward angle.
Serve and enjoy!
***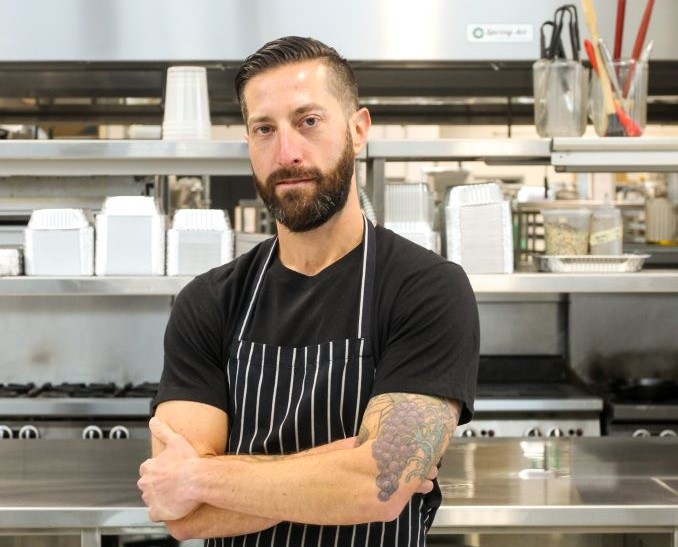 Founded in 2005 by brother and sister duo Chef Toben Kochman and Elana Kochman, Toben is a leading high-end, full-service catering and event management company based in Toronto.
Inspired by global cuisine, the chefs at Toben put a twist on classic fine dining by bringing the best from around the world.
Toben has provided event and catering services for over 2,000 weddings, brands and organizations such as Meta/Facebook Canada, Google Canada, LinkedIn Canada, CBC, Amazon Canada, Shopify, Porsche, CANFAR, SickKids and North York General Hospital, and notable people such as Lebron James, the Dalai Lama, Eugene Levy and Paul Coffey (former NHL player).
Toben is a preferred caterer at a wide range of top event venues across Toronto.