While we gear up for summer and patiently await the resurgence of sunshine in the city, many have already begun planning for summer soirées and weekend visits at the cottage. And while the current weather may not show it, summer will be here in a flash, and this Panzanella Salad recipe from Pizzeria Libretto's Chef Rocco is a must-have for this sunshine season.
Panzanella Salad is a popular and rustic Italian dish made from toasted bread, ripe tomatoes, onion and fresh basil, and soaked in a light dressing; while delicious on its own, Panzanella makes for a wonderful accompaniment to grilled shrimp, as well as herbed chicken, but it's light, bright flavours make for an essential summer-certified staple.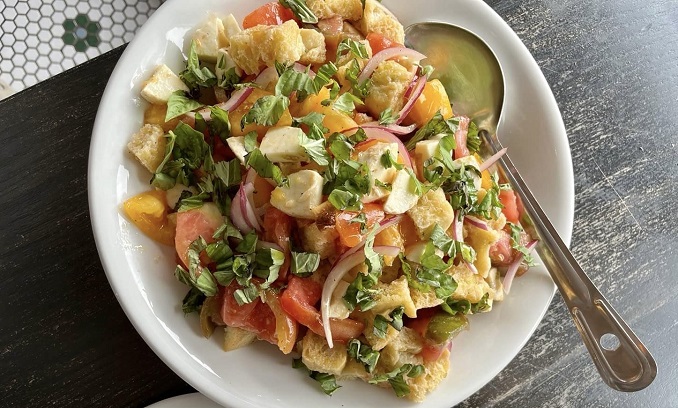 Panzanella Salad
Ingredients:
● 4-5 medium size tomato, cubed
● 3 cups day-old bread, cubed
● 1⁄4 cup red onion, thinly sliced
● 1⁄4 cup basil leaves, roughly chopped
● 240g fresh mozzarella (fior di latte)
● 2 cloves garlic, minced
● 3⁄4 cup olive oil
● 1⁄4 cup red wine vinegar
● 1 tsp Dijon mustard
● Salt and Pepper
Directions:
1. Preheat oven to 375°F.
2. Add tomato to a mixing bowl with 1 tbsp of salt and mix to combine. Place into a colander or strainer over the mixing bowl, letting tomato juices drain for 15 minutes.
3. Place bread in a mixing bowl, drizzle with 2 tbsp olive oil and a pinch of salt and pepper, and toss to combine. Transfer to a lined sheet pan. Bake for 10 minutes until golden brown then set aside to cool.
4. To make the vinaigrette, combine the reserved tomato juice, red wine vinegar, Dijon mustard and minced garlic in a bowl. Whisking constantly, drizzle in remaining olive oil. Season dressing to taste with salt and pepper.
5. Combine toasted bread, tomatoes, red onion, mozzarella and dressing in a large bowl. Add chopped basil. Toss everything to coat and season with salt and pepper to taste. Let rest 15 minutes before serving, tossing occasionally until the dressing is absorbed by the bread. Garnish with more chopped basil and a drizzle of olive oil to serve.