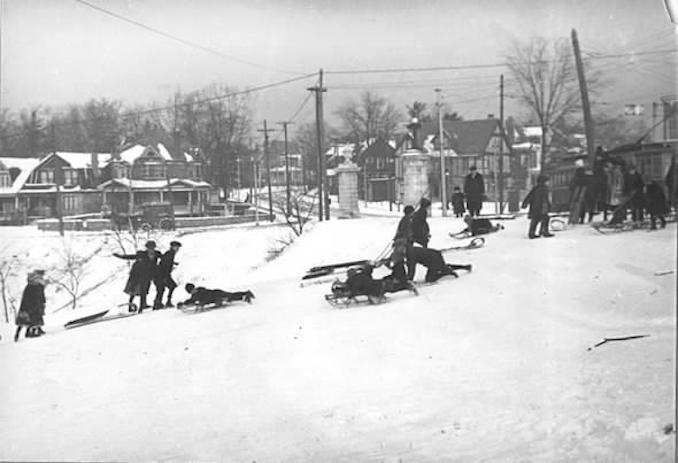 The cold weather is upon us and I have decided to embrace it and take advantage of the things that we can only do when the temperature is in the negatives. In my previous post I mentioned the local outdoor rinks that one can play shinny or free skate at. This week I want to mention some of my favourite tobogganing hills growing up in Toronto. Whether you want to pull out your sled or go for a few quick short runs on your skis or snowboard, these are the spots you might want to check out.
High Park
Today this park is still visited by tobogganers each year at the hill at Parkside Drive and Howard Park Avenue. Other hidden runs can be found through trees at your own risk.
*Tobogganing is no longer allowed in High Park but you can cross-country ski through its extensive trails.
Christie Pits
Christie pits is located at Bloor and Christie and is mostly used in the summer for their baseball fields and outdoor pool. A few hills are located at this park which run from the roads that encircle the park down into the lower level of the parks baseball fields. The main hills are on the north side of the park on Barton Avenue just west of Christie.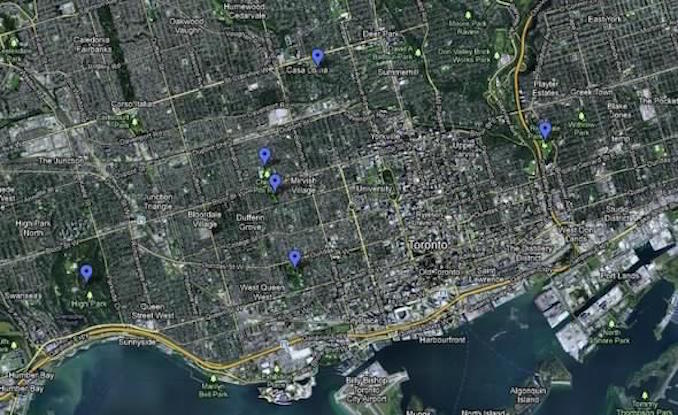 Bickford Park
Bickford park is just across Bloor Street from Christie Pits and is also a baseball field in the warmer months of the year. Harbord and Montrose is the closest intersection to the hills which are located on the west and east sides of the park closer to Harbord Street.
Trinity Bellwoods
Just south of Christie Pits and Bickford Park is Trinity Bellwoods, a larger park with more variations of hills. The park is located in between Queen and Dundas Streets and between Gorevale Avenue and Crawford Street. The dog bowl is a good spot to start with a few different levels of steepness and a clear path.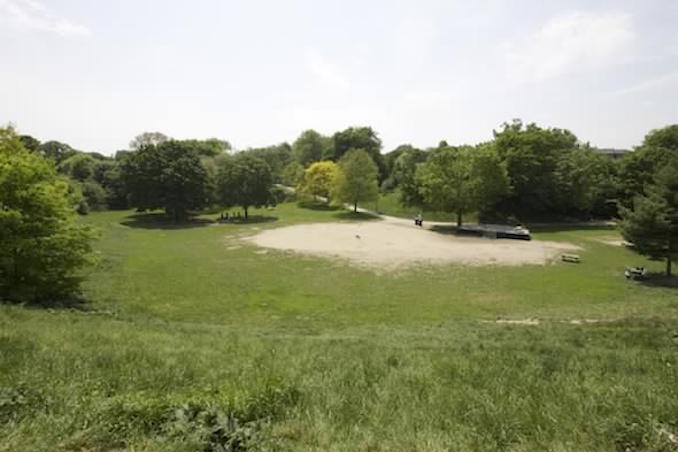 Winston Churchill
This park is located at St.Clair Avenue West and Spadina Road and has a path that runs from the intersection, through the hill, and into South Hill residential neighbourhood  From this path you can choose which of the hills you want to use. These hills range in steepness but have some of the steepest runs in the city.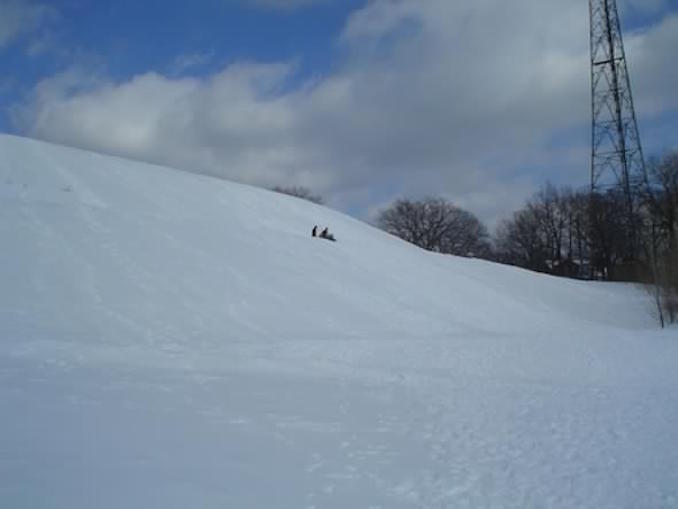 Riverdale Park
This was one of my most visited hills in the city as a boy and by many others. It is located just South of Danforth on Broadview Avenue North of Gerrard St. East.. This hill can get very busy in the winter and combined with its steepness can be a bit crazy/dangerous. People often bring everything from toboggans to inner tubes and snowboards to this park which also has a variation of hills and steepness.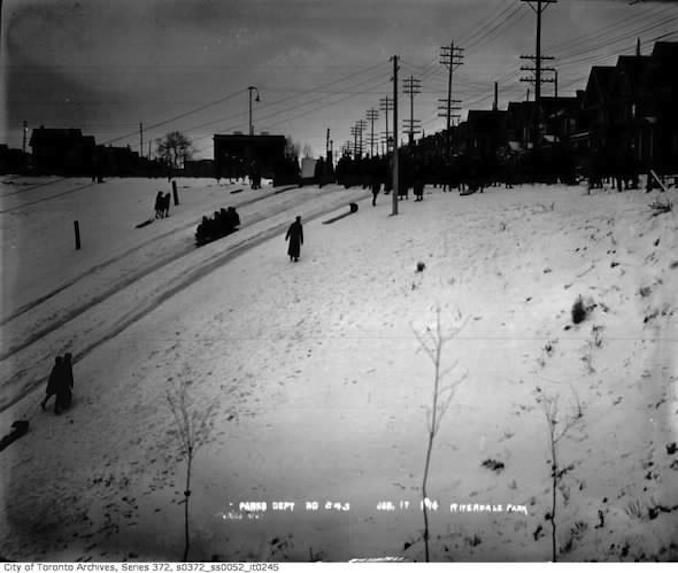 Cedarvale Park
This park has a few different hills and is located near Bathurst in between St.Clair West and Eglinton West. The main face is a wide clear run with a gradual steepness.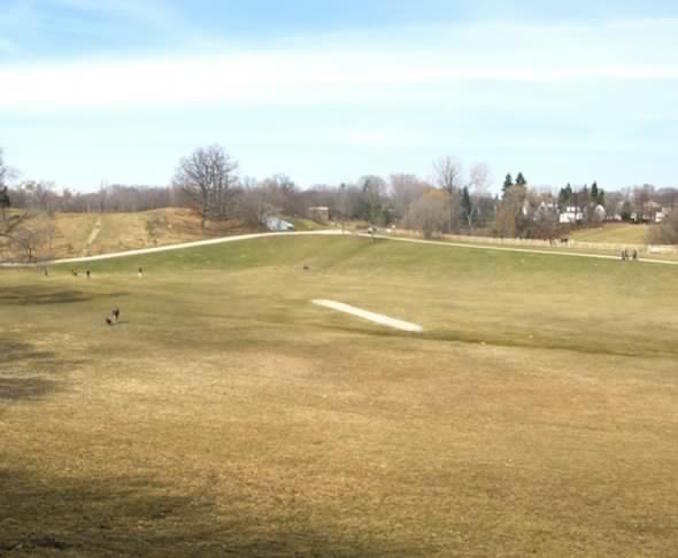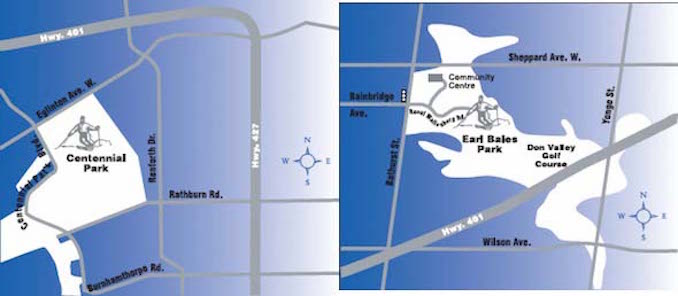 Centennial Park & Earl Bales Park
Earl Bales – 4169 Bathurst St, at Raoul Wallenberg Rd – 1 light south of Sheppard Ave. W, inside Earl Bales Park.
Centennial Park – 256 Centennial Park Rd – 1 block west of Renforth Dr, north of Rathburn Rd., behind arena.
These parks allow one to ski minutes away from home. Although the runs are no mountains by anyone's standards, they do have chairlifts, magic carpets, and t-bars to help you up the hill. The sites are also great spots to get lessons or to become an instructor. I attained my snowboard instructors license at Earl Bales and it was nice having somewhere close to home that I could take the courses at. Equipment rentals are available.