Looking for a unique and luxurious outdoor experience near Toronto? Look no further than Glen Oro Farm, nestled in the picturesque Oro-Medonte region of Ontario. With a rich history dating back to 1841, Glen Oro Farm has been operating as a complete equestrian facility for over 50 years. In recent years, they have expanded their offerings to include glamping farmstays, providing guests with a one-of-a-kind opportunity to connect with nature in comfortable and stylish accommodations.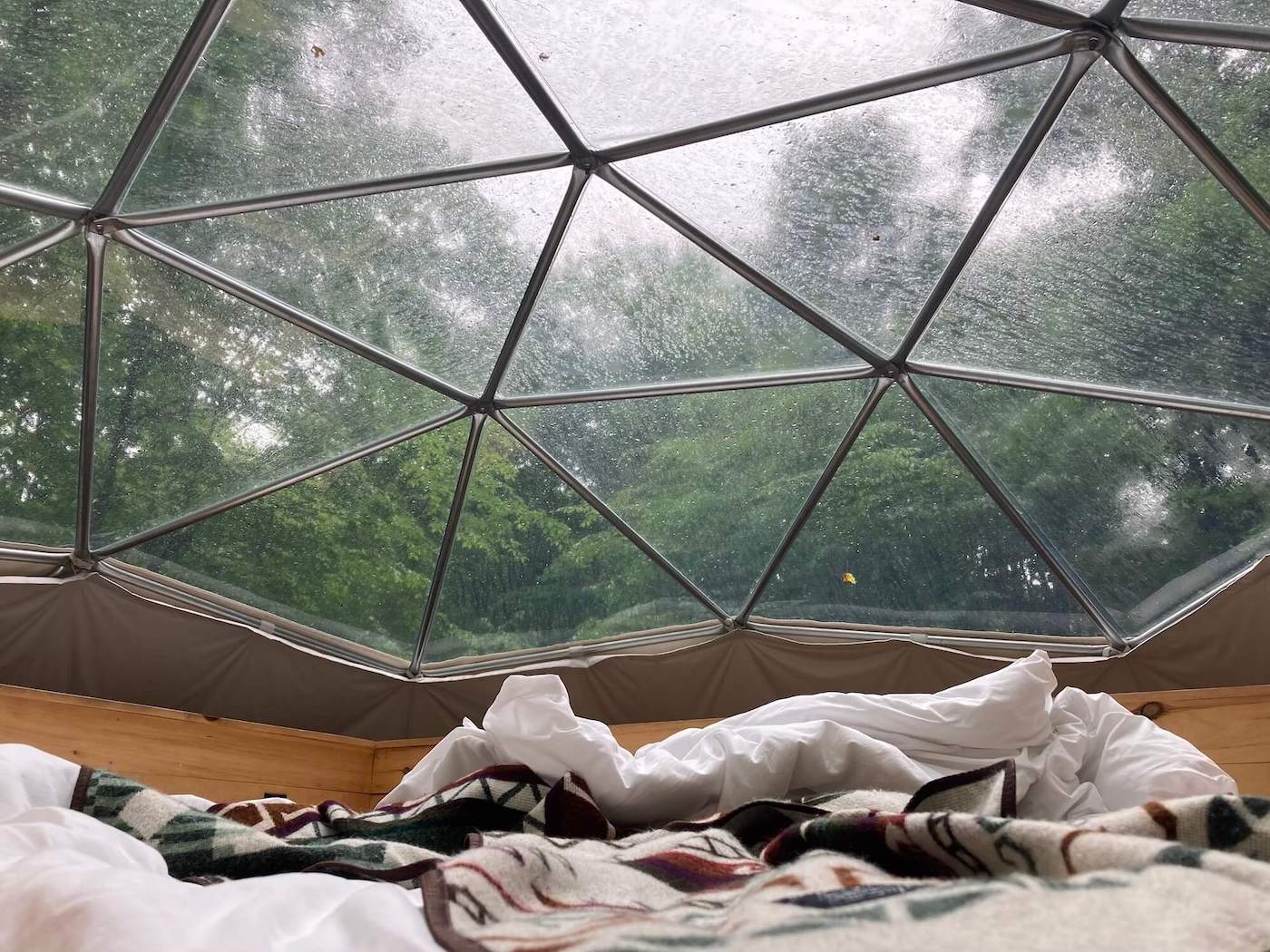 We recently visited the farm along with Thermacell, a company that produces innovative devices and solutions for mosquito repellent and targeted tick control. The Thermacell devices are designed to work like diffusers, using heat to vapourize a small amount of insecticide into the air, which creates a mosquito-free zone. The company wanted us to try out their products in the wild, so away we went.
Glen Oro Farm is conveniently located just a short drive north of Toronto, making it the perfect destination for a weekend getaway or a mini vacation away from the bustling city. Situated in the Oro-Medonte region, guests can enjoy the tranquil beauty of the countryside while still being within easy reach of Toronto's vibrant city life.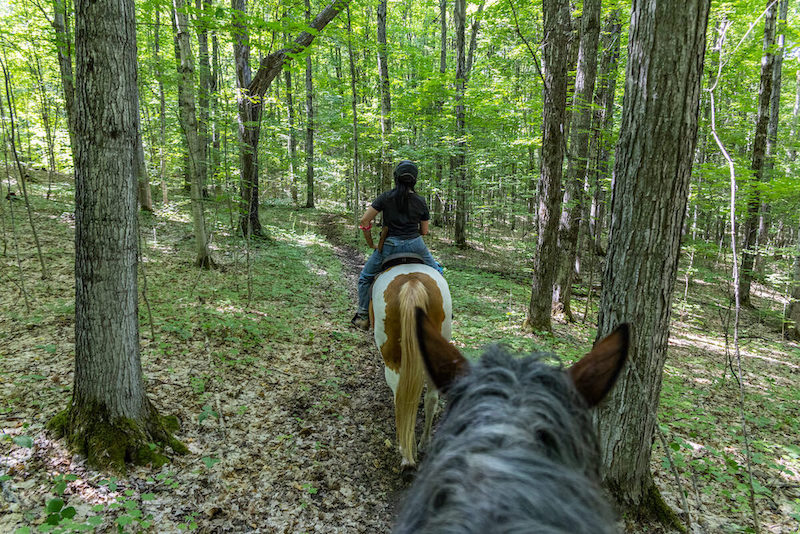 Glen Oro Farm holds a fascinating history that adds to the charm and allure of the property. The farm was first settled in 1841 and was later purchased by the Saila family in 1967. For over five decades, Glen Oro Farm has been dedicated to equestrian pursuits, including breeding, boarding, training, and competing with horses. The farm has hosted numerous Horse Trials and Schooling Shows, as well as clinics and other training events. This deep-rooted equestrian history creates an authentic and rustic atmosphere that immerses guests in the world of horses and country living. We actually got to take a 2 hour ride while we were there.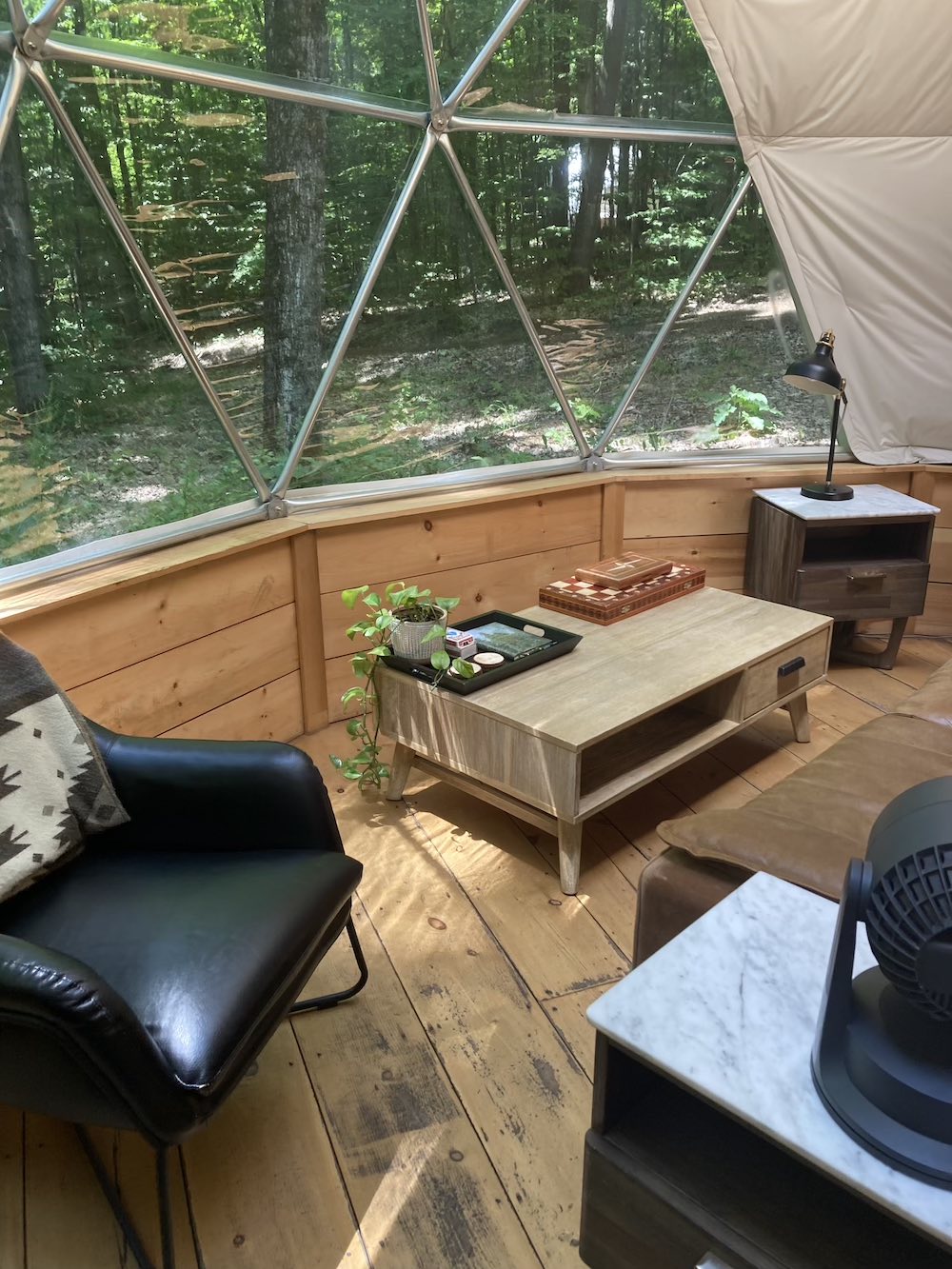 In recent years, Glen Oro Farm has expanded its horizons to offer glamping experiences, allowing guests to unwind and rejuvenate in the heart of nature. Whether you are a seasoned glamper, or new to the concept, Glen Oro Farm's glamping accommodations provide the perfect balance of comfort and adventure. I stayed in one of their geodesic domes that has a built in kitchen, shower and composting toilet, as well as a living area with air conditioning. All the comforts! It also had a windowed ceiling to gaze upon the stars as you fall asleep. Many of the tents or dome sites also had private fire pits to hang out with and roast marshmallows.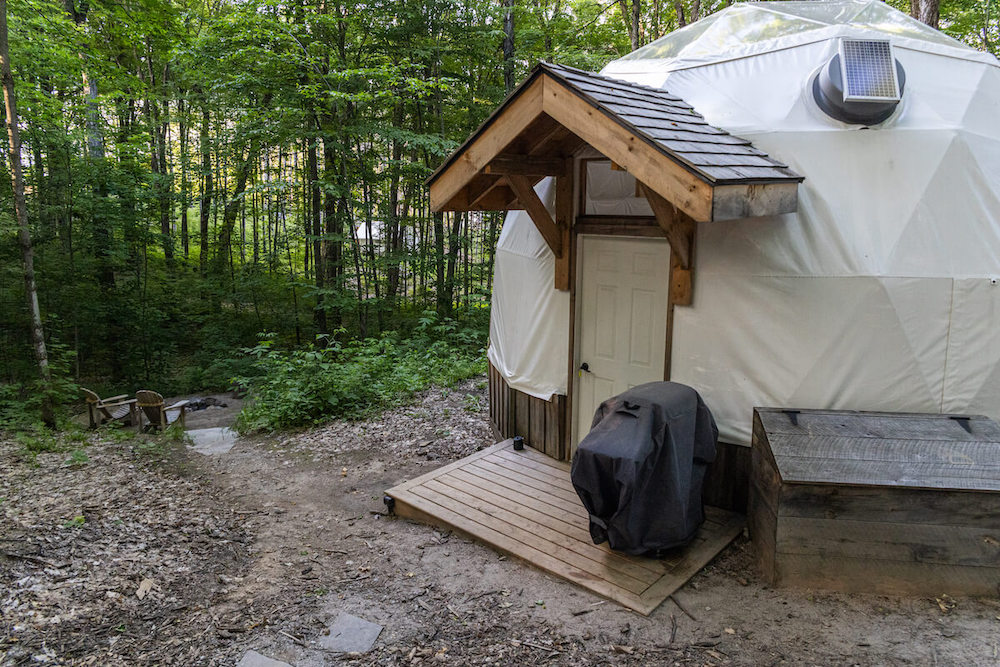 While glamping at Glen Oro Farm, guests have plenty of activities to choose from. Explore the farm's beautiful surroundings on a leisurely trail ride, guided by experienced equestrian professionals. Roam the undulating hills, take in the breathtaking vistas, and experience the tranquility of nature. The farm also provides the option of engaging in various horse-related experiences, including grooming, leading, and interacting with these majestic animals. At night, we had a astronomy presentation that showcased the beautiful skies above and the constellations in the stars. During the day we took a cold plunge in their metal basins and alternated with a hot sauna.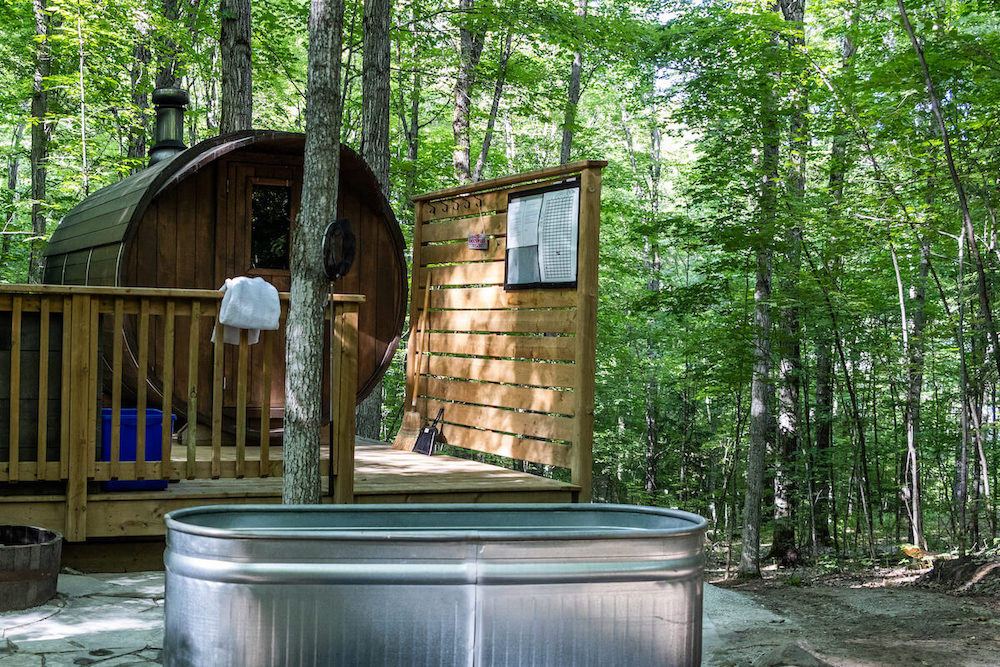 Our meals were cooked by a private chef who is available for hire for special events. He lived in Toronto for many years and has cooked at restaurant such as the Drake Hotel but recently moved to the Oro-Medonte region and works as a chef for hire. If you have any weddings, anniversaries or parties planned, be sure to get in touch with him through the Farm. Our meals were all prepared over a large wood burning fire at Glen Oro's bar space. We had a set table for us and got to chat over drinks and learn more about the Thermacell products as they protected us from getting eaten by mosquitos.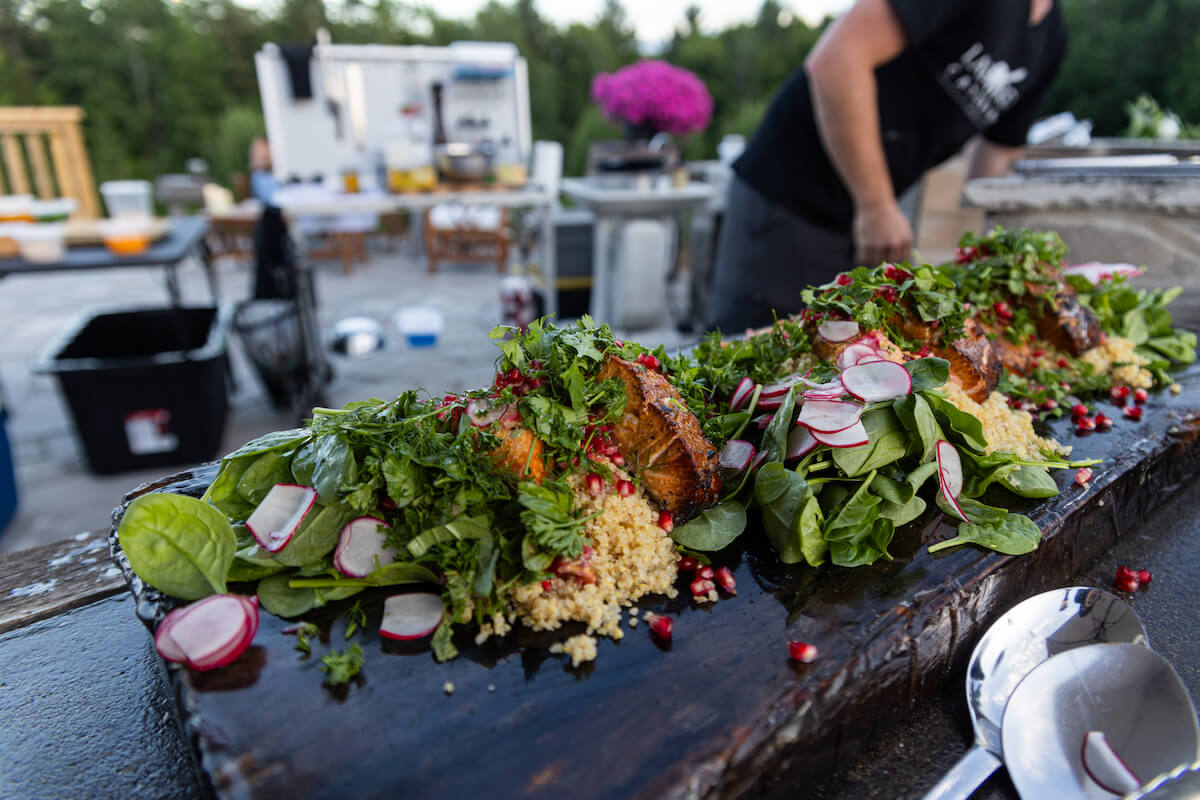 Getting around the farm was made easy by their fleet of Gator vehicles that are on call like a taxi service. When we needed a lift, a text message with our location had a vehicle arrive for us within minutes.
Glamorous camping, or glamping, at Glen Oro Farm offers an unforgettable experience for those seeking a blend of luxury and nature. Located just a short drive from Toronto, this hidden gem provides a unique opportunity to escape the busy city and immerse yourself in tranquil countryside living. With a rich history of equestrian excellence, Glen Oro Farm seamlessly combines the love for horses with the joy of glamping, creating a haven for all nature enthusiasts. So, pack your bags and embark on a peaceful and rejuvenating glamping adventure this summer.
Visit them on their website for more info.