Named "one of the hardest workers in the Ontario Country Scene", Shelburne Ontario Artist Jessica Sole is no stranger to determination. Working alongside Country Music Association of Ontario Producer of the Year Nominee, Shawn Moore, Jessica has crafted a fresh, new sound that is taking the industry by storm.
After the release of her debut EP "Think of Us", (150k global streams two top 40 hits on SiriusXM Channel 171), Jessica has continued to grow. In March of 2022, she recorded her sophomore EP at Nashville's legendary Blackbird Studios. Making her mark with singles "In The Name Of Tequila", (200k TikTok views), and "Good in Goodbye" (multiple editorial playlist adds) Jessica continues to captivate audiences with her music.
2023 holds a lot in store for this rising star, including the release of her sophomore EP, another trip to Nashville for more writing and recording, and a summer on the road bringing her music directly to her fans with a high-energy, captivating, and unforgettable show that is sure to keep fans wanting more!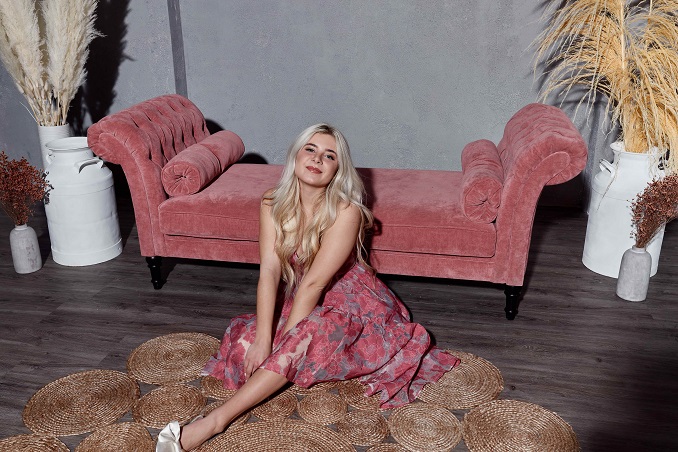 Name:
Jessica Sole
Genre:
Country
Founded:
March 27th, 1997
# of Albums:
2
Latest Album:
Hometown Cliché
Latest Single:
Fun While It Lasted
Latest Video:
Favourite musician now:
Kelsea Ballerini, Charlie Puth
Guilty pleasure song:
Party in the USA by Miley Cyrus or Call Me Maybe by Carly Rae Jepsen
Live show ritual:
Drink lots of tea, vocal warmup while I do my hair, and then sing along with Voicenotes by Charlie Puth in the car.
Favourite local musician:
I'm absolutely loving Devin Cole!
EP or LP?
LP
Early bird or night owl?
Night owl
Road or studio?
Both!
Any shows or albums coming up?
I hosted my EP Release party on April 22nd at The Supermarket in Kensington Market. I'm also playing tons of shows this summer which can be found on my website.
Where can we follow you?
Website | Tiktok | Instagram | Facebook
***
Rapid Fire Toronto Questions:
What is your favourite local restaurant in Toronto?
La Carnita, who doesn't love tacos and tequila?
What is your favourite street in Toronto and why?
I love walking down Queen St West in the summertime.
What is your favourite park in Toronto and why?
Colonel Samuel Smith Park, it's by where I went to school and has a beautiful view of the city on the water.
What is your favourite music venue in Toronto?
Budweiser Stage has always been my favourite.
What is your favourite music store in Toronto?
My Dads store, Soul Drums, it's a vintage drum shop and has been open for almost 30 years!