Name: Mélanie Marie Fleurette Brûlé AKA Melanie Brulée
Genre: Bilingual-Americana-Spaghetti-Western
Founded: Oh man, it's been the 'Me Show' since the day I was born but I started playing music seriously in 2006 I guess?
# of Albums: This is a complicated answer too. Albums under the name Melanie Brulée? This will be my second. Albums with other bands? 2. Compilation albums with Ladies in Waiting Collective? 2.
Latest Release (album): Fires, Floods & Things We Leave Behind (Oct 19, 2018)
Latest Video: Whiskey & Whine premiering on www.theboot.com mid-October.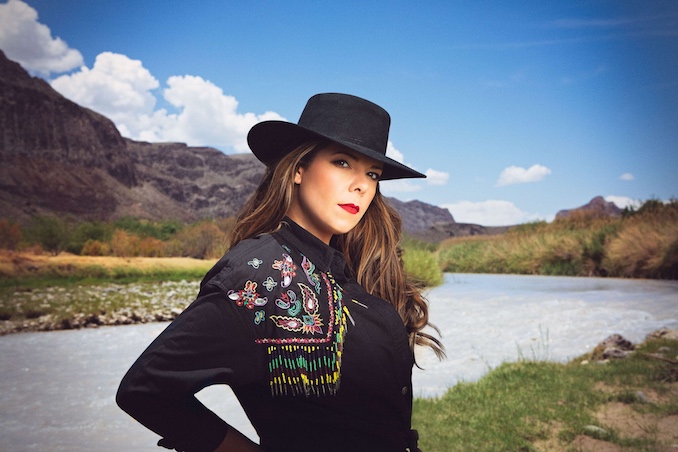 Bio
What most might call Americana, folk-rock or country music, Toronto-based Melanie Brulée colours her own, bringing a vintage respect to a modern sound by intertwining surf-style guitar tones and catchy melody hooks – all with the vibe of a speakeasy cabaret. Her music has been on regular rotation on CBC and Sirius XM and her upcoming record exploring themes of family, loss and addiction and recovery, will be released October 19th, 2018.
Latest Single:
"I'll Get Over You" is on all digital platforms now – http://ow.ly/OfJE30lG7yi. "Whiskey & Whine" drops on Oct 12th.
Favourite Restaurant:
My house. For brunch.
Favourite band as a teenager:
Garbage or The Cranberries
Favourite band now:
Ouff. Probably Tame Impala or The Black Angels
Guilty Pleasure Song:
'When You're Gone' by Brian Adams and Mel C
Live Show Ritual:
I always like to sit in the crowd before I go onstage. I like to read the energy in the room before I start.
Favourite local artist:
Oh gosh, how do I choose? Jennifer Castle, Dilly Dally, ALVVAYS, Jeremy Dutcher, Andrea Ramolo, Kaia Kater, Julian Taylor, David Newberry, Skye Wallace, I could go on. We have an amazing scene in Toronto.
Sneaky Dees nachos, pasta from Terroni or a superfood salad from Fresh?
Probably the superfood salad. Mind you I might be eating that because I ate the nachos earlier.
Queen or College St?
Dundas.
Trinity Bellwoods or Highpark, Riverdale or Kew Gardens?
Kew Gardens is a pretty special place but now that I have a dog I'll take Highpark any day.
EP or LP?
LP
Early bird or night owl?
This is like a therapy session, I feel like I'm reflecting on my life choices thus far haha! Used to be a late owl. Love the mornings now.
Road or studio?
Road. I love exploring new places and meeting people. Connection is why I'm in this crazy game.
Swiss Chalet or Roti?
ST HUBERTS!
Where can we follow you?
My website or @melaniebrulee on social.
Any shows or albums coming up?
YES! My album release is at the Cadillac Lounge on Thursday Oct 18th (early show 7pm-9pm) and I'm on tour most of Oct/Nov across Ontario and the USA. Check my website for more info.