This recipe comes from the island of Crete and is called Boureki. It was given to the host of the TV Series Star Foodies! Christina-Laia Vlahos, by the music band Loco Mondo who were the guest foodies on an episode. The Chefs who recreated the recipe were Grub Godz.
Star Foodies! Greece Edition currently airs on OMNI 1 Saturdays 10 pm ET. (Repeats Thursdays 4:30 am & Fridays 11:30 am)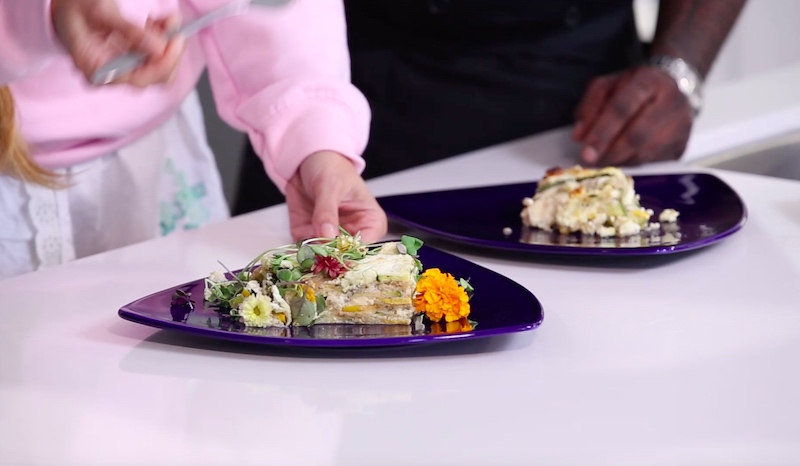 Boureki
Ingredients
-4-5 large zucchinis, washed, sliced into thin slices
-3⁄4 cup olive oil
-500 gr of grated Greek goat cheese called "mizithra" – *Note: You may substitute with Parmesan, feta and/or ricotta
-2 tablespoons of fresh mint, minced (1 tbsp. dried)
-salt and pepper to taste (dispersed from a good height to ensure even flavour)
-1⁄2 cup flour
Directions
1. Preheat oven to 350 degrees F (170C).
2. Place the sliced zucchini into a deep bowl with and sprinkle with 1/2 cup flour, salt and pepper (to taste) and the mint.
TIP: the goat cheese is salty, so be careful. Otherwise a generous amount is ok, held high to disperse well.
3. Grease a deep pan, sprinkle flour on it to prevent the boureki from sticking during cooking.
4. Place the first layer of zucchinis into the pan, without leaving any space between the slices.
5. Sprinkle a layer of the cheese (crumble it with your fingers) atop.
6. Sprinkle some olive oil and flour atop afterwards.
7. Repeat the process until you have 3-4 layers of zucchini.
8. Finish with a layer of cheese and sprinkle some flour atop.
9. Bake in a preheated oven, at 180 degrees celsius for 45 min- 1 hour. The cheese on top should be slightly browned when the dish is ready.
*Note: Zucchinis yield a lot of water, so make sure it cooks long enough to keep it firm as a pie. You may even cut it into pieces before you cook it, to ensure it cooks well inside.