The Grocery Foundation was formed in 1979 when a small group of Ontario grocers decided to make a difference by helping youth who couldn't afford proper meals. The founders teamed up with other Ontario grocers to form a coalition that has since raised over $85 million for youth food and nutrition programs across the province of Ontario.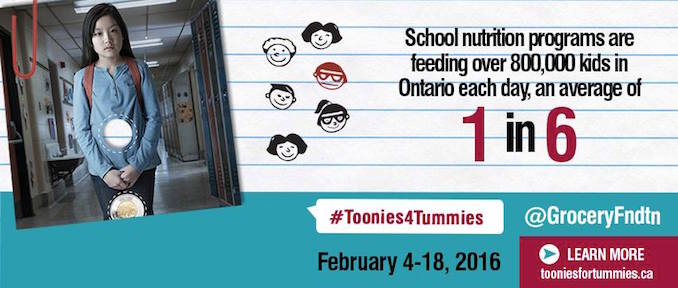 To make this all possible, the The Grocery Foundation formed GIFT (Grocery Industry Foundation, Together) which was an umbrella company to manage all the various types of fundraising campaigns. The first of these campaigns was Cash for Kids. Coupons were given out to consumers and every time one was used at a participating grocer, a donation would be made toward the grocery foundation and its programs. Funds from the Cash for Kids fundraising also went to help an organization called Variety that ran educational, fitness and life skills programs across Ontario.
Today, the Cash for Kids program is called Toonies for Tummies and is taking place in stores this month until February 18th. Customers will get coupons to redeem for discounts on products and will also have the option to donate a Toonie at the cash register. The money will go to support meal programs in local schools in the community run by programs such as Breakfast for Learning, Help Kids Now and the Elementary Teachers Federation of Ontario. The best part is that your donation stays local. Donate at your local grocer and the food programs in your community will see 100% of your donation.
The grocery foundation also provides vouchers to schools for their Breakfast for Learning programs. These programs aim to provide the resources, knowledge and skills so that nutritious breakfasts can become a reality for the hundreds of thousands of elementary and high school aged children that go to school on an empty stomach in Ontario. Over 800,000 are on meal programs.
The foundation also raises money and awareness through their annual Night to Nurture Gala which took place on January 30th, 2016 in Toronto. Through auctions and donations, the night raises money that goes towards meal programs as well as organizations like Kids Help Phone, Canada's only free, national, bilingual, confidential and anonymous, 24-hour telephone and online counselling service for youth.
To learn more about The Grocery Foundation's #Toonies4Tummies and its annual fundraising programs, visit their website.