Cynthia Reyes is known more for her books for adults. Often exploring unusual homes, the people who loved them and what connects them to these places. She's also the recipient of the Diamond Award for Book of the year for two of these memoirs.
As a former CBC trainer, journalist, and producer, Reyes suffered a life-changing car accident that made her look even closer at life.
Recently, Cynthia Reyes delved into the world of children's books and introduced us to the story of Myrtle the Purple Turtle, a touching conversation about diversity and difference. It's quickly made the 'bestseller' list on amazon.ca and she's currently on tour visiting classrooms and media to talk about her book.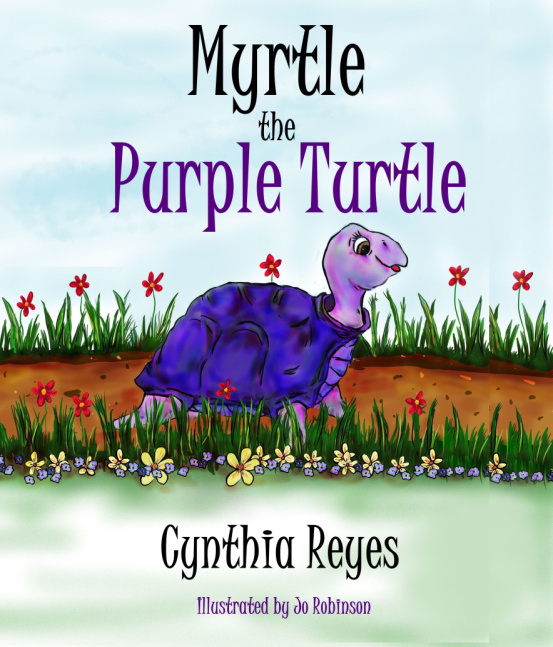 Reyes recalls her childhood as being 'different' from everyone else so, she empathized with her daughters immediately whey they encountered obstacles related to the ways in which they seemed different from her peers. "I was very bright and the smallest child in my high school. I got bullied and was often sent to the principal's office because I tended to argue with both my tormentors and teachers" said Reyes.
But luckily her principal loved a good debate with her on various subjects and she said she always left his office feeling way better than when she was kicked out of class.
"But telling a kid that they are special and not to worry about the bullies isn't enough," she says. "You have to find creative ways to help strengthen that child's defences."
Writing this book helped her strengthen both her daughters and hopefully other children around the world.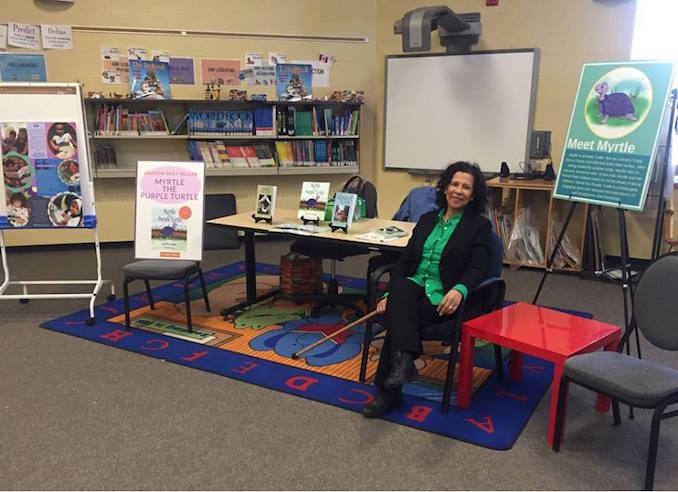 What inspired you to write this story?
Daughter Lauren, at 4 years old, had an unhappy experience at school that left her feeling rejected, even bullied by other children. She brought Quentin, her black doll, to school, and the other kids refused to play with him because of his skin colour, which they thought was dirty.
Also, we are a black family, which means we are everything from dark brown to yellow, so the rejection hurt Lauren. She didn't tell us about it – we (her older sister, father and I) noticed she was adamantly refusing to bring Quentin to school with her and finally the story came out. I had worked in children's television for 6 years. That night, I wrote the story for her.
Many kids just want to try and fit in, that hasn't changed since when we were young, but what has changed?
Lauren and I have recently been visiting elementary schools. We note that though there is far more racial diversity among the kids now, there is still a lot of rejection, taunting and bullying taking place, much of it based on how people look or sound or dress, or the ethnic food they bring to school for lunch, etc…The children try their best to fin in, but it doesn't work a lot of the time. The injury leaves a mark and causes pain.
The schools are trying very hard to instill values of respect, kindness and cooperation and teachers seem very attentive to incidents of bullying. We all see other kids stepping up to include a child who has been hurt, and those are memorable moments in the life of a child who feels isolated, rejected or bullied.
Myrtle is relatable for girls and boys as well as people from all different backgrounds Can you tell us more about this character?
Myrtle is a happy turtle. Her friends are a girl and two boys and they do everything together. She doesn't think she's at all different till another turtle taunts her about being purple. She does a lot of thinking and even tries to change herself to fit in.
It sounds like  book that would be great for adults to read with their kids. What would you hope people would notice when they are sharing this time together reading?
It's been bonding time for kids and parents, and a great way to reinforce what is different and special, what is the same, and to reinforce the importance of both friendship and loving oneself. Lauren and I started the #loveyourshell social media campaign to help with this message of self-acceptance.
So, why a turtle?
Our family liked turtles, and our daughter Lauren especially did.
***
Myrtle the Purple Turtle is available on amazon.ca, online and in bookstores.