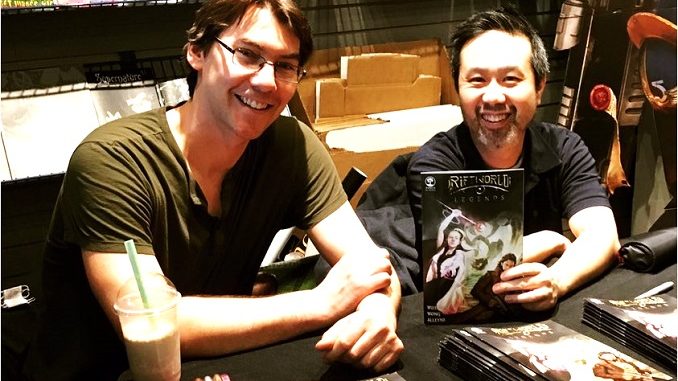 The Portal, embedded below, is the best short film this author has ever seen.  It runs a little over ten minutes in length, and is perfect.  Watch it now before you read any further as you're sure to care a whole lot more about news related to this property after you've enjoyed this gem.
This 2014 Canadian short film stars Tahmoh Penikett and Erin Karpluk. The writer director Jonathan Williams is from Toronto.  The film won acclaim everywhere it was shown, and won prizes at the Salt Lake City Comic Con which is more important than it sounds. In a relatively short period of time it has gained a loyal and dedicated fan base, and a Kickstarter campaign raised more than $60,000 to fund a web series.
In 2015, Riftworld Chronicles appeared. This web series picked up where the short film left off, or rather it retells the original short story of Alar the wizard meeting Kim the tabloid journalist (not a travel agent) in an even better produced, longer, and more elaborately crafted eight-episode web series.  This saga has also won numerous awards.  There was a good story about Riftworld on CBC in July of that year.

Fast-forward to 2018, and now it's a comic book series. Riftworld is the first Canadian serialized comic to stem from a web-series (and before that it pioneered the route from short film to web series). The exploding digital media landscape is changing everything, including how comic books get made, and how ideas are financed, and how fantasy stories come to life. Here it should be noted that Riftworld Legends comic book series was primarily financed by OMDC's IDM grant or Interactive Digital Media Fund which is designed to do exactly this kind of thing; they take smart Canadian properties like this and grow them for everyone's benefit to provide jobs for media producers and other interactive content creators.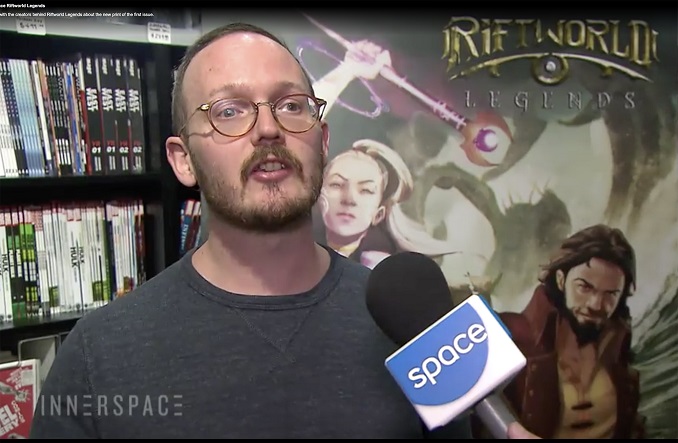 Riftworld Legends' official book launch was Wednesday, Feb 28th 2018 in comic book stores across North America. Here in Toronto, there was a ceremony at the Silver Snail and many notable members of the Canadian comic book community were in attendance.  Cover artist Lamin Martin, and artists Eric Kim and Daniel Wong were there, and everyone was interviewed by Space Network producer (and former manager of the Silver Snail 1982-1987) Mark Askwith, who was there to interview the team for InnerSpace as Jonathan Williams and Daniel Wong signed over fifty copies of the first issue.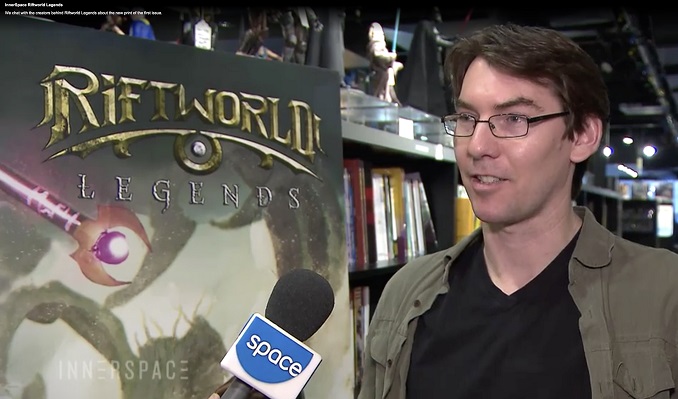 In this and other TV interviews, Jonathan explains how the comics were conceived as a way to expand the fantasy universe introduced in web series, Riftworld Chronicles. The comics explore the fantasy world that is only glimpsed in The Portal and is not visible at all in the first eight episodes of the web series.  The comics are made to give fans of the adventure saga more content, and these prequels provide a rich backstory for the characters in the show.  It's also an opportunity to further develop the Intellectual Property of Riftworld.
Comic book collectors should know there were only two thousand copies of the first issue printed in the first run, and half of these were pre-ordered by comic book shops.  There are ten issues in total being published over the spring, summer and fall of 2018.  The books will be available worldwide through a digital distribution agreement with major ebook vendors including, ComiXology, Amazon, Apple, Google and Kobo.  Keep your eye on Riftworld; next time you turn around it could be a feature film.