Toronto-based designer Diane Kroe has established herself particularly in the world of travel wear. Her pieces are timeless with form, function and versatility. She's not interested in trends or who's wearing what. She's interested in everyday women doing extraordinary things and it's important for her to know that  her line of clothing gives you the confidence to carry on your day. Each piece in her line isn't just one piece — one piece can turn upwards of six different looks (or more) making packing for travelling lighter and easier.
I had first committed to one of her "Origami" dresses at least 8 years ago. I brought it on a trip and was amazed at how many ways I could wear it – beach cover up, strapless dress, sleeved dress, top… it just went on and on. I also discovered the ease in wash and care. Since then I've invested in several more pieces in varying styles, colours, and patterns.
I would catch Diane at the One of a Kind Show in Toronto. She's been invited back to every show for as long as I can remember. Watching her, and her staff in all different shapes and sizes, transform pieces effortlessly in their booth is like watching a magic show. She shows not only the practicality of the pieces but the most stylish ways to dress for travel, and at home actually, without breaking the bank.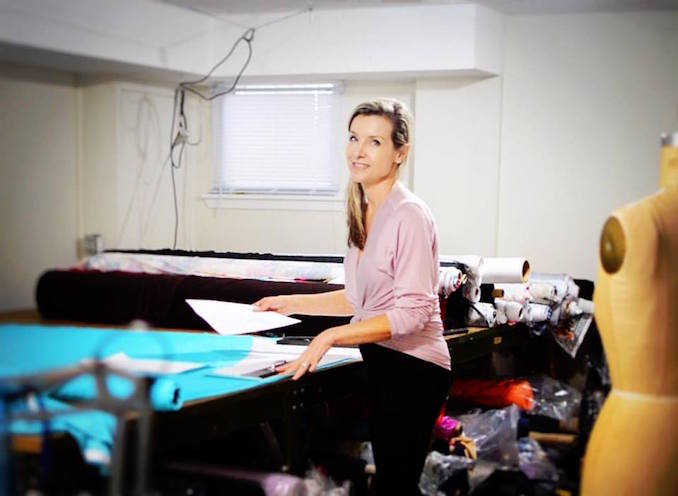 I had a chance to chat with Diane Kroe recently to find out more…
Tell us how you started and how you've attracted such a strong global following? 
DK: It really began in 1998 when I opened my first retail boutique on Avenue Road in Toronto. Without me expecting it, my boutique became a go-to stop for destination weddings. I suppose it was because I designed beautiful multi-way dresses that each bridesmaid could wear her own way and looked great no matter her size or shape. Over time those same brides, bridesmaids, and mothers  would return to request easy, elegant, and versatile clothing for everyday travel that had the same concept as the dresses they had previously purchased.
When I look back, I think September 11th had a lot to do with it…customers began to downsize their luggage to avoid all the hassles of line-ups for checking baggage due to increased security. Carry-on became more and more popular and versatile. Lightweight ease care fashionable clothing became more in demand.
What are people most surprised about when they discover your line?
DK: My staff and I just love watching the looks on ladies faces when they see the versatility of our pieces. They are so surprised and we often have a crowd at our booth with ladies in awe.
The girls who work for me always say they feel so uplifted after a long day because customers are so eager to discover more about what we do. Their purchases make them smile. They tell us they look forward to looking, and feeling, beautifully prepared for their upcoming vacations.
Speaking of vacations…what's the ideal getaway for you?
DK: Because of my job, I spend months at a time travelling and living out of a suitcase while staying at hotels. So, during my downtime I like to be in the sunshine relaxing while spending time with my family and friends. Summers are spent on the lake in the quiet Canadian wilderness. For winter getaways we seem to end up in the Dominican Republic where the weather is guaranteed to be beautiful and luxury vacations are reasonable. At this point, all I need is a good book and a margarita and I'm a happy girl! Before I had children I travelled the world with a backpack and loved it at the time. So, when I'm an empty nester I'm planning to do the same but first class with only carry-on.
What's your next destination?
DK: I love visiting The Wickaninnish Inn in Tofino and plan a visit there this spring.
What do you always have in your carry-on?
DK: My travel uniform is a One 4 All Top, Travel Tights and a Carry-On Cozy.
How do you describe your personal travel style?
DK: Easy, elegant and versatile.
What was the last souvenir you brought home and from where?
DK: I'm a minimalist at heart so I prefer experiences rather than things. My most memorable souvenirs for 2017 was treating my favourite auntie and mom to Mother's Day at The Fairmont Empress Hotel. Memories seem to be my preferred souvenirs. I've also recently downsized my parents and realized that photos and memories last a lifetime while chachkas end up on the shelf at the local Value Village.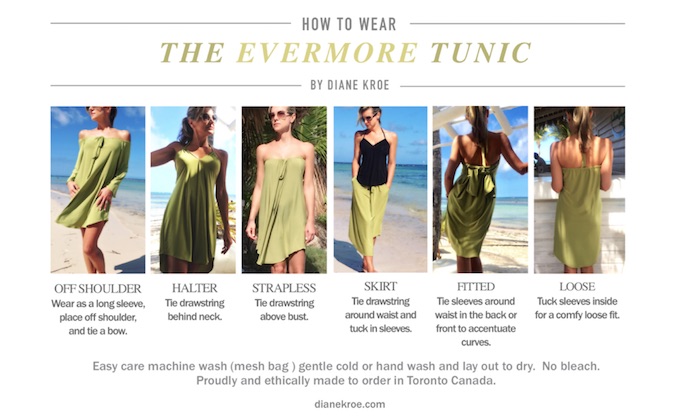 How have people been finding out about your line? I love seeing how women are wearing your pieces on their travels and sharing on social media!
DK: My customers are my best advertiser and great at spreading the word. I began taking the collection to cities across Canada and, with e-commerce, we now sell all over the world but it's mostly word-of-mouth. I do find social media helps but I really haven't invest in it. My project for 2018 is to hire a marketing team and focus on spreading the word. We're also planning some fun trunk show events for our Toronto ladies. I'll keep you posted.
What's your best-seller?
DK: Wow! That's a hard question! It always varies. New customers always buy the basics like Travel Tights and the One 4 All Tops. If they are curvy then the Origami is popular. But my regulars collect over time so my best-sellers are the newest design or the limited edition pieces. They love having a piece they know their friends can't get because we only make a few.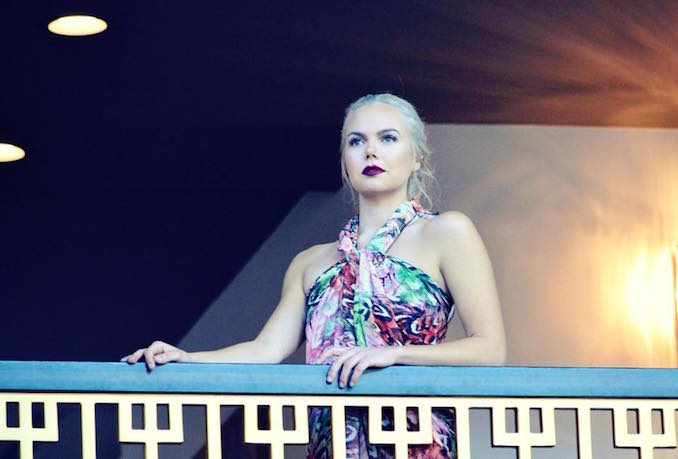 So, what's new?
DK: The latest designs include the Butterfly Wrap and the Evermore Dress is a new version of our Evermore Tunic. We streamlined the original tunic versions this concept could be worn for all seasons. I streamlined the cut and lengthened the sleeves. I also found though my curvy customers like the A-line of the tunic version. My petite ladies felt it was too much fabric so the streamlined version will be a new favourite for them.
You can discover more of Diane Kroe and her collection on her website.