Back in November, CHANEL opened up their flagship boutique in Toronto's trendy Yorkville neighbourhood. The new venue for all things CHANEL takes over the two floors and 600 square metres within the historic façade that was once part of the first Mount Sinai Hospital, an institution founded in 1922 to provide medical services particularly for the city's many Jewish immigrants. It was in 1934 that architects Benjamin Kaminker and Edward Richmond designed this façade as an addition to the hospital.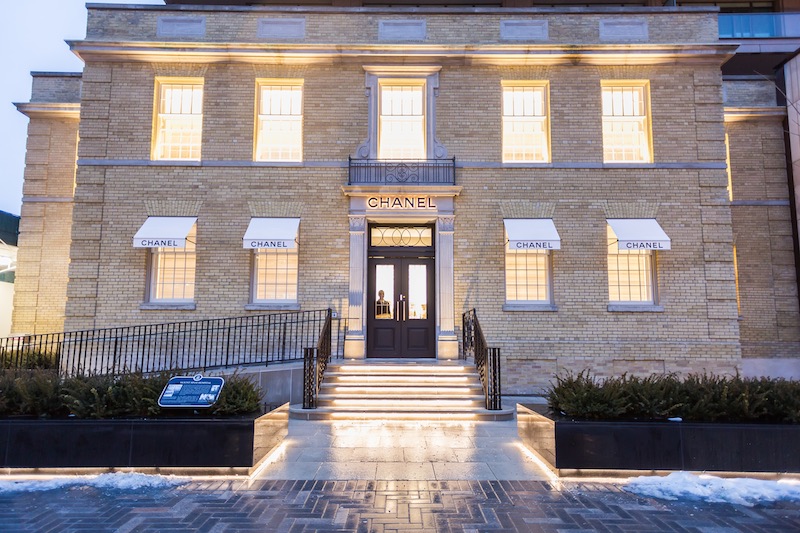 The interior of the building was designed by architect Peter Marino. Bespoke artwork and furnishings, CHANEL's iconic colours of black, white and gold are apparent throughout the space. Custom fabrics are used in silk and wool carpeting, in the draping of the walls as well as on woven window panels in ivory, gold, black and champagne. On top of elements that pull from Coromandel screens, visitors can also discover touches of 'Chinoiserie' motifs mirroring Mademoiselle Chanel's apartment in Paris.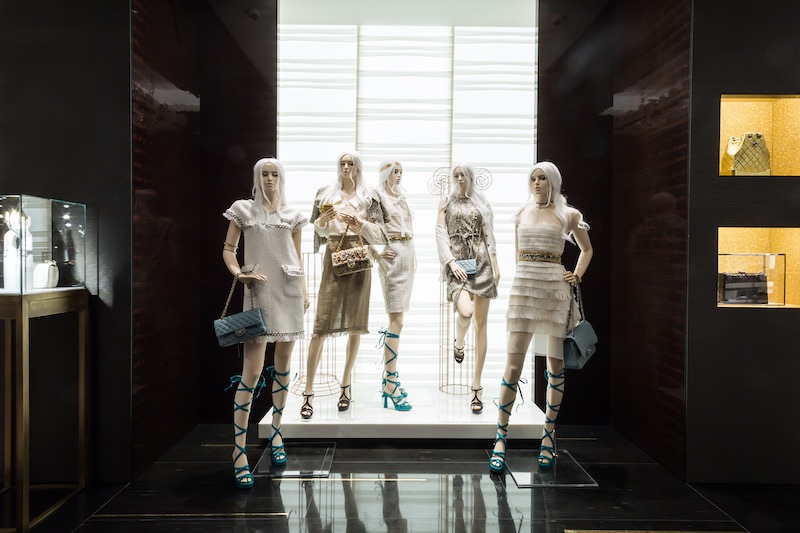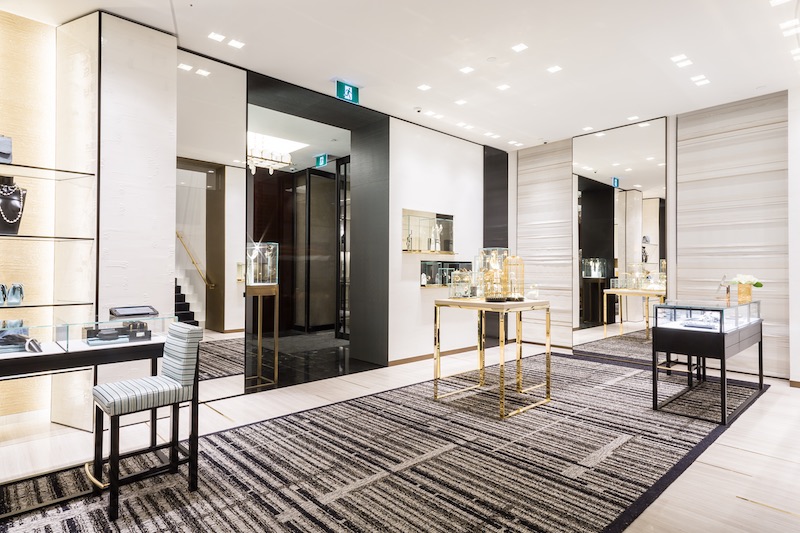 Ready-to-Wear collections can be seen in the boutique's two salons which are accompanied by four accessories salons that feature a selection of shoes, handbags, small leather goods, eyewear and a selection of CHANEL Watches and Fine Jewellery.
Specially-commissioned artworks selected for the boutique are also on display showing a commitment to the arts. How long the pieces stay up and how often new ones are introduced was unclear but an update will be added once that info is known by the retailer.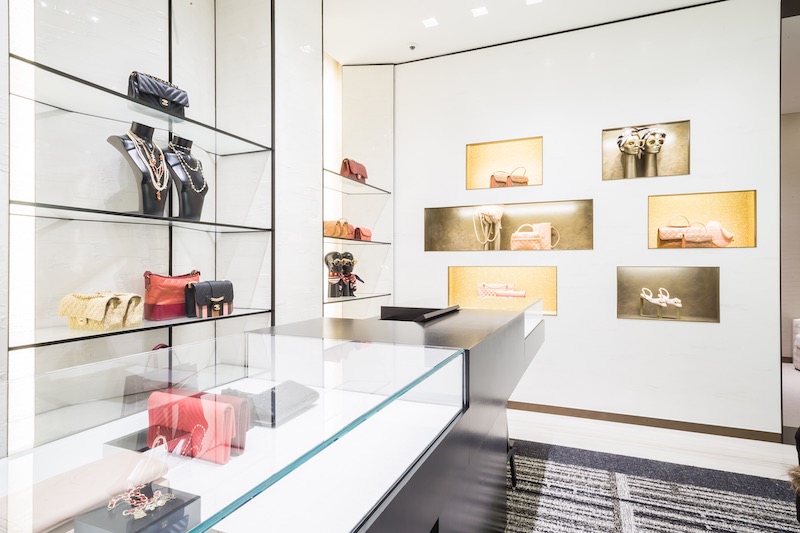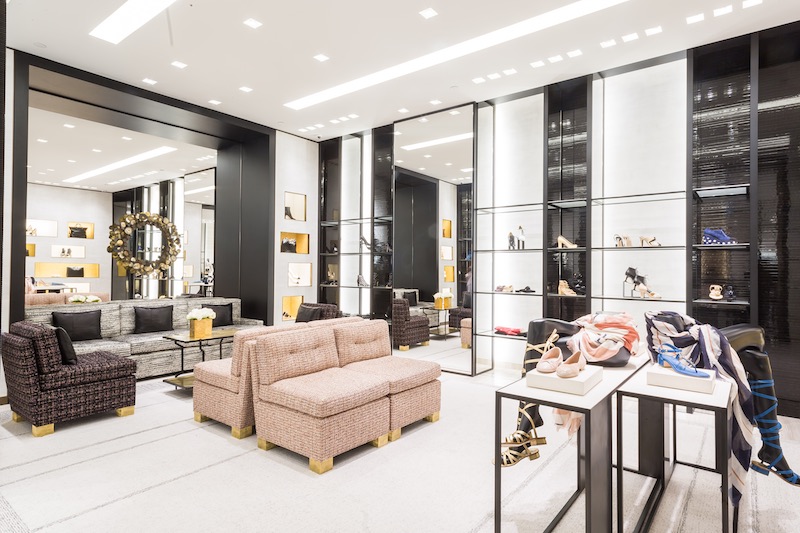 So how is the store broken down? Visitors will enter through their main doors and into their "gallery space", featuring a  rock crystal and polished bronze Goossens chandelier. The gallery space moves into the four salons on the main floor. Costume jewellery with a selection of handbags in one section; shoes, a space that  features a brass 'Raindrops' wall mirror by Curtis Jere and an engraved brass and bronze table by Michael Pohu; eyewear, along with small leather goods and other accessories like scarves; bags including CHANEL's Gabrielle bag Cruise novelties and the BOY CHANEL handbag as well as Watches and Fine Jewellery including the CODE COCO watch, CHANEL's newest timepiece, and the Gallery fine jewellery collection, recently launched in Paris. These spaces are accessorized with French Montano 'ribbon' chairs in blackened bronze.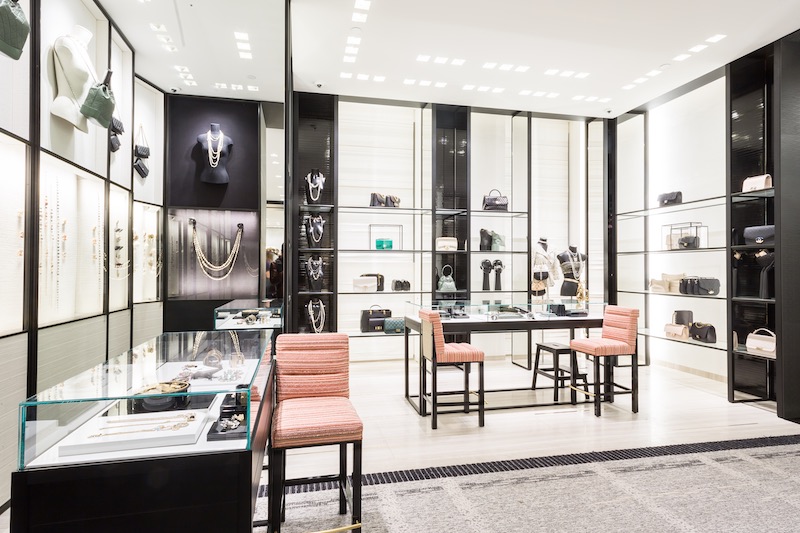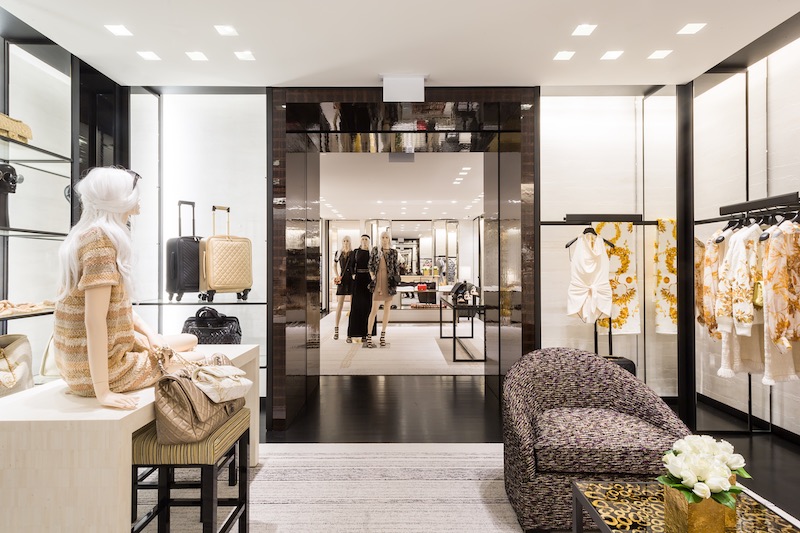 The stairwell that connects the two floors features a commissioned art piece by Jean-Michel Othoniel, known for his longstanding collaboration with the House of CHANEL. It features a white and gold beaded 3-D pearl necklace that descends eight metres from the ceiling, visible from both floors
There is also a portrait of Gabrielle Chanel that was created using a watered reflection technique that is engraved on black granite by artist Gregor Hildebrandt.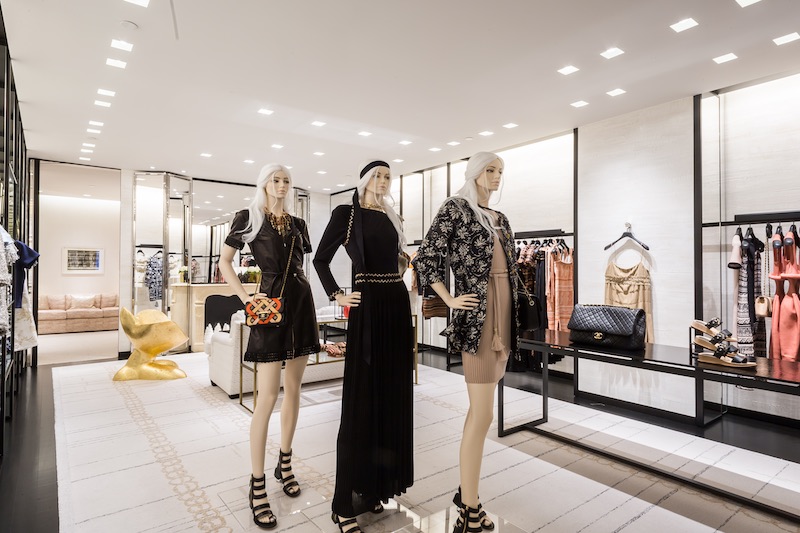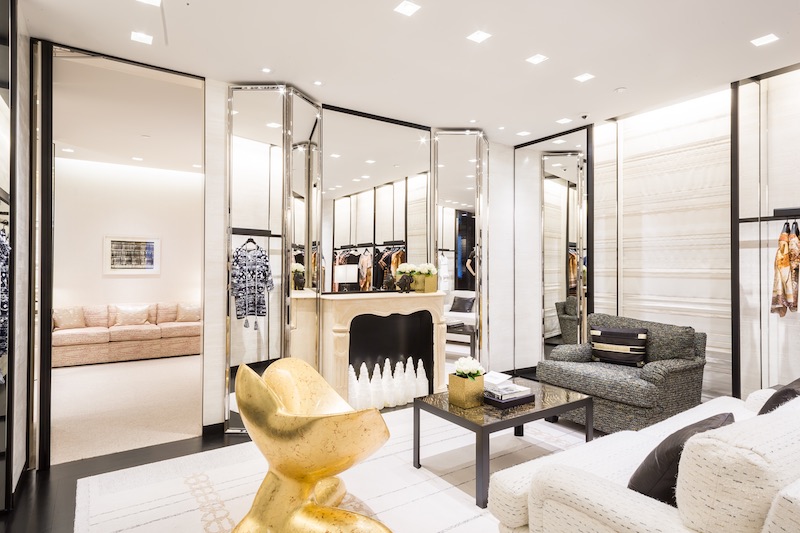 The upper floor of the space is dedicated to Ready-to-Wear items featuring the CHANEL Cruise collection created by Karl Lagerfeld. The two salons up here are designed to reflect the intimacy of a private home, by including delicate French artisanal objects such as lamps with beaded detailing as well as a fireplace made of limestone – juxtaposed by a gold-leaf resin Wendell Castle 'Firebird' chair. The three fitting rooms, including one for VIPs, include artworks such as a pearl framed art piece by Shelter Serra, a gold and ivory camellia collage by Peter Dayton and a black and white graphic abstract artwork by Heinz Mack.
It is clear from the store and its interior design that art is a huge focus of the brand. We hope to see more Canadian works presented and updated often.