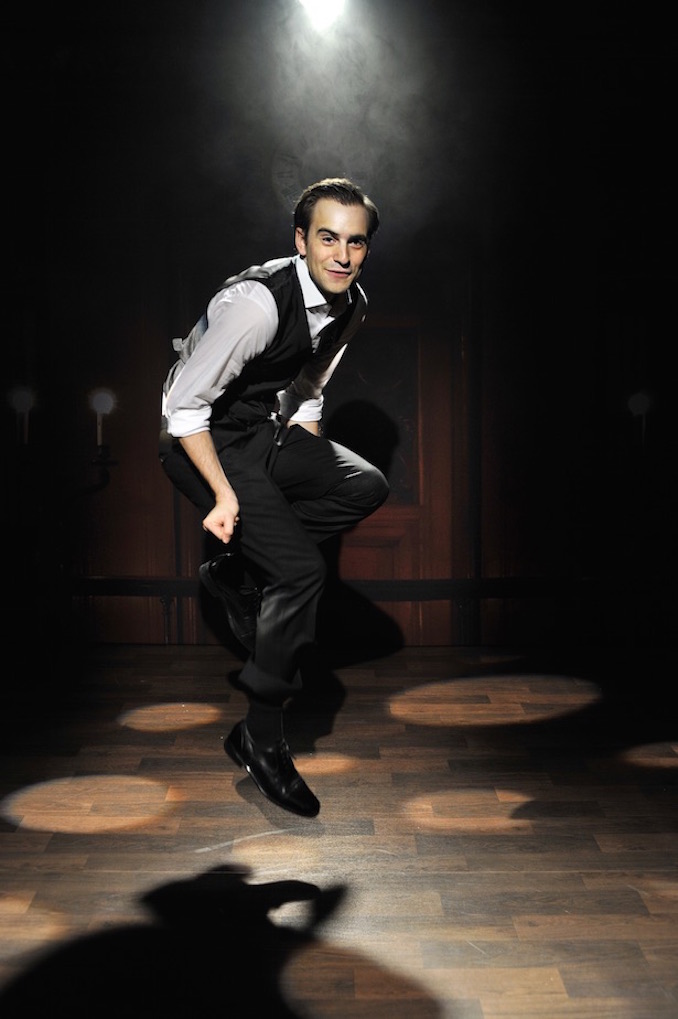 There's trouble brewing in Downton Abbey and it is in financial crisis. What to do? Fans of the television series are can now have a whole lotta laughs at Upside Downton where many of our favourite characters are revived on stage in this quick-witted parody created by impersonator, and entertainer, Luke Kempner. Downtown Abbey is reinvented as a parody…and no, it's not a musical! LOL! By the way, he plays all 36 characters in this one-man show.
Not only is Downton Abbey in financial trouble but toss in the expense of a lavish wedding (no, not Lady Mary or Lady Edith) and things get pretty wild. The staff of Downton try to help by coming up with unexpected ways to help raise funds and Mrs. Patmore comes face to face with Chef Gordon Ramsay in Downton Abbey Kitchen Nighmares! What? Yes, and only Luke Kempner can trump the Dowager's one-liners! Brilliant parody!
Luke Kempner is known as the man of a thousand voices. His impressions of celebrities are spot on, and his satirical take on them adds another dimension. When Downton Abbey first became a popular sensation, Luke made a YouTube video in which he portrayed 12 of the show's main characters. It became a massive hit and led to producer James Seabright commissioning Luke to create a stage show based on his impressions. Originally called The Only Way is Downton, it premiered at the Edinburgh Fringe Festival, where it sold out and won accolades from the critics. The show was further developed, opened in London and then went on a UK tour, all to great success.
I had a chance corner Luke recently at the Mirvish Production's Subscriber Season Preview and ask about his show to find out more…
How did you come up with this idea?
Kempner: It basically started two and half years ago when I was watching the show which I absolutely love. I started doing impressions of the characters like Mr. Carson, Mrs. Patmore the cook and yes, Daisy. I realized that I could do quite a few of the characters. I've actually been doing impersonations for a while.
You were discovered on YouTube…the power of social media can be pretty crazy, right?
Kempner: Yeah, it gets knocked some of the times but for me I wouldn't be here without it. I actually started in musical theatre in shows like Les Mis and Phantom of the Opera but now, to be here doing my own show, all came because I put myself out there.
So, what does it feel like to be doing a one-man show?
Kempner: (laughs) It's very different to do a show like this because when when you come off  a show you can't high-five yourself and tell yourself what a great job! But you know, to have all the control of all the material and to make people laugh in different places every night is so exciting. It still blows my mind that I get to do this.
You impersonate many characters from Downton Abbey but then you throw in a few surprises like Gordon Ramsay?
Kempner: (in Gordon's voice) because you know, he's so popular in America, yeah? In the UK there are different celebrity characters I use because they are popular there but here, I use a whole realm of characters that are more popular here.
What character is the most challenging for you to impersonate?
Kempner: Well, they all have different challenges. Someone like Mrs.Hughes was hard for me, I could hear that she was Scottish but I couldn't find what it was about her and suddenly I found out little things about her to make her character funny.
So, have the real actors of Downton Abbey seen your show?
Kempner: Yes, some have seen it like Jim Carter who plays Carson and Elizabeth McGovern who plays Lady Cora have seen it with her family and that was absolutely delightful. There's nothing nasty about the actors. They usually find it fun as well. The thing is I love Downton Abbey so it comes from a place of love. It's for the Downton fans but also for those who haven't seen it either. There's no particular spoilers in the show if someone doesn't follow the series. It's a celebration of period dramas and impressions.
UPSIDE DOWNTON is on stage now until October 18, at the Panasonic Theatre, 651 Yonge Street
, Toronto. Visit mirvish.com for schedule and tickets.
At all matinees, there will be a complimentary "Afternoon Tea" of scones and tea served 30 minutes before the show.