I got to visit one of my favourite areas in Ontario, the Kawarthas as a guest at Viamede Resort. Known for its many lakes and the Ontario celebrity status of its dairy, the Kawarthas have also become known for their town of Bobcaygeon which was made famous by The Tragically Hip song of the same name.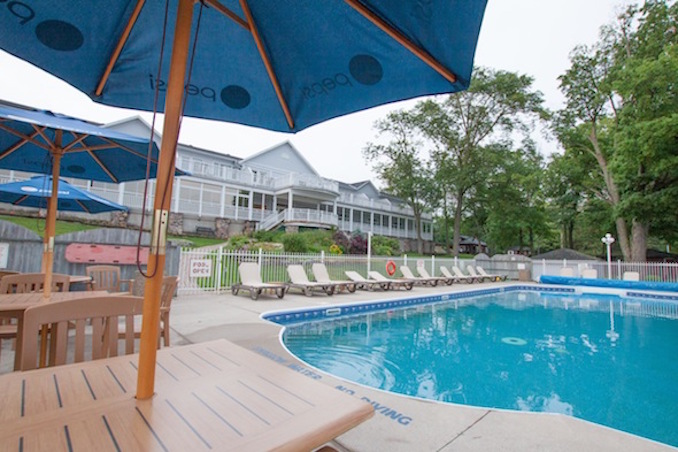 The Kawarthas are about a 2 hour drive North-East of Toronto and can be reached by taking the 401 East and then heading toward Peterborough.
I was lucky enough to stay at one of the best spots in the region. Viamede Resort is located on beautiful Stoney Lake about half an hour North of Peterborough and has everything you need to have a great weekend, or week-long, getaway.
Honda/Acura were nice enough to hook me up with a vehicle to make the trip. Since the roads were paved all over this region I decided to take the new Acura ILX hybrid. Like the previous RDX, the ILX Hybrid has the new key system that just requires you to have the keychain on you to open and start the car. It also has the screen hood to cut glare from the sun. The best part of this car is the fuel efficiency. I had the car for a week, drove in traffic for 4 hours to get to Viamede, Drive back 2 hours, went shopping, went to work, and it only cost me 40$ for 2/3 of a tank. For a luxury sedan with all the amenities it is nice to be able to save so much on gas. This vehicle was probably my favourite car I have tested to date.
ACCOMMODATIONS
Single Rooms – Viamede has several different types of accommodations you can choose from. For smaller groups the main building's second floor contains hotel-style rooms, some of which have amazing views over the lake. Staying here provides the quickest access to the amenities as well as the restaurants and pubs. Here are some shots of those main building rooms.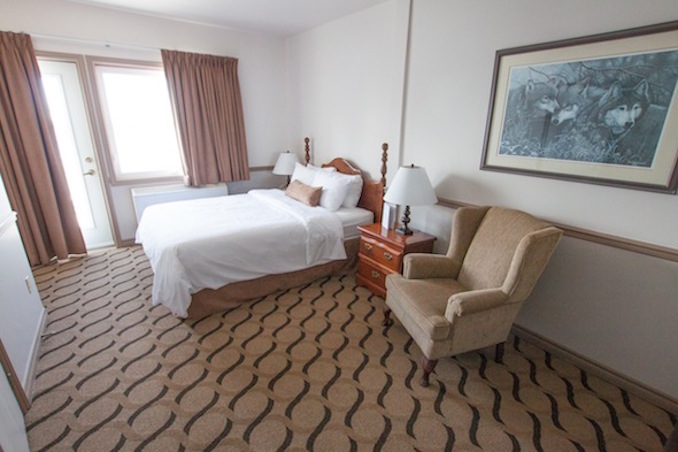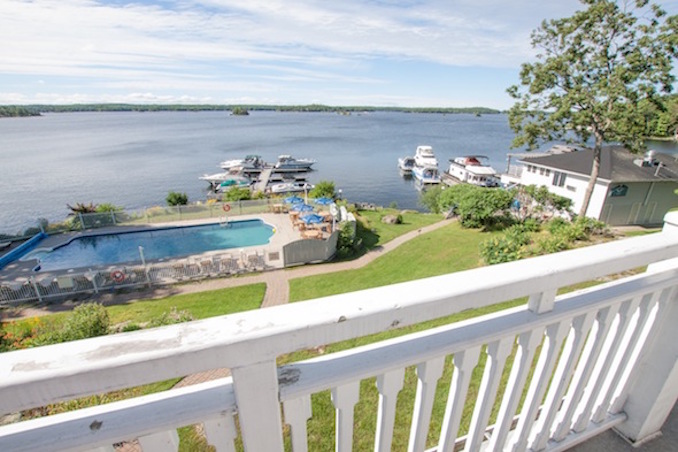 Cottages – For larger groups, Viamede has amazing cottages that range in size. The one that I stayed in was 2 Bedroom (1 bed in one room and 2 beds in the other) , two bathroom (one with a shower and one with a jacuzzi) , and was for 4 people. Other cottages can fit more. The cottages are equipped with everything you would need; a full kitchen, living room, dining room table, towels, a deck with muskoka chairs and a BBQ, pot-belly stove for fires, and are all a short walk to the rest of the facilities on the compound. Here is a pic of my cottage.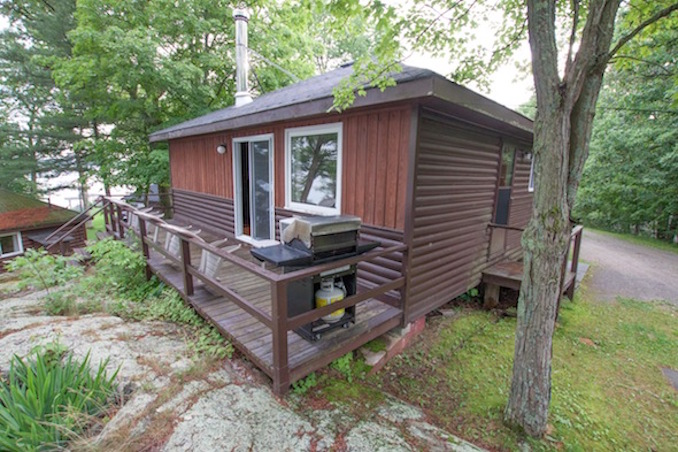 ACTIVITIES
Boating – In the summer, Viamede is all about enjoying the lake. The resort offers a ton of activities through free equipment and through rentals. I had been wanting to get back into Canoeing since moving back to Ontario and this was my first activity. Canoes and kayaks are free to rent as well as some water-bikes. If you want to step up the power a bit you can rent motor boats to take out on the lake. Tubing, water-skiing, wakeboarding and knee-boarding are all very common on Stoney lake and I was lucky enough to try wakeboarding for my first time.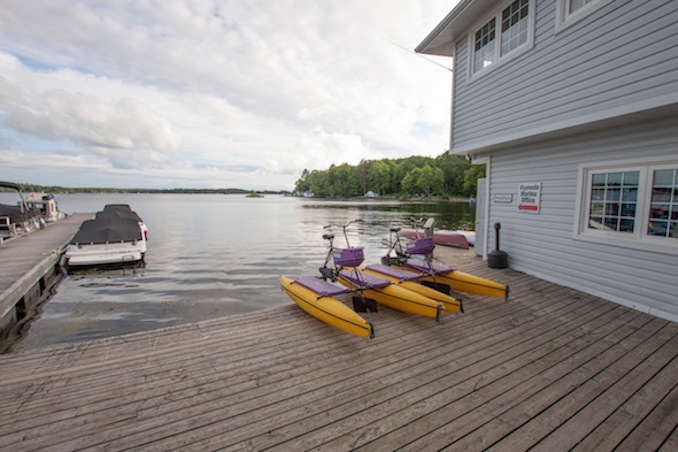 Swimming – A swimming pool and a beach on the lake sit next to each other in front of the main building of Viamede Resort. Whether you want to hang out by the pool and swim laps, or take on the more natural fresh water lake swim, you will be accommodated here.
Farm – Nestled away in the forests is the Viamede Farm where pigs, turkeys and ducks re raised. It is a beautiful walk from the parking lot to the farm, passing by a marsh and picnic areas before arriving at a small building surrounded by manicured grass and outdoor pens containing the animals.
For all pics see our FACEBOOK PAGE.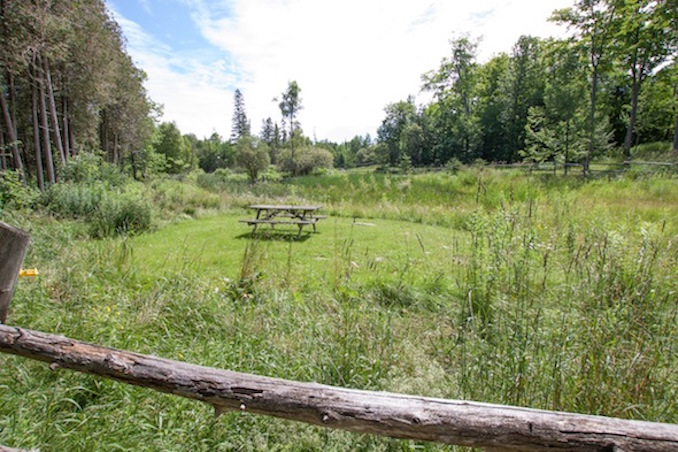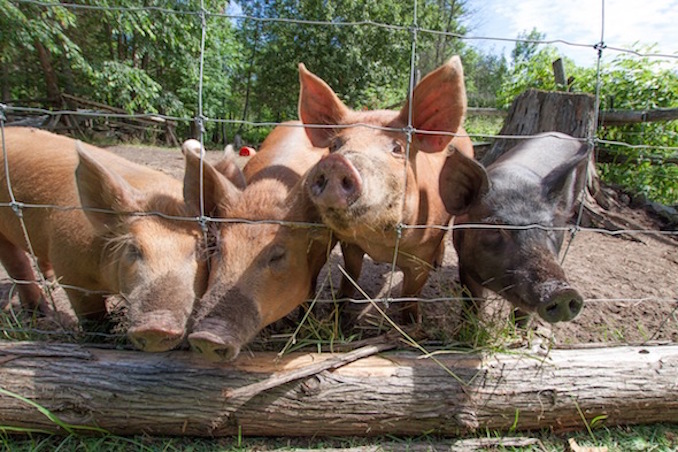 FOOD
1885 – There are 3 places to get food on Viamede Resort grounds. For breakfast there is a buffet of hot and cold food in the dining hall located in the main building. It is called 1885 and it is open for breakfast and dinner only.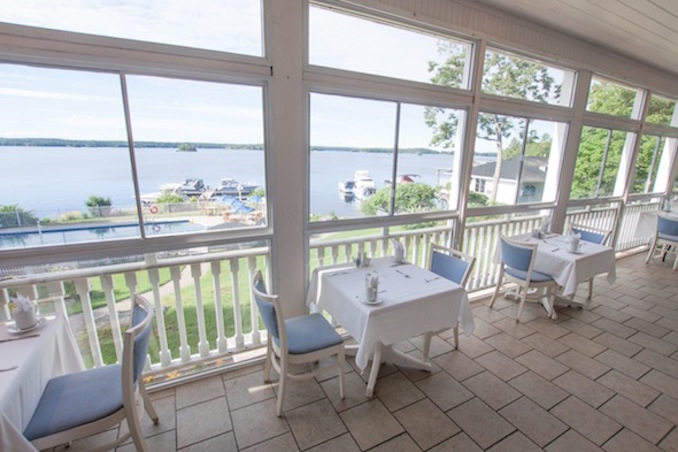 The Boathouse Pub – For lunch you can check out The Boathouse Pub which has a great view over the water. Pub-fare can be found here but watch out for those Jump-off-The-Dock hot wings. They aren't joking around. The pub is also open late every day for dinner and drinks.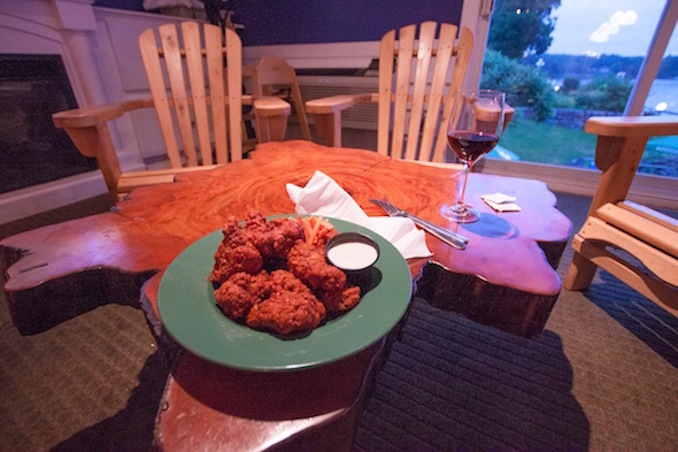 The Inn at Mount Julian – For dinner all 3 restaurants are open including Viamede's fine dining restaurant called "The Inn at Mount Julian". This place was wonderful. A quiet cabin with a view of the lake, fine food and fine wine to match. I highly suggest a tasting menu to get the full depth of their chefs bests. Here is a shot of one of the dishes.
For all pics see our FACEBOOK PAGE.
Weddings
Viamede is a very big wedding location. With its beautiful chapel and scenic views it can easily make any wedding a success. Along with the chapel there is a great lawn overlooking the lake that is used for wedding photos and receptions.