What began as a legacy from local baker Joe Link, ignited a passion for bread making under the leadership of Father Roberto Ubertino at St. John the Compassionate Mission. Today, St. John's Bakery has evolved into a flourishing social enterprise in the heart of our city that not only strives to provide the best quality organic breads and baked goods to the people of Toronto, but also works to help and engage those in need in an effort to strengthen our greater community and create a space filled with hope, dignity, and respect.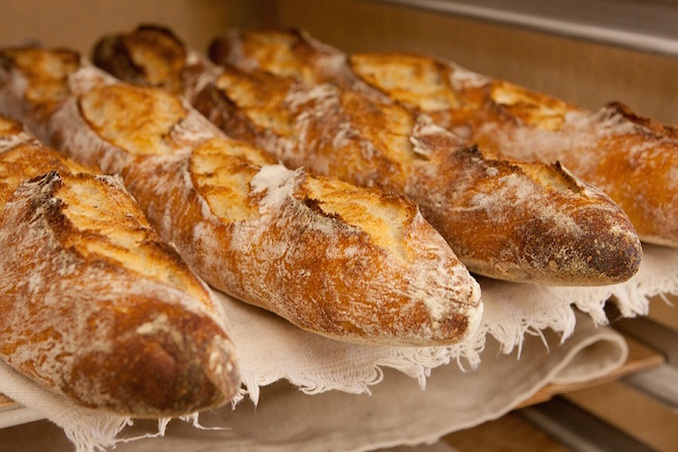 St. John's Bakery was established in 1987 and operated on a small scale out of the basement of St. John the Compassionate Mission. The growth in demand for the bread and baked goods, combined with the opportunity to purchase the building adjacent to the Mission signalled Father Roberto to expand the business.
With the help of the Toronto Enterprise Fund, St. John the Compassionate Mission was able to create the beautiful and quaint retail and training space we see today at 153 Broadview Avenue. The bakery operates with a core group of professional bakers to ensure the best quality goods are made and to provide the necessary guidance and expertise to the employees and volunteers in training. Bakery workers have included refugees, people struggling with addictions, people with emotional troubles, mental illness, and single parents struggling with poverty. Some of these individuals struggle with serious issues that make it near impossible for them to gain employment in our marketplace. At St. John's they have the opportunity to work in a supportive environment where they can socialize, build confidence, and gain a sense of belonging. St. John's Bakery also opens its doors to participants of the Investing in Neighbourhoods program offered through Ontario Works. The program provides paid work experience to welfare recipients in a non-profit environment to strengthen an individual's skills and support the community. Through its work, St. John's Bakery is not only creating an appetite for better bread, but also building community and fulfillment amongst its workers, volunteers, and customers.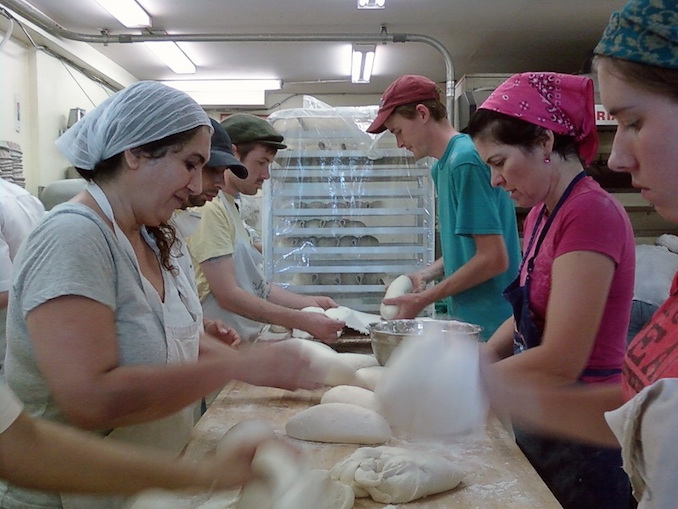 All its hard work has certainly paid off. This year marks the first time St. John's Bakery has been able to operate without outside funding. The United Way is proud to recognize St. John's Bakery as the first social enterprise in Canada to graduate from its funding and become self sufficient, serving as a model to other social enterprises. It's success comes from the hard work of supporters, employees and volunteers, combined with its partnerships with restaurants, companies, and markets across the GTA through which the bakery sells its goods. St. John's continues to have its eyes set on expansion as it works towards generating revenue beyond its operating costs and building on its training programs.
A number of retailers support the bakery and its good works. The Big Carrot (Riverdale), The Summerhill Market, Mama Earth Organics (Scarborough), The Healthy Butcher (The Beaches), The Karma Co-op (Annex) and many more! You can also find St. John's Bakery at a number of farmers' markets across the city during the summer, including Trinity Bellwoods (Tuesday), Nathan Philips Square (Wednesday), Withrow Park (Saturday), The Brick Works (Saturday), Wychwood Barns (Saturday). You may be curious to know what happens in winter. Fortunately, corporate offices and building management have supported St. John's Bakery in their social responsibility efforts by opening their doors and providing the bakery space to sell their goods. St. John's Bakery hopes that more property firms and anchor/marquee tenants partner with them and open their doors this winter to provide the bakery with the opportunity to promote its mission and sell its wonderful baked goods.
In addition to the various locations around town where the bread is available for purchase, you may also find yourself eating St. John's Bakery goods at a local cafe or restaurant. Cheesewerks, Alternative Grounds, Lady Marmalade, and Mocha Mocha, just to name a few, all source their breads and/or baked goods from St. John's Bakery. These establishments support the social enterprise and encourage the production, as well as consumption of organic, all natural goods. The Bakery appeals to customers and retailers not only because of its social impact, but also because it incorporates an environmental and sustainable component to its business model by utilizing local, all natural ingredients and promoting local and sustainable agriculture. It's level of production proves it! St. John's Bakery has grown from its small basement operation of 10 loaves a day to producing up to 7000 loaves of bread a week to supply bread lovers across the GTA.
Before wrapping things up, it is important to take a moment and step back from the Bakery to focus on where it all began. Parent to the Bakery is St. John the Compassionate Mission, a registered charity dedicated to ensuring a meaningful place exists for those in need – a place where people can gain a sense of belonging. The Mission runs a variety of programs beyond the Bakery, working to alleviate poverty by providing food security, employment training, and community programs to marginalized people. Over the years, the Mission has redefined itself and the scope of its work by continually adding new programs to engage the growing community around it.
Central to the Mission's programming is the meal program that serves 2500 meals a month from Wednesday to Saturday. St. John's Mission has worked hard to create a welcoming atmosphere for those who come to its door – lighting candles, serving each table, and providing large bowls of food for the guests to share. Ashley Grzybowski coordinates the Kettle of Fish Program, focusing on families in need. Ashley works to bring families together to share meals and meet others in the community. She also organizes a variety of workshops to educate the community on such topics as nutrition, health, financial management and gardening. There is also St. John's Academy, an after school program that runs three days a week out of the Mission to help newcomers and at-risk youth in grade 6 to 9 with their math and English language skills. Bodh Sarawati is the Director and coordinates the tutoring program. Another special program found at the Mission is St. Mary's Refuge, a country home that offers visitors to the Mission the opportunity to escape the city and its challenges to experience the peace and quiet nature has to offer, if only for a short time. For all those thrift store seekers, you will be happy to note that the Mission leverages its strong community connections and runs St. John's Thrift Store at 2155 Danforth Avenue (Woodbine and Danforth) where it collects clothes and collectibles from the community and boasts the best prices in town in an effort to support community programs.
The website outlines the variety of ways in which individuals such as yourself can contribute to the efforts of the Mission.
St. John's Bakery is working to redefine Toronto by bringing people from all walks of life together to share in the time honoured tradition of baking bread and to share in the joy of food and community. The social enterprise is a testament to the success and good work an organization is capable of when focused on the triple bottom line – people, planet, and profit.