When I had first stepped into Niki Kavakonis studio in Bloor West Village, it had the feeling of walking into an art gallery. Each  showcase featured one, two but no more than three pieces were locked away safely yet offers a close enough look at the meticulous details. Kavakonis is an artist and jewellery designer. While she may not have the mass consumer recognition, she certainly has earned her accolades within the industry and has amassed a strong following of those who have a taste for something unique and truly artisan.
Niki Kavakonis quickly caught worldwide media attention when she was part of The Nature of Diamonds exhibition that was organized by the Museum of Natural History in New York and travelled to various museums including the Royal Ontario Museum, Houston's Museum of Natural History and Chicago's Field Museum. Her "Tip of the Iceberg" ring was among the exhibition's standouts. As many of her pieces are inspired by her love and studies of architecture and history, this particular work of art was inspired by Frank Lloyd Wright's Fallingwater house and features a stunning uncut, natural, Canadian mined diamond.  Niki was the only independent designer to be part of this exhibition. She explained that Canadian diamonds were relatively new to the global market and the exhibition curators were interested in the inclusion of a Canadian piece. "Canada at that moment, was the third largest producers of diamonds in the world. While they did have many Canadian faceted diamonds they were interested showing a Canadian diamond in it's natural state. You rarely see diamonds that are uncut and they are particularly beautiful. One of the curators at the ROM had seen and knew my work knowing that I work with the diamonds in a way that most people had not seen before and that's how I became involved with the exhibition."
When I walked through the Niki Kavakonis studio there was a particular cuff bracelet that caught my eye as well. Niki explained that this stunner that is contemporary in feel with a playful nod (a tiny human being under the canopy), called "Ode to the Right Angle" is an award-winning piece and was inspired by Frank Gehry. It's truly breathtaking but Niki reassured me that all her pieces, while gorgeous to admire, are wearable works of art.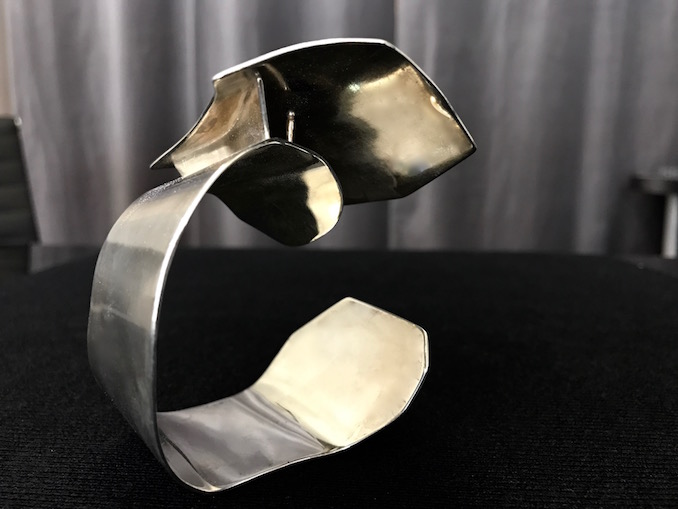 But we knew very little about this internationally recognized, Toronto-based artist. Born in Toronto, to a Greek father and Finnish mother, Niki's upbringing took her to 22 countries before she was even 11 years old. Her father, an accomplished architect, brought the family on his work travels which led to Niki's many opportunities to learn about different cultures and arts. As a young adult, she took interest in jewellery making and studied at both George Brown College and OCAD following her undergrad studies in Art, Art History, Anthropology and Architectural History (including PhD studies) at University of Toronto.  Yet, she still considers her art mostly self-taught.
Another influence, Niki explained was a neighbour who lived around the corner from her, an artist named Kaz Nakamura and his daughter was Niki's best friend growing up. She explained that she was always always at their house and was exposed to his beautiful paintings.When Niki started to teach herself how to paint, her first objective was to paint so well that you couldn't tell if it was a magazine cut out or real paint and enjoyed experimenting with different canvases including waiting on leather. "I was a little bit "punky" in high school," said Niki.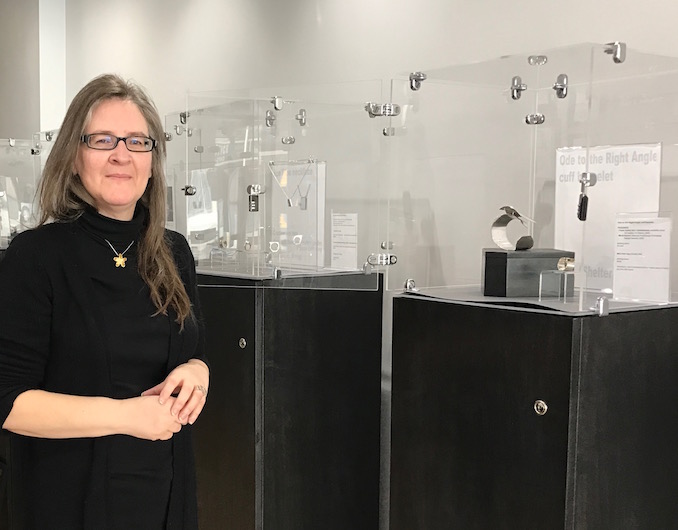 We moved onto each collection of work in the studio and I noticed that each was very different. Some were inspired by architecture while others were influenced by nature as well as asian themes. Each collection had a story.
Niki Kavakonis explains a few of her themed collection including one that was created for the same church that her father's work is in for their 100th anniversary in 2007. "My father was also a sculpture and in the 60s he designed four plaques for St. Anne's Church in Toronto and I have an example of what it looked like here in this space.  The pieces I had created were based on some of the decorations inside the church so it was a nice way to celebrate the church's anniversary and my family's art," said Niki. Another great collection shown in her studio is the beautiful "Teardrops from the Sky"  inspired by Roman beliefs that pearls are considered the  teardrops of the Gods and represent missing someone. "They are emotional pieces," explained Niki.
While admiring her work, it was interesting to note, and especially with the rings, is that each piece was designed to actually stand alone, literally. "They are individual sculptures and works of art. When you're not wearing them they could be on display. The White Cap ring is inspired by a famous Japanese print of a wave that has been popular for both men and women and great for displaying." explains Niki.
But looking closely, there are a few surprises in her work that may not be visible at first glance.  There is a collection that includes star rubies that are quite unique. Niki explains that if you hold the ruby up towards very bright sunlight or spotlight, a star will appear within. This is a natural feature that appears. Most rubies are now cut so you won't see this incredible feature. "You may find this in one out of a hundred rubies out there but it's rare to find them so clear. I look for these unique features and I think I'm not like other jewellery designers out there. I'm not only about aesthetics but I think the stone should be incorporated in the design. Because the stones are hand cut the likelihood of finding two identical are rare. You can actually see one on display at the ROM."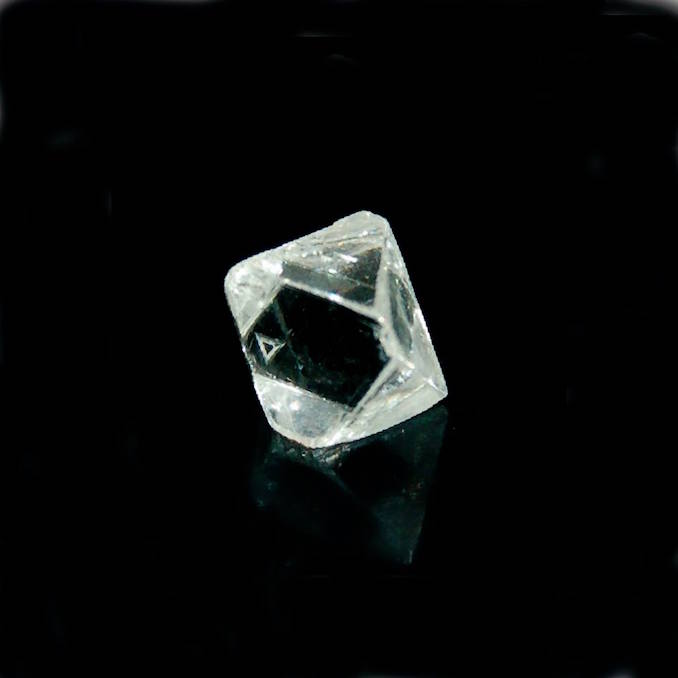 Niki Kavakonis also explains about the beauty of an uncut Canadian diamond,  "when you look at it closely it appears to have an etched triangle on it. She explains that this is called a trigon that is a natural feature that my customers love to see. You can spend hours studying these endlessly. But what I love to teach people is that inside each uncut diamond that I use for the 'Tip of the Iceberg' ring is actually two diamonds. So, you're actually getting a diamond that is over 2 carats. There is no cutting waste on this, very few people have actually seen an uncut diamond in a design."
That original ring that was part of the exhibition is on display in her studio space and while it's not for sale, she will re-create the design upon request. "What I like about this ring is that each diamond is unique. While it is inspired by Frank Lloyd Wright, it is also a nod to the Group of Seven and Canada's great white north. My intention with this design is to be able to show the full parts of the diamond as much as possible. I also wanted to create a contrast so there's no pins or claws holding it in place. The roughness of the diamond against the rest of the ring is a contrast that is beautiful."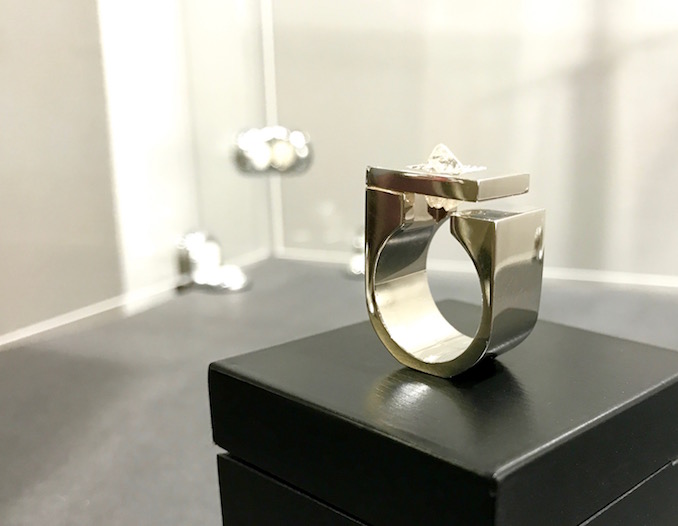 Another unique diamond feature Niki had chatted about was the white male diamond that she has used in her Ice Floe, Blue ice necklace. What makes this diamond so rare is that it naturally goes fluorescent under UV light. She explains that the fluorescent property can be found in some diamonds but are hard to find. Only one-third of the world's diamonds have this ability and some even consider it magical. While the most common colour while fluorescent is blue, they are sometimes also pink, orange or red.
Want to see more art by Niki Kavakonis? Visit nikikavakonisdesigns.com. Her studio is located at 2465 Bloor Street West, Toronto.