When it comes to the holidays, sometimes you just want to focus on your family, not on the creation of your perfectly timed dishes that only sometimes turn out as planned. Don't feel guilty about it – nobody is going to judge you if you opt for catering over clocking countless hours in the kitchen.
Especially not if it's from Pusateri's.
This year, Pusateri's has you covered for Passover and Easter with a carefully curated menu for the occasions. By this point, Chef Cammalleri is familiar with the Pusateri's customer and their shopping habits – this extensive experience with the community allows him to understand what clients love and want probably better than they do themselves.
He's taken this insight into careful consideration in the creation of the company's catering menus. They are based on the traditions of the Pusateri's clientele and include their most popular catering items that they've been known for over the years.
Basically, you can't go wrong.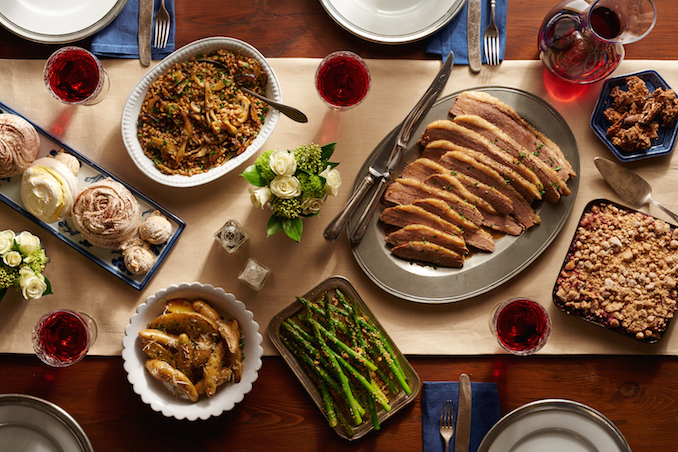 For Passover, Pusateri's most popular menu items are their turkeys, beef briskets and latkes, which Pusateri's follows Kosher principles when making. Chef Cammalleri says that his clientele will have soups and salads as sides, but their most popular items are hands down the red wine braised beef brisket and latkes. The brisket is 100 per cent Canadian beef and is cooked for a long time with red wine and vegetables before being cleaned off and packaged for easy reheating at home. The end result is a very clean (much cleaner than you could have likely done yourself), tender brisket.
Their latkes – which Chef Cammalleri describes as "unconventional" – are handmade with just a few ingredients and are a longtime favourite at Pusateri's. They produce and sell thousands every holiday.  
As for Easter, Chef Cammalleri grew up in an Italian household and knows the importance of the holiday on the Italian culture. Easter is almost two different holidays in one, he tells us; there's Good Friday, which is built around fish, as well as the classic Sunday night Easter dinner. For Good Friday, Pusateri's offers a huge selection of fresh fish. This year's menu items include a seafood salad with Morrocan octopus, fish and calamari, cooked in white wine with vegetables and then marinated in capers, lemon, olive oil, garlic and pepper. This is a traditional Italian dish, Cammalleri reminds us.
Branzino (European seabass) also made it on to this year's menu, along with a classic Zuppe de pesce. Chef says that this soup is inspired by "poor man's food" in the history of Italy, in which fishermen would put their leftover seafood scraps into a pot with tomatoes and serve it with crusty bread. To this day, Pusateri's still serves their Zuppe de Pesce in much of the same manner – but with only the highest quality seafood, naturally. Traditionally served after the antipasto along crusty bread, Pusateri's Zuppe de Pesce features a host of delicious seafood, including shrimp, king crab, calamari, mussels and lobster, immersed in a clam broth.
The prix-mixed Easter and Passover menus are designed to feature one main  (a leg of lamb, ham, turkey or beef brisket) with multiple sides (garlic mashed, latkes, vegetables) and a dessert (Madeleine's Apple Pie, Strawberry Rhubarb Galette or fruit platter).
These bundles feed approximately 8 people. You're welcome.