Kelly Kyle is a Toronto based Conservation Picture Framer, Gallerist and Photographer. Kelly's career as a framer began over 25 years ago as she was introduced to the art of picture framing while working at a small camera shop that offered these services. It was during this time that Kelly also pursued her love of art and photography and began the early stages of her career as a visual artist. First receiving a diploma in Art and Design at Niagara College and later a BFA at The Nova Scotia College of Art and Design (NSCAD) in 1994. Her photographic work focuses on architecture, negative spaces, and a style of shooting that follows a Tibetan philosophy called Miksang. The underpinning of this philosophy and Kelly's imagery reflect being present in the moment, a mindful contemplation.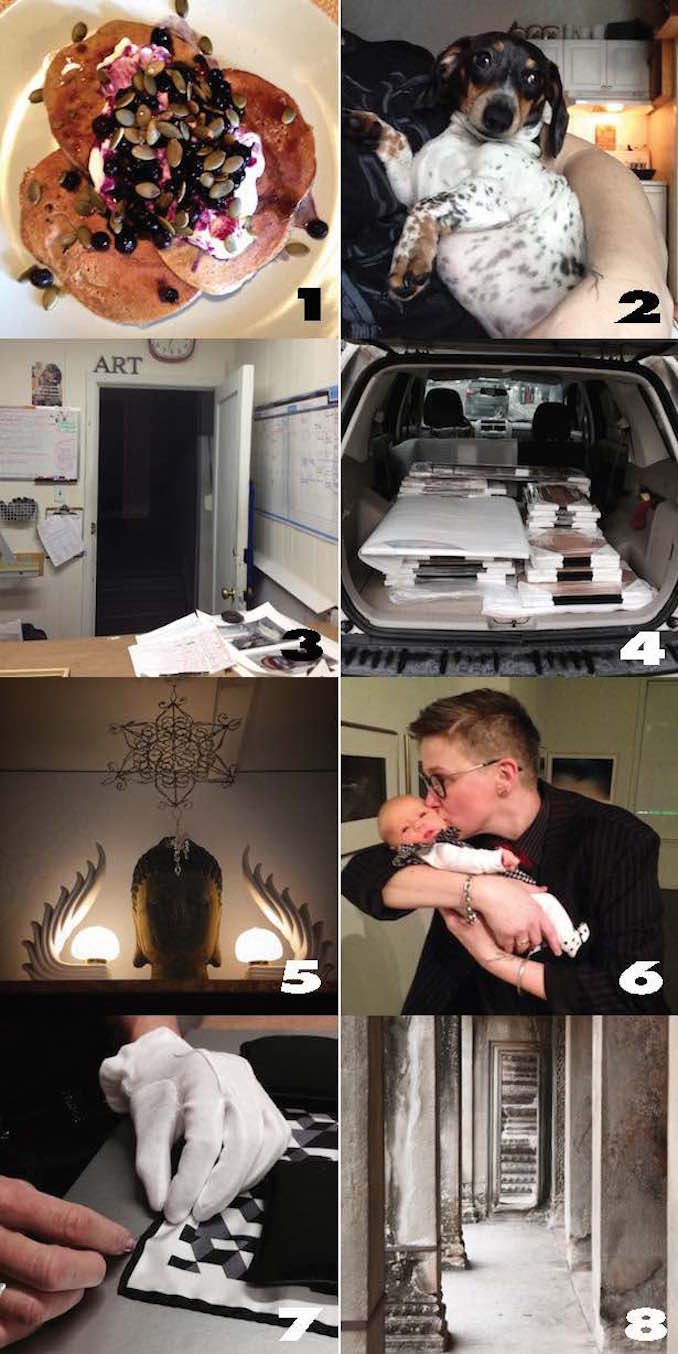 1 – These picture perfect "power protein pancakes" are the creation of my Partner Sonja Scharf. They are beyond healthy and how I start "some" of my days. Being self-employed I/we don't often have the time to create & linger over such awesome breakfasts.
2 – This is me and our dog Otto. This is how I start most of my days, coffee & dog cuddles.
3 – This is the view from my production table. I was so engrossed in my work it only took me 2 1/2 hours to realize the clock had stopped.
4 – Loading up and getting ready to deliver a large framing project completed for the 3rd year Ryerson University photography students.
5- Spirituality is very important to me, I am trying to find my way back to my path.
6 – At our Gallery (Akasha Art Projects) we host new photography exhibits every five weeks. This is my Pride & joy, my first niece and proud to say my God Daughter Ella. This is her and I at her first art opening!
7 – We do a lot of speciality picture framing techniques, here we are sewing a silk scarf to a mat board.
8 – I have donated this image to the live art auction at SNAP this year. SNAP is a photographic fundraiser for the Aids Committee of Toronto. It is called "Equanimity" and is from the series "Passages" that focused on the sacred temple spaces of Cambodia.
The style of photography I practice is called "Miksang" which is a Tibetan word meaning good eye. I like to think of this style Photography as my meditation.
What neighbourhood do you live in?
My partner & I live in Cabbage Town, we love it!  We have a great apartment with an awesome south facing deck, I love to garden so I transform our deck in to an oasis every year.
What do you do and where?
My partner & I are in business together, our company is called Akasha Art Projects. Where we practice high quality custom picture framing and have a gallery that shows only fine art Photography.
What are you working on?
I am currently working on a portrait series for a project called 10 x 10. 10×10 is an annual photography exhibition of 100 portraits of LGTBQ Canadians who have contributed to the arts shot by 10 queer photographers.
Where can we find your work?
I am currently working on putting together some ideas for a website. Until it is up and running I can always be found at Akasha Art Projects. 511 Church Street, Suite 200 Toronto. And of course at this year's SNAP! Gala in support of the AIDS Committee of Toronto which took place on March 26th, 2015 at the Toronto Reference Library.