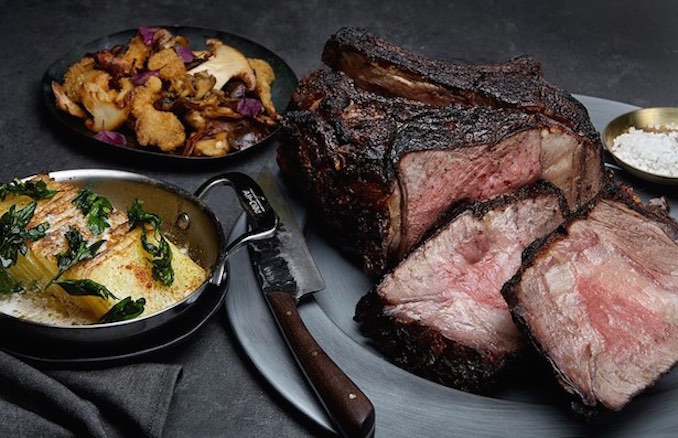 The thought of going to a "steakhouse" just after the past few weeks of indulging a little too much turkey and way too many cocktails was not really the top of my list. But neither was eating like a rabbit. I had made a note of heading to NAO Asian Steakhouse (90 Avenue Road, Yorkville) after a few friends had raved.
NAO (which stands for New And Old) is the recent addition to Toronto food scene by none other than restauranteurs Charles Kabouth, Hanif Harji, (Weslodge, Byblos, Patria, La Societe and many more), Tim Foley, chefs Stuart Cameron (Patria, Weslodge, Byblos) and Andrew Bradford.
I will take stand in saying that after all the newness hype, NAO will take a firm position in this city that loves to eat. Never mind those who like to "be seen" 'or desired to be in the "hottest restaurant in town." Sure, it's all that now but I don't really care for that. This restaurant says, "I have arrived" and not "hey, look at me!"
Even as you approach NAO it appears confident and all grown up. It's set a little further back from the street with no blazing sign. Wooden sticks that seem to guard the place. Remember Boba? When the owners had retired years ago, many restaurant lovers in the city were saddened. We've been waiting for something worthwhile to take it's place on Avenue Road and it seems like it has everything going for them.
Décor is dark, intimate and somewhat mysterious. Candles light up the stairway that lead to the upper level dining area. You get a sense that discretion is key to this particular restaurant.
I can tell you that the food is spectacular and that the service is terrific (very much so) but marry that with the attention to the finer details catapults this restaurant and makes it a serious winner.
The staff is polished and walking books of knowledge beyond our expectations. We had learned everything from where the steak knives are from (hand-crafted by Ontario blacksmith Frederick Scanlan) to understanding the where the beef originated.
The menu has more than just steaks including a whole snapper entrée that is worth checking out – but we will do this next time. Here's what we had ordered for our first visit and definitely worth trying…
Appetizers:
The Seared Scallop place on a pasta pillow stuffed with oxtail still has me salivating at the thought. The shaved truffle was a nice surprise on top of the scallop but also the server offered to make a fourth scallop for our serving so each person could have a proper taste. There are typically three in this order. The tuna tartare appetizer was also delicious and was combined at our table with explanation of ingredients. Served with lettuce leaves to make wraps at the table.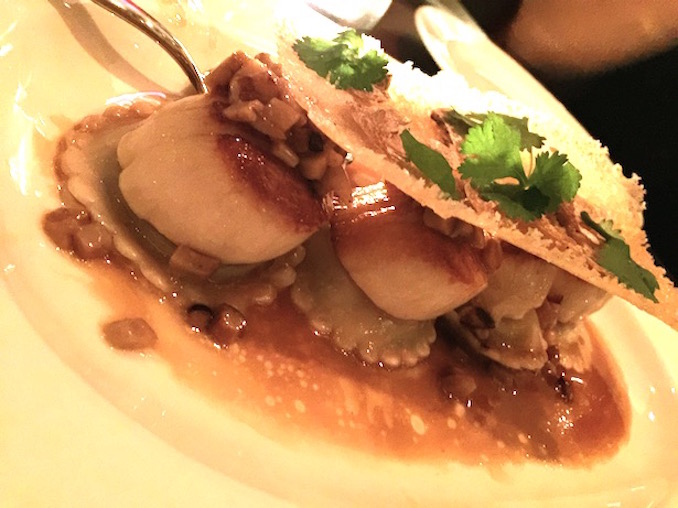 Basho Sour Signature cocktail:
I had ordered this as soon as we had arrived and it will be my go-to drink when I visit again. You can't mess with perfection. This concoction has a sweet tropical hint thanks to the pineapple infused sake and a touch of hibiscus — almost too pretty to drink. I said almost. The bartender quickly became my new best friend as he also made several samplers for us to try out including the warmly noted Autumn Leaves.
The Steaks:
You will learn that the highest grade cuts here are well above everyday but take it further and learn why, for example, that Wagyu cut is worth the dollar signs – they are sourced from Australia's David Blackmore, the award winning and internationally recognized producer of 100% Wagyu beef. The story about Blackmore is fascinating if you're interested in learning about where your food comes from. He was the first breeder to successfully take the production of Wagyu beef outside of Japan supplying to high-end butchers and restaurants domestically as well as exporting to other countries. Between the four of us, we had decided to share the 40 oz Porterhouse from the US (highest grade A-5) that gave a absolutely satisfying amount of beef without being pushed over the edge.
The steak comes with the sauce:
Just as your steak is about to arrive a cart visits your table with perfectly measured out little bowls of ingredients including garlic, Japanese Worcestershire sauce and a white shoyu (Japanese white soy sauce) and other secret ingredients to make the house specialty secret steak sauce. The ingredients are mixed together in front of your eyes and very much part of the appreciation for hand-crafted goodness… although we all agreed that the steak is so out of this world delicious it wouldn't need any further seasoning.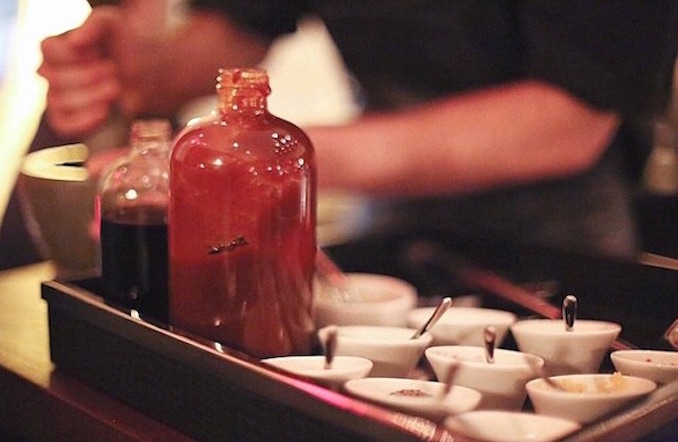 Ramen Fried Rice:
You had me at ramen and I was curious! This dish is brought deconstructed fried rice to your table in a large bowl presentation to resemble the popular ramen that is everywhere these days. The rice is tossed together before serving and it's delicious!
The side dishes are very reasonable as the collard greens had a nice zing from asian spices and fries somehow made it on our table *twist my arm*
The house made Baked Alaska was a perfect finish with the fluffy meringue that was more of a light marshmallow goodness with a subtle coffee ice cream centre resting on top of a comforting chocolate chip cookie. Definitely a sharing dessert and don't even attempt to try this alone. It's a biggie!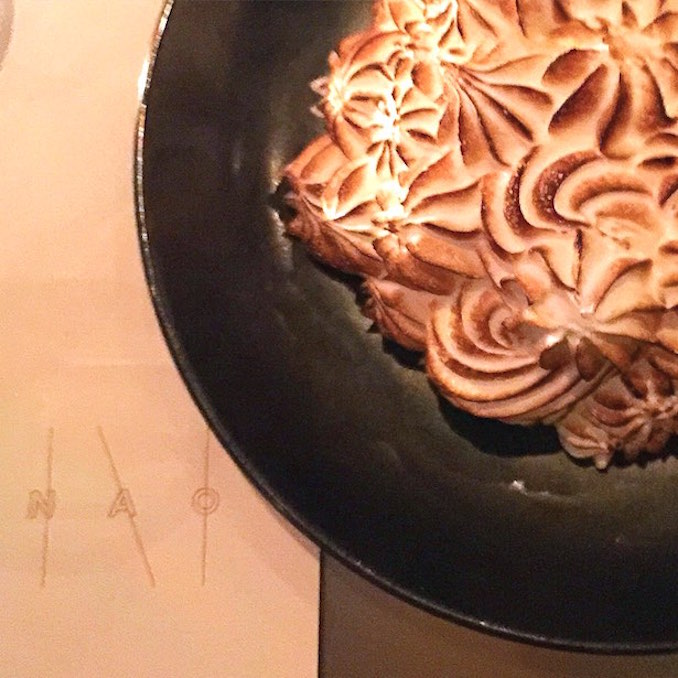 Different imported salts were also presented to us that are definitely worth a taste. I'm now obsessed and on the hunt for unique salts for my home cooking.
NAO prides itself on the details and we very much experienced that in everything the night we were dining there. It's definitely expense account and splurge worthy.