AUS!Funkt is a Toronto-based art-disco-post-punk quartet conceived in the angular jam session neo-laboratory. Rejecting the lyrical and musical excesses of rock music, AUS!Funkt combines the groove of electronic music with the subversive aggression of post-punk. The lyrics, spoken and sung, provoke the mind with their realism and repetition. Electronic beats seduce the body into movement, freeing it from its torpor. On top, the guitar spurts out clouds of noise, while the bass supplies the melody. AUS!Funkt assaults the senses and unease the mind while you dance to its unsettling disco groove.
AUS!Funkt started off conceptually as a post-punk project but in the process, we embraced the elements of electronica, dub, disco, garage rock and blues while maintaining grittiness, simplicity and repetitiveness. While the sound palette expanded, the principles remained the same: the notes omitted are more important than the ones played, tension is created by removing elements from the song and when you feel that you want to change the key or play a solo – stop playing and leave some room for the rhythm to breathe.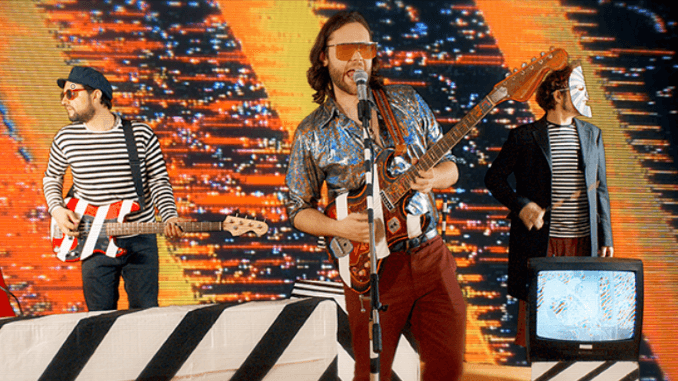 Name:
AUS!Funkt
Genre:
Art-disco/Post-punk
Founded:
2015
Last Single:
Human Response EP
Last Video:
Favourite musician growing up:
Dead Kennedys
Favourite musician now:
ESG (Emerald, Sapphire & Gold)
Guilty pleasure song:
EMF – 'Unbelievable"
Live show ritual:
Playing a song that other band members don't expect (and likely never played before)
Favourite local musician:
New Fries
EP or LP?
EP
Early bird or night owl?
Night owl
Road or studio?
Studio on the road
Any shows or albums coming up?
Album is coming out mid-April.
Where can we follow you?
On any streaming platform and on:
Instagram | Facebook | YouTube | SoundCloud | Bandcamp
***
Rapid Fire Toronto Qs
Favourite local restaurant:
Frankie's Diner
Favourite street in Toronto:
Queen Street
Favourite park in Toronto:
Trinity Bellwoods
Favourite music venue in Toronto:
Baby G
Favourite music store in Toronto:
Paul's Boutique