At just 18 years old, Hannah Flores is an award-winning spoken word artist, having performed for the Toronto Raptors, OVO, the Consulate General of Canada in Los Angeles, and the City of Toronto's FIFA World Cup Host City Bid campaign.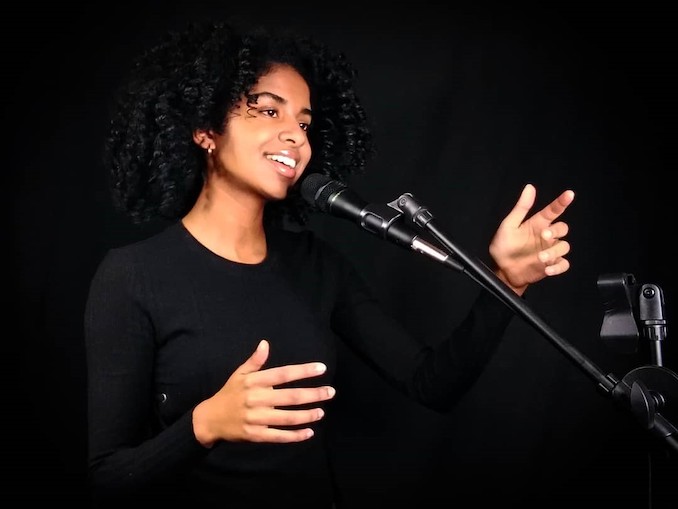 Flores will participate in Spoken Melodies on May 13 at the Tranzac Club in Toronto. From 5:30- 7:00 PM, spoken Melodies presents spoken word storytelling against the backdrop of live music. In this showcase, each artist has worked with a musician to find the musical nuances of their stories, and create a captivating performance. The in-person event will be live streamed, recorded, and available to watch online on-demand shortly after it ends.
In-person admission can be purchased online for $28.25 on the Storytelling Toronto website. A limited number of Pay-What-You-Can tickets will also be available at the door 30 minutes before the show begins.
In 2020, Flores was the winner of the World Spoken Word Poetry Competition. Guest Judge Anne-Marie Te Whiu called Flores's piece, "If the World Was a Movie" the "undeniable" winner of the Spoken Word Competition. In "If the World Was a Movie," Hannah combined multiple media formats including videography, editing, performance, and writing, into a documentary piece about life during the COVID-19 pandemic.
"I wrote [that] poem about cultivating community during quarantine, at the height of the pandemic. I really try to bring people together with my work, and that's what I hope people will take away from it," Flores says.
Flores originally started spoken word poetry, writing and performing, when she was only 12 years old. That was when she was introduced to spoken word poetry by one of her elementary school teachers, and she hasn't looked back since.
"Moving throughout this journey, expanding my portfolio and my writing, I've focused not only on my own personal experiences, but also inspirations from the people that I meet, my surroundings, and current events in the news," says Flores. A lot of her poems focus on topics related to social justice including racism, feminism, and environmentalism.
Flores considers spoken word an empowering art form and hopes to serve as some sort of inspiration to young people who want to pursue the arts. "As a young person myself, I love going back into the community to mentor students." Especially since a lot of her work has centred around her highschool years, says Flores. "I hope to help young people realize that what they have to say matters, and that they have a voice."