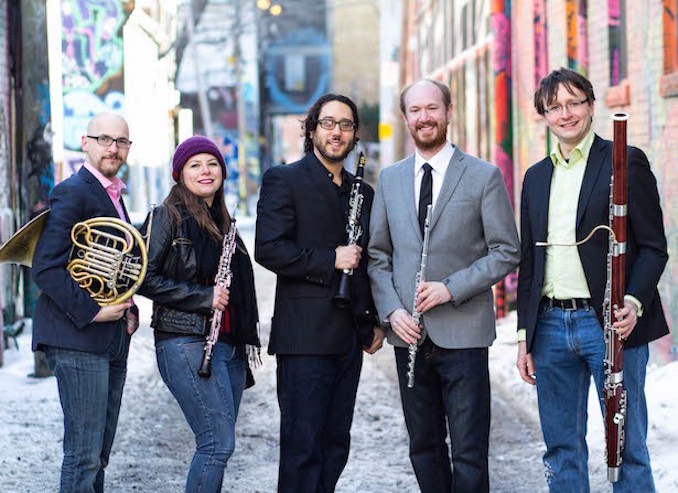 On Monday evening of the 13th of April, 2015, the audience at the Music Gallery were treated to Blythwood Winds' 'Hogtown Roundup,' featuring three world premieres by three Toronto-based composers (And a Toronto-premier of a work just 5 years old).
Formed in 2010, Blythwood Winds (Timothy Crouch, flute; Elizabeth Eccleston, oboe; Anthony Thompson, clarinet; Michael Macaulay, bassoon; Curtis Vander Hyden, horn) is committed to the performance of Canadian Music. They've enjoyed a fair bit of success so far, playing everywhere from the Canadian Music Centre to the Art Gallery of Ontario, and recently performing at the Classical Nominees Showcase at the JUNOs.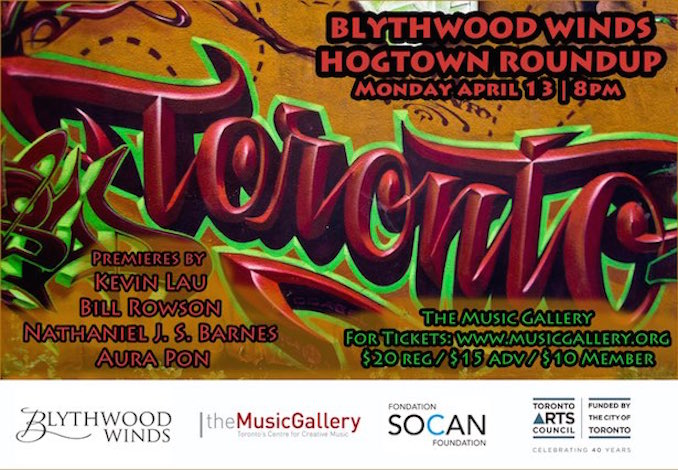 The show started with an easy-banter-style interview with the composer, preparing the listener for the new works. Each of the three composers present were subjected to an interview, and each remarked on two common challenges of writing for the Wind Quintet: the non-homogenous ensemble sound (unlike a string quartet where you have four stringed instruments that create sound the same way, in a wind quintet, you have five distinct timbres), and the wind players' need to breathe.
The program started with the piece that was the longest in the making: William Rowson's 9-minute Quintet for Winds spanned 20 years in its creation. The delicately gestured piece takes full advantage of the lowest register of the bassoon, showcasing Macaulay's deep and gripping sound – kind of like a giant fuzzy peach in aural form. Later in the piece, Rowson toys with a joyous and trotting but fragmented motif, creating a sense of agitation and making each little bit of Vander Hyden's soaring horn calls that much more effective, like giant gulps of air for the ear.
Next on the program was Casa Loma Wind Quintet by Nathaniel Barnes, which could easily be the soundtrack for a made-for-tv biopic of Henry Pellatt. In five movements, the work is a literal sound illustration of the movement titles. Five-Legged Elephant uses an almost sad, pensive elephant call; Pellatt Rag is an elegant and refined 'oompah;' Electricity uses rolling arpeggios to illustrate hydro-powered electricity, and so on.
The only piece that isn't a tribute to Toronto was Pura Vida Suite for Wind Quintet by Calgary-based Aura Pon. Pon's piece provided a very comfortable texture for the listener, and the final movement, marked Adagio was the perfect vessel to highlight the quintet's beautifully grounded intonation.
Kevin Lau's piece, Living Miniatures, explores the darker stereotypes of Toronto in three movements titled Spring Gate, Oakenshield, and Road to Aberdeen. The piece opens with a stunning flute cadenza performed brilliantly by Crouch, and later gives way to a soulful English horn solo by Eccleston, the newest Blythwood member. Lau had also mentioned the difficulties of writing for a non-homogenous ensemble, but there was a point where I blinked and the brilliant flute trill had turned into Thompson's fluid, almost watercolour-esq clarinet melody with no apparent seams or stitches between the two. Lau also uses the very distinguishable sounds of each instruments to his advantage in a fugal passage, creating a texture that is complex but not dense.
Blythwood Winds is certainly creating a name for themselves with superb chamber music playing and their dedication to commissioning and performing new Canadian works.
For updates on Blythwood Winds and upcoming shows, head over to their facebook page.