The Fight to End Cancer's main event night is upon us this Saturday June 4th at the Old Mill in Toronto. The annual event invites white collar Torontonians to raise funds through their months of training at Kingsway Boxing that leads to a showdown in the boxing ring against their peers. Funds raised through the event and the fundraising go to benefit the Princess Margaret Cancer Foundation.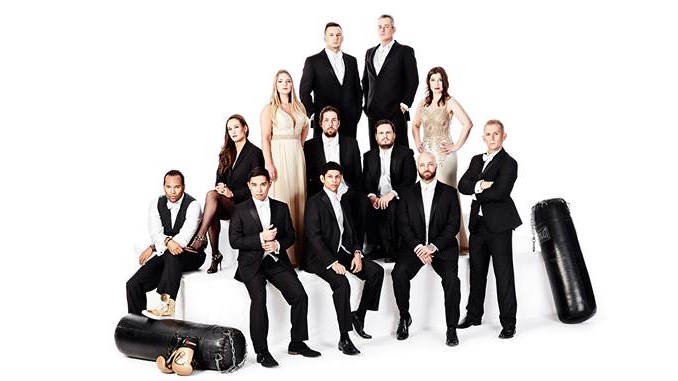 The Fight to End Cancer was started by Kingsway Boxing owner and international boxing referee Jennifer Huggins. Each year, the events have been growing in size and funds raised and it has quickly become one of the city's biggest and best charitable organizations.
Here are the rundowns of this year's fights.
Name: Vignesh Jayakrishnan
Occupation: System Engineer at Aiolos Engineering
Note: "I am dedicating my fight to my dad who has battled cancer twice and is a survivor thanks to the help of the Princess Margaret Cancer Foundation. I am fighting in FTEC 2016 so that people like my dad can fight."
More on Vignesh – http://www.fighttoendcancer.com/2016/featured-fightger-vignesh-jayakrishnan
VS.
Name: Kael Cruz
Occupation: Art Director at Public Inc.
Note: "I'm fighting to honour Linus and how he made the life of his friends and loved ones much brighter. The world got a little less brighter, when cancer took him away. And I'm fighting to make sure we can live in a world where that type o darkness won't exist anymore."
More on Kael – http://www.fighttoendcancer.com/2016/featured-fighter-kael-cruz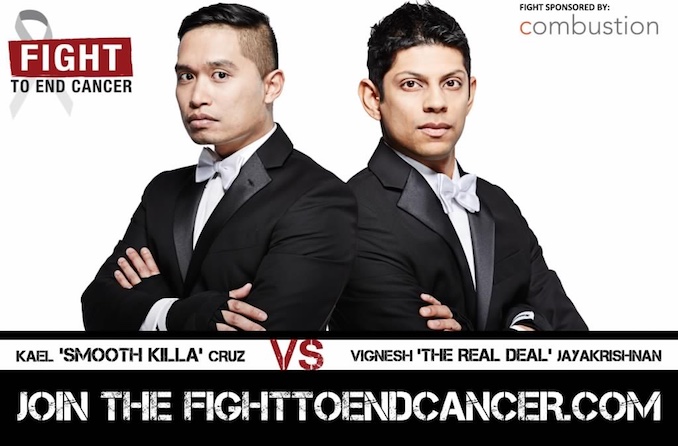 Name: Jason McGuire
Occupation: Owner of Real Property Management Service
Note: "This year we are proud to [welcome] our first child into this world. I want to make sure that cancer is not something she will ever have to worry about in her life. We have the ability to solve many problems in today's world and cancer is one that effects so many people. This is why I want to fight, this is why I want to put an end to cancer!"
VS.
Name: Andreas Wulff
Occupation: Steel stud framer in highrise residential condos for Marel Contractors
Note: "I feel like this is a very important fight for everyone who has or one day may get the news about the big 'C'. Sometimes I feel if I got the news I'd hope people would be out there giving their everything like I am for this fight on June 4th. My farfar (Danish for fathers father) got cancer when I was young. I just want everyone to still have their loved ones everyday."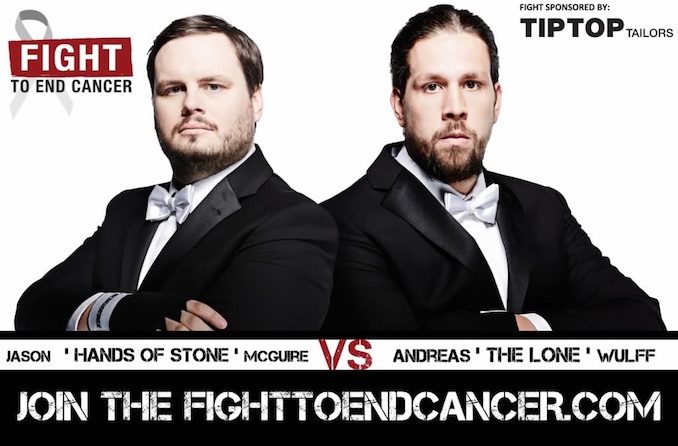 Name: Kyle Barlow
Occupation: District Sales Manager- Food Service On-Premise at The Coca-Cola Company
Note: "Like most, I have had many family members and loved ones endure a fight with cancer. This event gives me the opportunity to show them that I am in this fight with them; spiritually and physically. I am dedicating this fight to my grandparents. All of them have fought cancer and are still alive thanks to the miracles of modern medicine and a fighting attitude."
VS.
Name: Jeff MacWilliams
Occupation: Owner of West Toronto CrossFit
Note: "This whole process (training and fundraising) has been a great challenge and learning experience. The experience is something I be able to take with me to help others in the future. Whether it's by just talking about Fight to End Cancer, or giving people more in depth information on what it means to fight for a cause you believe in. "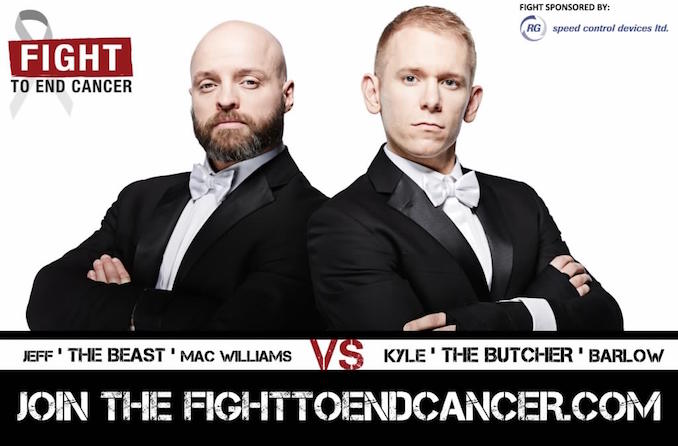 Name: Natasa Jamnik-Sousa
Occupation: RV Law LLP in the capacity of a law clerk for Marshall Reinhart and Antonietta Raviele
Note: "14 years ago I lost my sister to osteo sarcoma (the same type of cancer as Terry Fox). She was my older and only sister. The pain of experiencing such a loss at the young age of 17 is immeasurable. Most recently my aunt lost the fight against cancer. She was diagnosed with breast cancer and fought valiantly until her last breath. My grandfather, unfortunately is another member of my family who I lost to cancer."
VS.
Name: Samantha Krystantos
Occupation: University student perusing her degree in Social Work as well as working at Gymborree Play and Music with 16 month-5 year olds.
Note: "Karate was a sport that I did for myself…boxing has allowed me to take a different stance because I am not only fighting for myself, but I am fighting on behalf of those who didn't get a fighting chance and had Cancer defeat them. My mission has always been to fight, but now I am able to fight for what I really want… a future without Cancer!"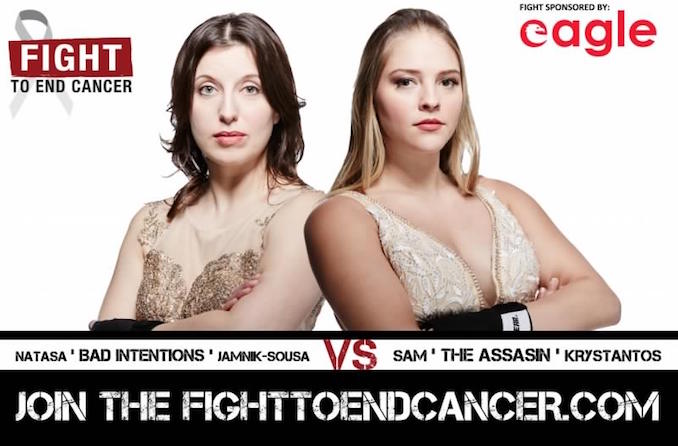 Name: Cory Raymond
Occupation: Project Manager at PCL Construction
Note: "I am still amazed at the gross impact of this disease on a day to day basis and frustrated by its reach! I am fighting because I can, because the last plug I want to see pulled is on cancer! Not a dying relative or friend! I am proud to be part of this campaign and though I realize alone I can't end cancer, together with the team I have joined we can definitely provide a positive impact to the research of this horrible disease."
VS.
Name: Craig Lauzon
Occupation: Actor
Note: "Throughout every stage of my life someone I have known and loved has been taken by cancer, from school chums to family members to colleagues and friends. Two years ago I lost my hero and mentor, August Schellenberg, to lung cancer. In 2012 I got the opportunity to work with him and at 75 he could still throw his punches with lightning speed. In his youth he had been a golden gloves boxer in Montreal. He loved acting but he really loved boxing and I could think of no better way than to honour his memory in the ring."