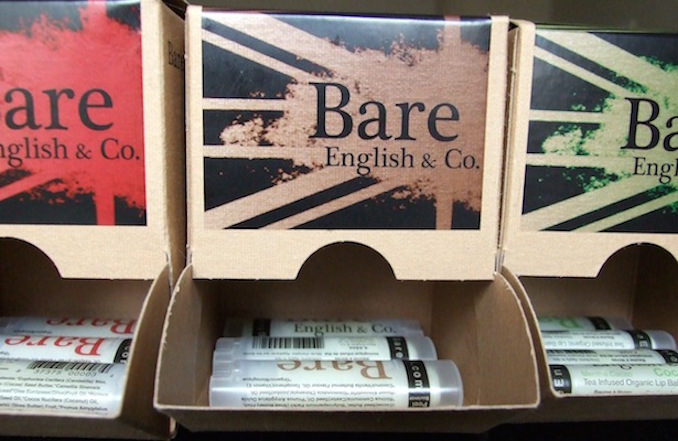 "Picture The Rolling Stones meets Mother Nature, that's what Bare English & Co. has done with organics."
So my question is…Burt's Bees who? See ya' later Sexy Mother Pucker XL Extreme-Plump (I confess), and hello to this rising star of a lip balm that is made locally, vegan, and the best part- tea infused.
CEO of the company, Frank Roberts and his business partner teamed up to make a lip balm that is incomparable to any other, "We wanted to create a brand of organic vegan products that didn't scream "organic". There are no flowers or trees on our packaging." Inspiration from The Rolling Stones and Franks's tea obsession led to the idea of infusing their balm with the health benefits of tea, so they mixed that with a hint of the UK ("I mean, when you think tea, you think Britain"), and tied the knot on their first of many vegan body care products.
Their three current balms: vanilla coconut, mint chocolate and pomegranate berry, can be purchased at multiple locations all over Canada. Their plans in developing new flavours and products will help them break free of vegan stereotypes, thus landing them into the hands of customers who are looking for something pure, fresh and au naturale.
What is often forgotten about the veg-life is that it can expand way beyond the kitchen, and Bare English & Co. is doing just that. "[Using harm-free products on the daily] is not as difficult as you might think, just make small changes," they said. Their balms are made with high quality ingredients and priced affordably, so there is no excuse when it comes to health.
With natural oils like almond and jojoba, this lip balm contains a plant-based wax and is petroleum-free. Key words: petroleum-free, something that both Frank and his partner feel strongly about, and according to David Suzuki who has listed petroleum as one of the top most dangerous cosmetic ingredients, we should all feel this way.
Often times contaminated with carcinogenic PHA's (polycyclic aromatic hydrocarbons), which is produced as a byproduct for fuel burning, Suzuki ranks it as one of the "Dirty Dozens" that are often in skin care products. With exposer to toxins in everyday life, Bare English & Co. has definitely done their share of contribution when it comes to minimizing the use of contagions in cosmetics.
"Like The Rolling Stones who pushed the envelope with music, we're doing the same with organics."
Available for purchase at major Canadian drug stores like London Drugs, Rexall, and soon to be Shoppers Drug Mart, check out Frank and Rachel's site to get more information on Bare English & Co. Tea Infused Lip Balms: http://www.bareenglish.com