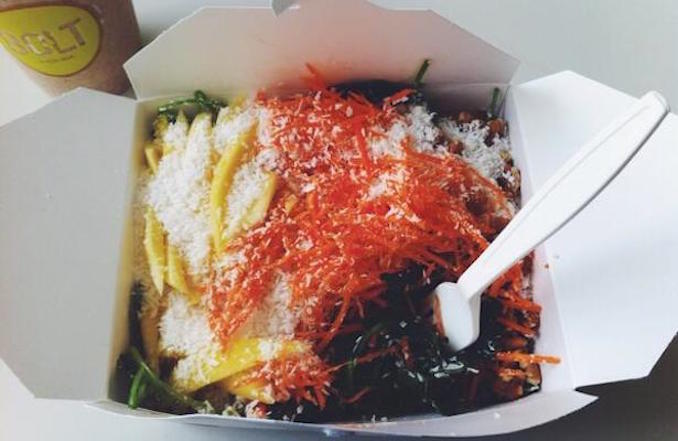 "This is the best smoothie I have ever had," and I inhaled it in a matter of seconds. I don't doubt that the man sitting next to me on the streetcar wasn't impressed with my annoying slurping…but I was too busy watching it slowly disappear into my stomach/ planning my next trip to Bolt Fresh Bar.
REWIND ONE HOUR
Before heading to any restaurant, I always do my research. And when looking up this very new vegan spot, my jaw dropped at the sight of how brilliantly colourful everything looked. Speechless, I hopped onto the TTC and headed towards Queen Street West.
Walking into Bolt was overwhelming, in the absolute best way possible. To the left were tall tables, and in front of me was a salad bar filled with vegetables and fruit. The back wall had three small refrigerators that were built into a big wooden cabinet, filled with locally made kefir water and kombucha (probiotic beverages- that's another story).
Having only been open for three weeks now, I was surprised at the number of customers who, much like myself, were beaten at the idea of having to pick just one thing off of Bolt's awesome menu.
"We love foods that not only taste good, but make you feel good," said Bolt employee, Danielle (who I've also crowned as Toronto's best salad maker). She suggested that I try the Massaged Kale Salad, and how could I resist? Topped with mango, shredded carrot and coconut – it was like munchin' on a little slice of sunshine. Not a fan of kale? Not a problem. Bolt offers a variety of different salads and grain bowls, and with the option of being able to design your own, your taste buds will thank you kindly.
They also serve homemade soups, stews, freshly made juices, smoothies and acai bowls (basically heaven in a bowl, and one of their most popular menu picks). I opted for the Almond Delight Smoothie, a combination of almond butter, banana, cinnamon, maca root, and vanilla. After just one sip I was hooked, and then samples of smoothies landed on the front counter and my white flag rose. The Lemon Tart smoothie was citrusy and creamy, the Greena Colada was cool and sweet, and the Chocolate Thunder was peanut buttery (if that doesn't sell it, I don't know what will)- the perfect balance of flavours.
Whether you're ready to feast, looking for a snack, or just insanely thirsty, Bolt Fresh Bar is one of the newest raw vegan restaurants that will be sure to tickle any fancy. Their food is insanely delicious, their staff is super friendly, it's reasonably priced, and, the best part, it's all 100% guilt-free.
(Just try to be mindful of your slurping volume on the route home, or heck, don't be! Just suggest Bolt to that biscuit-eating-bulldog and they'll understand.)
Check out their site to see all the deliciousness they have to offer.