Around the back alleyway of an old junction warehouse, "BATL" is sketched into a slivered piece of wood. The sign points to a big grey door, which enters into a loft space that pulses with rock and roll music. Four bull's-eye targets are carefully printed onto wooden fixtures that line the space's back wall. A couple hatchets are stuck in what appears to be the remains of a tree stump. Matt Wilson and his friends lay out a set of axes and safety waivers simultaneously as they prepare for company. This is Toronto's Backyard Axe Throwing League.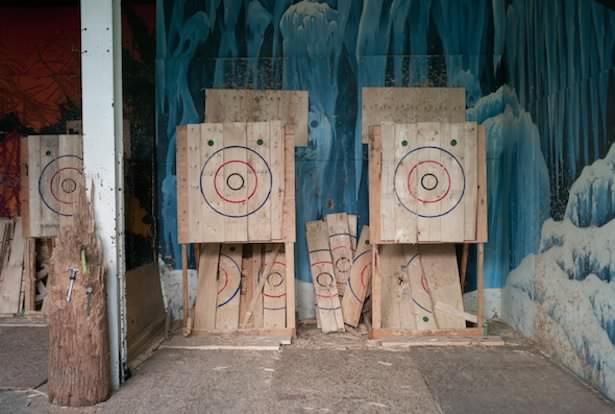 It all began, as the name suggests, in Matt Wilson's backyard in 2006. After chucking a few hatchets in the yard of a friend's cottage, Wilson decided to bring the fun to his own home in Toronto's Little Italy. Axe-throwing nights began with a couple friends and a couple beers, but word spread quickly and Wilson was eventually hosting events with up to 50 people in his small outdoor space.
"I thought I'd be doing this 1 or 2 times a week and then I'd go back to doing my bartending job on the weekend," Wilson says. "I had no idea it would get this big."
However, neighbours were growing annoyed and journalists were growing interest—it was time to move the Backyard Axe Throwing League (BATL) to a proper home.
213 Sterling Road opened its back door to the public in 2011 as the new indoor location of the world's only axe-throwing league. Although the loft was more spacious, BATL caps their league sizes at 30 people per league, so membership filled up quickly with long-time patriots getting first dibs on open slots. "Now, it's pretty much near impossible to join a league here," Wilson says.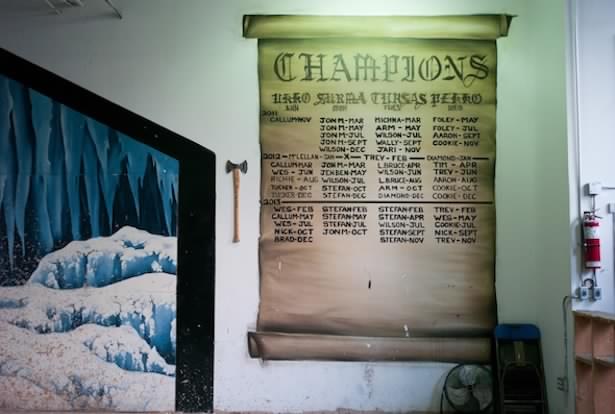 But not to worry, because as of last month, Wilson has opened league registration for the first time in two years to fill up their new industrial-sized BATL Grounds located at 33 Villiers Street. The space has expanded the sport's turf by more than 5,000 square feet and has twelve more playing targets than its Sterling Road forerunner.
The new BATL Grounds will finally quench the thirst of those who have been itching to gain membership for the past two years. However, Wilson is keeping the original Sterling Road location open for private parties, and more importantly, for the loyal regulars who have played weekly since the space opened.
For a private party's adventurous night out, it's easy to play a fun and light game. But for the regular A-leaguers who play every Tuesday night, competition is fierce. "It can get pretty heavy in here," Wilson says with a laugh. "Especially when some guy's wife is kicking his ass or something."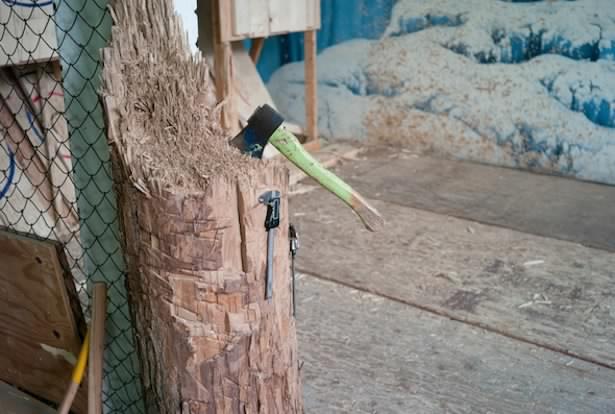 Although most of the regulars are no strangers to tattoos, facial hair and rock and roll, the Backyard Axe Throwing League is anything but exclusive. In fact, one of their boldest competitors was a tiny woman who played the game until she was seven months pregnant! How's that for player diversity?
If you're planning on booking a BATL private party, newbies get a 30-45 minute period of coaching and practicing before they're free to hurl their hatchets at the bull's-eye.
Wilson, Trevor Welsh and Eric Bruce, or "Loose Bruce" as they call him, welcome a private party. The gang is anxious to start as they gaze around the room. But before they get their hands on the choppers, they are each handed a safety waiver that must be signed before they play. In the seven years of BATL's operation, there have only been three minor injuries. "Two out of the three times it was the result of people behaving inappropriately, which they even admitted themselves" Wilson says. "Most people are respectful and understand that they have to be responsible if they're playing."
After the waivers are signed, they go over the basic rules of the game and pick up a hatchet. "Oh, and feel free to put your beer in the fridge if you brought any," Welsh says.
Wait a second—axes and booze? While it may sound like a risky mix, Wilson says the BATL gang remains firm on their "no hard liquor" policy and says they won't hesitate to kick a player out of the game. "We've had some bachelor and bachelorette parties that got pretty rowdy, but for the most part, they've understood our need to cut them off," he says.
The private party stations themselves in the playing lanes. "Now, you bring the axe completely over your head, lean forward, and you just wanna let it slide out of your hands," Welsh explains. "You wanna make it stick."
The first few rounds of practice are always a little rusty. Hatchets bounce off the wooden boards and fly to the sides of the playing lanes. Each of Welsh's demonstrations sticks a perferct bull's-eye, as party guests try to match his skill. The gang throws and throws until one of the women steps up to plate. She throws her hatchet in a perfect line. It spins through the air and finally sticks to the board…bull's-eye! Her friends cheer as she stands with a proud smile. Now, the game begins.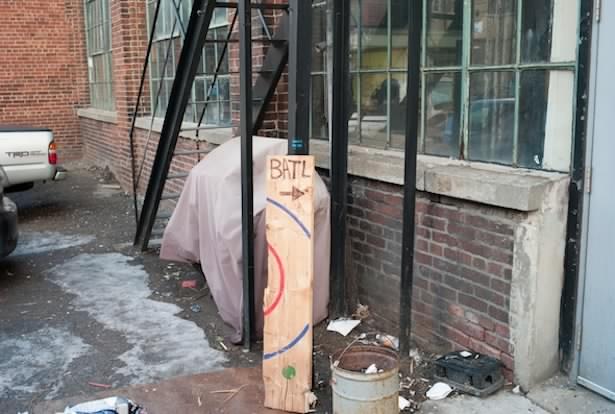 If you're interested in testing your own axe-throwing skills, you can sign up for a private party with 12 or more friends. The three-hour session costs $40 per person and includes coaching, a round-robin tournament, and a playoff final to crown the champion of the group.
Already done it? Then feel free to sign up for league membership at BATL's new location just off of Cherry Street—all skill levels are welcome!
And if throwing hatchets at wooden targets just doesn't tickle your fancy, then gather your bros and your brews and head over to watch one of the league's adrenaline-filled games. (No hard liquor or glass bottles please!)
For more information on venues and league registration, check out batlgrounds.com.