A remarkable initiative by the Toronto Blue Jays, known as the Jays Care Foundation, has been making an impact on the lives of children and youth. With a commitment to providing transformative sport and recreation opportunities, the Jays Care Foundation aims to empower young individuals, helping them develop life skills, realize their potential, and chase their dreams. The foundation's core belief is that every youth, regardless of their ability, race, or socio-economic status, should have access to safe, inclusive, and enjoyable sports and play that enhances their physical and mental well-being and inspires a lifelong commitment to an active lifestyle. We sat down with Rodrigo Cuadra, the Senior Manager of Omni-Channel Strategy & Lotteries of the Jays Care Foundation, to learn a bit more about how the charitable arm of the Toronto Blue Jays is helping our children.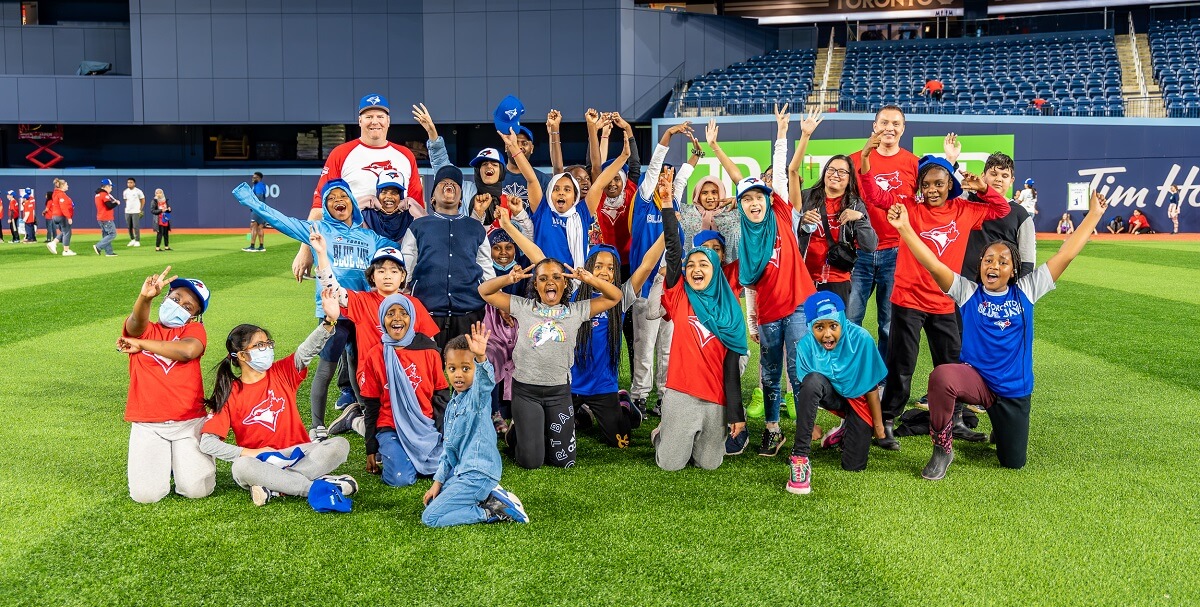 Describe your charity/non-profit/volunteer work in a few sentences.
As the charitable arm of the Toronto Blue Jays, Jays Care Foundation's mission is to create a level playing field across Canada, where all children and youth have access to transformational sport and recreation opportunities that empower them to develop life skills, recognize their potential, and realize their dreams. Our belief is that all youth, regardless of ability, race, or socio-economic status should be able to participate in safe, inclusive, and fun programming that improves their physical and mental well-being and motivates them to stay active for life.
When did you start/join it? 
I've been a part of Jays Care since the beginning of 2023, but it feels as though I've been here for years because of how fulfilling the foundation and role have been for me.
What made you want to get involved?
When my parents immigrated to Canada from Nicaragua, their passion for baseball transcended borders. Settling in Vancouver, they adopted what they believed was "Canada's Team," the Toronto Blue Jays. Not having much and not knowing English, baseball was an avenue for them to create a sense of community and belonging. Consequently, I was born a Blue Jay and baseball became my own avenue to joy and connecting with my parents. Having them pitch to me is one of the earliest and fondest childhood memories I have.
Over the last year, I've learned so much about baseball's social impact and the many programs that we at Jays Care utilize to provide children across Canada the opportunity to grow, learn and develop. I've never felt this kind of inspiration. Utilizing my career and education to continually grow in an environment where I could have a lasting influence on people, especially through an avenue that I love, has always been my priority. The opportunity to be a part of Jays Care ticked every box for me.
What was the situation like when you started?
In 2022, the ramifications of the COVID-19 pandemic on the Canadian sport and play sector became increasingly evident. Pre-existing inequities were amplified as we witnessed a rise in the cost of programming, coupled with a significant reduction in the availability of organized sports and play-based initiatives. We listened firsthand to communities as they shared the profound effects this loss of sports and play had on children and youth, particularly for those most often left on the sidelines. In response to these pressing challenges, Jays Care set an ambitious goal: to bring sport and play-based programming to over 45,000 children and youth across Canada – enough to fill every seat in Rogers Centre. Thanks to the unwavering support of a dedicated group of generous donors, committed program partners, and passionate volunteers, Jays Care achieved the following milestones:
· Successfully trained 2,834 educators, coaches, and front-line staff in inclusive sports and play programming.
· Forged partnerships with 383 schools, 126 Challenger Baseball Leagues, 68 Boys and Girls Clubs, 101 Indigenous community partners, and 23 newcomer-serving organizations.
· Empowered 46,148 children and youth to actively participate in dynamic sports and play programming.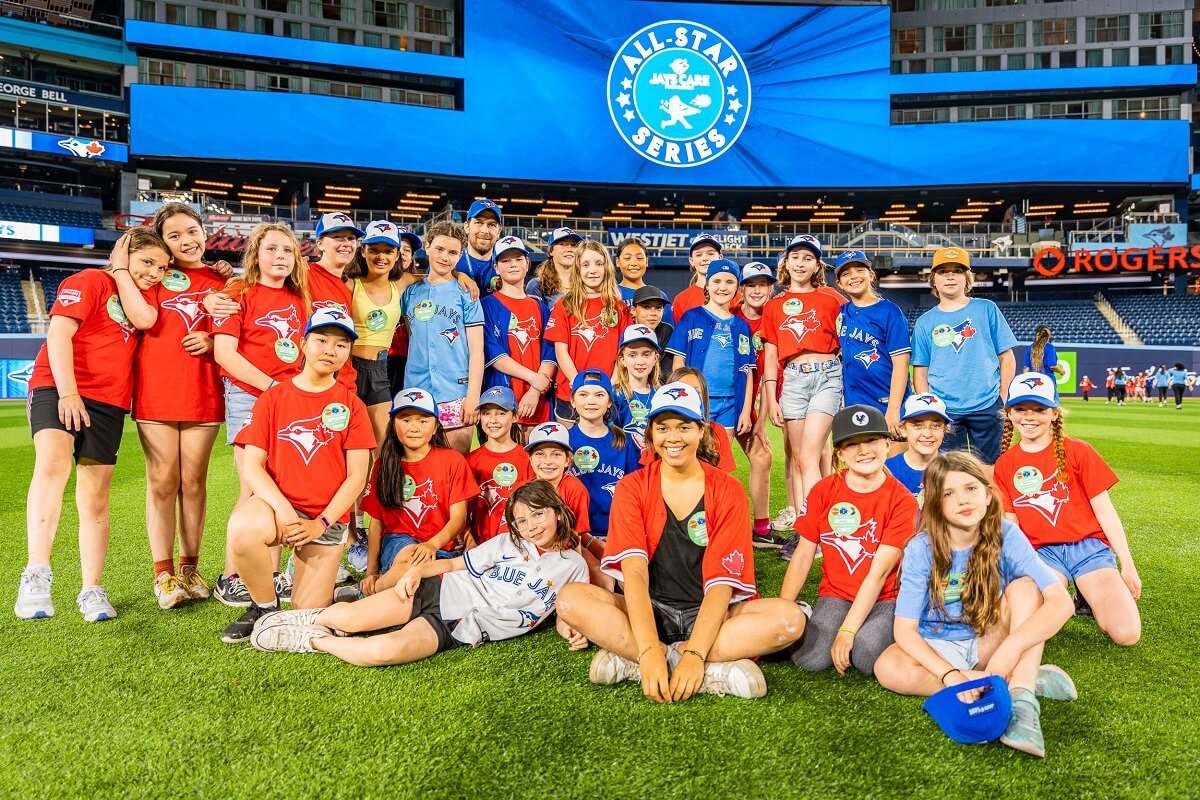 How has it changed since?
Throughout 2023, we've continued to support a return to sport and play across Canada, with an emphasis on getting children and youth most often left on the sidelines into the game. Our programs target four main beneficiary groups including girls, youth living with physical and/or cognitive disabilities, Indigenous youth, and youth living in under-resourced communities. This year, with the support of the Blue Jays Community, we are on target to engage with more than 50,000 children and youth, collaborate with 900 program partners, and provide training to over 3,000 educators, coaches, and frontline staff involved in Jays Care programming. As we look ahead to the coming year, we have set an ambitious goal of empowering 80,000 children and youth nationwide through the transformative power of baseball. To achieve this milestone, Jays Care plans to harness the expertise of our advisory team, expand our programs within schools and municipalities, continue supporting baseball associations, offer wrap-around support, and host spectacular events that promise unforgettable experiences for kids and families alike.
What more needs to be done?
Sports and play are incredibly versatile tools for learning, connection, growth, and trauma recovery. For kids, trauma-informed sport and play are the ultimate healers. Now, more than ever, this tool is needed to help our children recover and thrive. Participation in trauma-informed, inclusive sports and recreation programming is the ticket to post-pandemic recovery of children and youth's mental and physical well-being. And yet, youth sport is not easily accessible or inclusive to a huge proportion of young people in Canada, most often, those living in historically marginalized communities. A 2016 study of 10 and 11-year-old children in Toronto found that children in low socio-economic status neighbourhoods had less access to physical activity resources (such as parks and trails, sports facilities, community centres and summer camps), and even when they were available, used them less frequently. (ParticipACTION, 2022). Additionally, cost keeps one in three Canadian children out of sports and extracurriculars (KidSport Canada), while one in three girls reported poor perceptions of belonging and feeling unwelcome as factors preventing them from continuing in sports (Canadian Women and Sport, 2020). Now is the time to usher in a 'new inning' of sport and play for children and youth where systemic barriers are addressed, enabling more young people to access programming where they feel included.
How can our readers help?
There's always the option to donate. You can make a difference in the lives of children year-round by joining our monthly giving program, Community Champions for Youth.
Perhaps the biggest 'win-win' would be to participate in Jays Care's 50/50 program. Jays Care's 50/50 program is the largest in Major League Baseball, with fans having already taken home over $10 million this season. When you purchase a 50/50 ticket, you'll not only have a chance to win a life-changing prize, but you're also helping to change the lives of kids in your community and across Ontario. 50% of each ticket sold goes directly towards Jays Care programming in communities across Ontario. Those interested can purchase their tickets by clicking here.
Where can we follow you?
To stay up-to-date on the latest news and stories from Jays Care, sign up for our newsletter and follow Jays Care on Instagram and Facebook.
PAY IT FORWARD: What is an awesome local charity that you love?
· Canucks Autism Network – partner with us on Challenger Baseball
· PEI Women's Network – partner with us on Girls At Bat
· Calgary Immigrant Women's Association – partner with us on Girls At Bat