We've seen it on our travels or maybe on one of our favourite food shows, the busy streets in India streaming with hundreds of men on bicycles delivering home-made lunches in tiffin boxes from home cooks to offices. It was a viable way for everyone to make a bit of money and have homecooked meals in a population dense country.
It all started in 1890 Bombay when Mahadeo Havaji Bachche employed a hundred men on bicycles to bring homemade lunches in the stackable aluminum boxes. The delivery men, aka dabbawalas (dabba translates to 'the one who carries a box'), could quickly get the through the traffic and pick up meals from women who were at home and have the meals get to the workers. The dabbawalas would then return later in the afternoon to collect the tiffin boxes, wash and return them to the cooks for the next day service.
The lunch service continues to be quite common in Mumbai where you would think there would be a lot food choices but as we understand, the concept became popular as workers found the food delivered was much tastier and prepared with better hygiene than elsewhere. More than one hundred years later, 200,000 lunches are still delivered this way in India every day.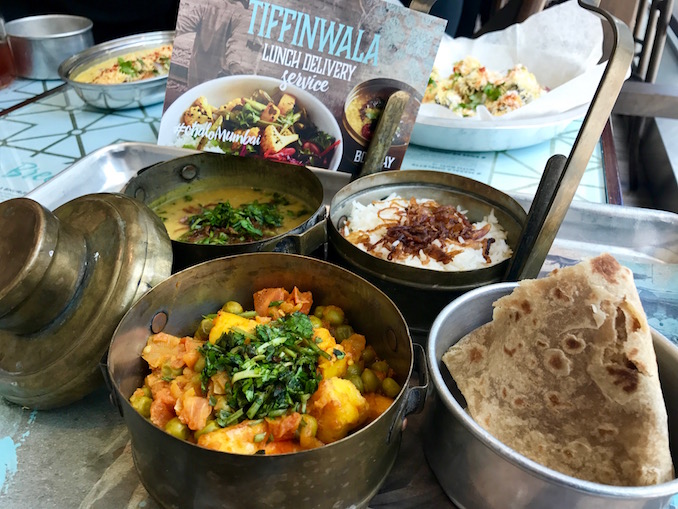 Bombay Street Food owners Amreen and Seema Omar (sisters-in-law) recently announced that they will be offering their version of the service. Tiffinwala's lunchtime delivery will offer up a healthy and tasty alternative to the busy workers in the downtown core. The menu offers a fresh and convenient access to nostalgic vegetarian and non-vegetarian Indian family recipes like rice dishes, daal, and vegetable curries as well as their popular street food items,  that were passed down by the great-grandparents of chefs and restaurant owners.
"I think there's a real need for it," Amreen Omar. "There's a need for interesting healthy food for lunch time. I think people want more variety now in Toronto and this is something different than your usual go-to salad bar or healthy bowl. Bombay Street Food has been opened for almost a year and we've been successful so far with what we have to offer. Our goal is to build relationships with the offices in the downtown core as well as individual with this old, but new concept."
Amreen and Seema first brought the street food snacks of India to Toronto at a variety of pop-up food events, grassroots festivals and farmer's market. They quickly realized that Torontonians were hungry for their authentic recipes and decided to put their efforts into opening up their first restaurant, Bombay Street Food at Bay and College.
The Tiffinwala service will launch in May and will require 24 hours notice on orders. Omar tells us that they will be hand-delivering the fresh and healthy meals with their own designated delivery team. Initially, eco-friendly containers will be used instead of the aluminum but Omar tell us they are definitely looking to offer the metal tiffin boxes for regular customers of the service.
Along side the announcement of Tiffinwala, the owners and chefs of Bombay Street Food also have added a few more items to their already popular menu. Inspired by their most recent trip to Mumbai this past winter, the owners were teeming with mouth-watering stories from their travels.
Here's just a sampling of what's new on their menu this spring …
If we were in chicken wing heaven, these Tandoori spiced ones would hit the top of the list. Not too spicy but just the right balance of flavour and tenderness.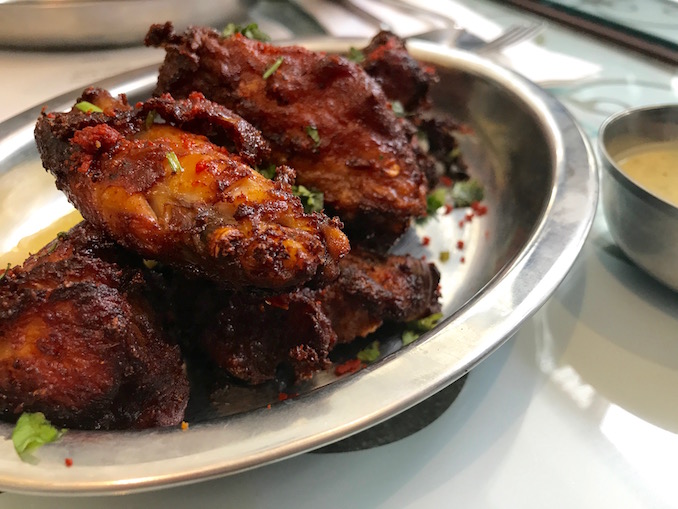 Ragda Pattice is probably something I would overlook, had I not have tried it before. It's golden crunchy exterior gives way to soft and fluffy, smooth potato inside and nestled in a bed of flavourful goodness.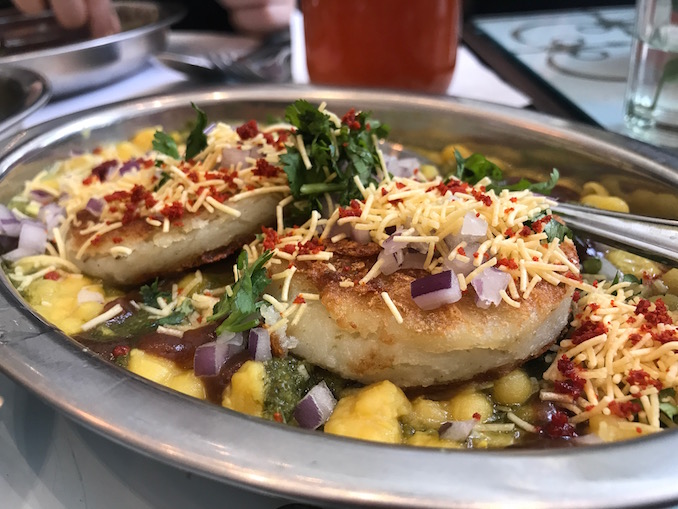 The assortment of vegetarian sides are fulfilling and filling in this veggie platter!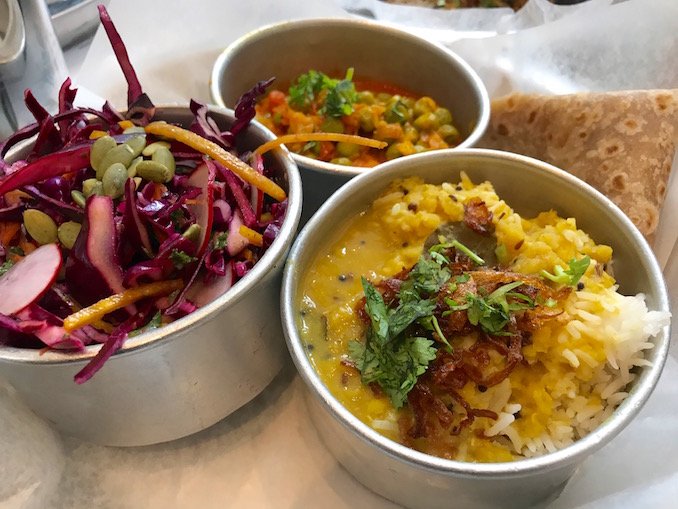 The chef's homestyle beef curry is savoury good accompanied with their famous gunpowder fries (highly addictive and a must have).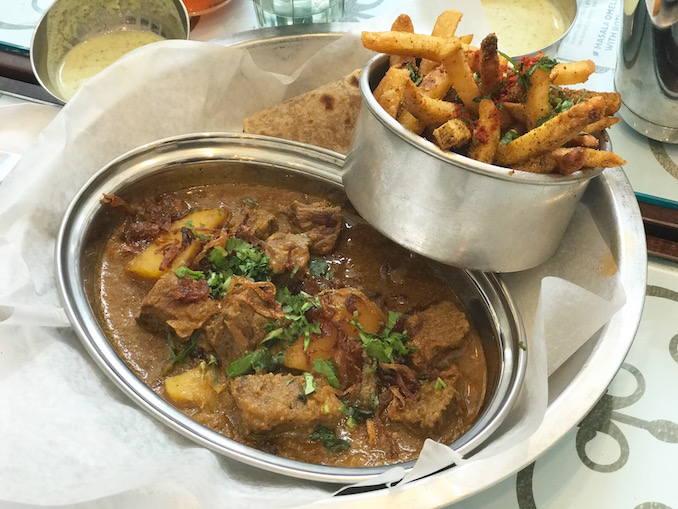 Chaat are bite-sized savoury snacks typically served at food stalls and along road side and are very popular street food in India. The chaat itself is a crispy thin base served with a variety of toppings. Bombay Street Food introduces two new chaat to their menu..
We had a chance to try two new chaat offerings: Cheese Sev Puri is loaded with ingredients and the Ragda Pani Puri includes a refreshing shot of fresh juices and herbs that you pour into the chaat.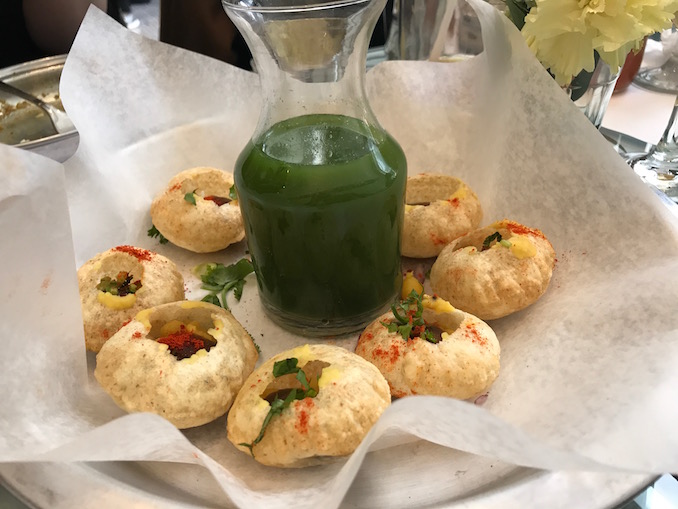 Save room for dessert! At any other Indian restaurant I would automatically be drawn to the Gulab Jamun because I adore the sticky milky balls of goo. But now that I've tried this Khaari Paradise dessert made of fresh fruit, nutella, sweet cream over a delicate pastry, it will be hard to turn back. Also on their new dessert offerings is the Mava Cake, like a buttery pound cake that's not too sweet but goes well with their  house-made fresh brewed chai tea.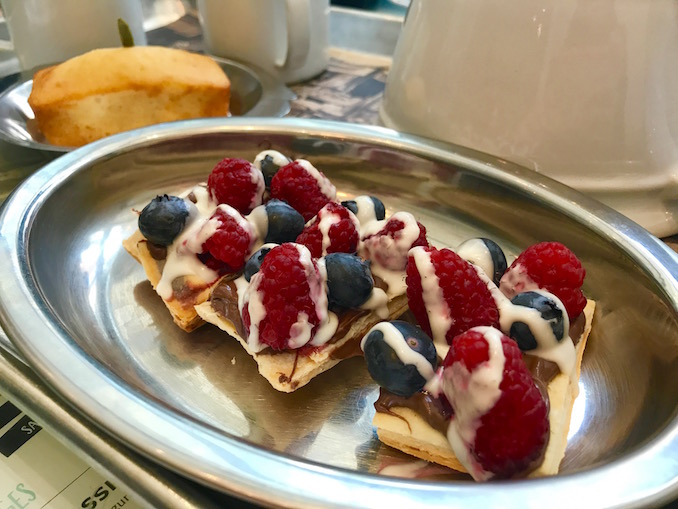 Bombay Street Food is located at 828 Bay Street in Toronto. Open daily. Check out their website for more info.