I always enjoy a trip to the Berkeley Theatre, it is one of my favourite spaces in the city. Pulitzer Prize winner Annie Baker 's John was well placed in the more intimate upstairs space, where audience members can snuggle in and watch what is frankly a whole new level of strangeness unfold.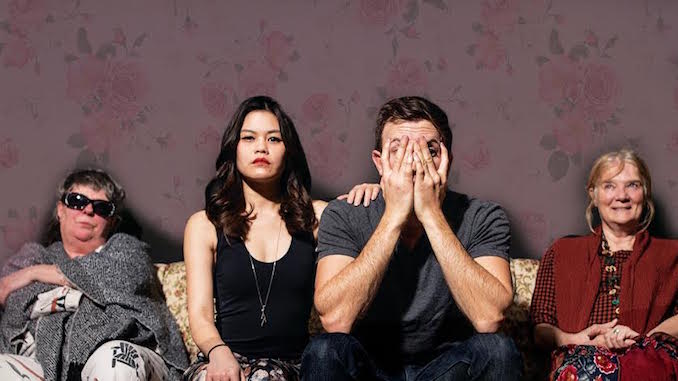 John is the semi-eerie tale of a millennial couple who stay at a cluttered BnB while sight-seeing Gettysburg, USA, home of The Battle of Gettysburg. Waited on by Mertis, a lonely, batty and benevolent older lady, the piece takes on an almost ghostly vibe as we learn of the house's bloody history and constantly ponder what on earth is going on in the out-of-bounds room upstairs.
The real winner here is Shannon Lea Doyle's set design, which was the exact opposite of sparse. Dolls, trinkets, figurines and bric-a-brac filled every available space, truly painting the image of "that weird place we booked online filled with all the junk we'll talk about the whole car journey home". Offerings such as Mertis' Parisian style eating area (characterized solely by a large Eiffel Tower Statue really hammered home the cheap kitsch vibes, making us feel sad and empathetic towards her.
Philip Riccio and Loretta Yu were excellent as the squabbling Elias and Jenny, who portrayed all of our stale relationships rolled into one. Of course, the message here was that modern technology allows for us to conceal feelings and connections in plain sight, which is almost as scary as the blank porcelain faces of Mertis' doll collection.
Nancy Beatty was a true delight as the eccentric and mysterious Mertis, and I was delighted further when we were introduced to her friend, her co-conspirator through the lonely abyss, Genevieve, who has more in common with Jenny than we first thought. The combination of the two older ladies provided many of the laugh out loud moments of the show, as well as being complicit in some very aching silences.
A myriad of ideas and a world of endless, possibilities meant that, like Mertis and Genevieve, the play was in no hurry. John is 3 hours long, which means you really need to be prepared to settle in for the evening, although I must say, it is an evening very well spent. I daresay, I will be mulling over John for some time to come.
John is put on by The Company Theatre and runs at the Berkeley Street Theatre until the 18th of February. Visit their website for further details and tickets.