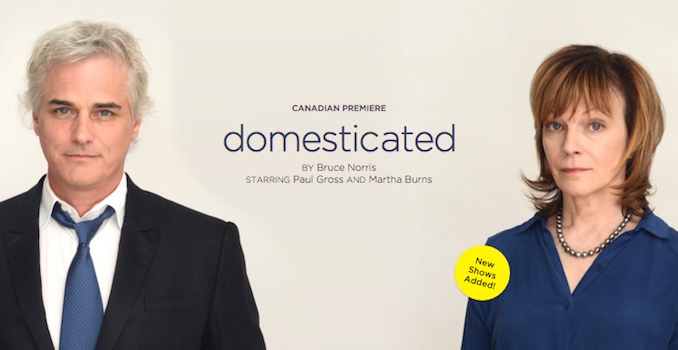 The battle of the sexes is a theme that is continually re-enacted time and again, yet when they are performed it usually maintains a lighter dynamic as to not to touch too close to home. Domesticated did no such thing and definitely did not shy away from touching on heavy topics of infidelity, power roles and gender stereotypes with a wickedly sharp and hilarious edge.
Domesticated begins with Bill Pulver, a popular Politician, (Paul Gross) and his real-life and onscreen wife, Judy (Martha Burns) approaching a stage to state a public apology for his infidelity and scandalous behaviour. In turn, this naturally causes irrevocable damage to Bill's public image and his private life to slowly unravel.
If you haven't guessed it by now, the time old story of the Politician who had an affair with younger women sounds almost cliché, but Domesticated took a different twist on it. The intimate performance allowed the audience to feel every ounce of agony and tension between his wife and the children, as the father simply sits on the sidelines in utter despair and drudgery as his wife and almost every woman he comes in contact wit, continually rips him to shreds.
The plot unravels after it is made clear that Bill was out with a prostitute one night, and during sexual "role-play" she had accidentally fallen, banged her head and fell into a deadly coma. From here the seams of the tapestry are pulled away and years of infidelity begin to unfold before Martha's very naive eyes. During the beginning of the play Bill stays silent for the most part, as Martha and a multitude of different women express these thoughts and feelings about Bill's repulsive actions. Yet, the audience senses how his repressed frustration begins to grow as no matter what he says or what her does, nothing can make the situation better.
Throughout the saga, some comic relief of the heavy topics were continually sprinkled in as their youngest daughter Cassidy, who is strangely adopted from Cambodia, presents examples of how in other animal tribes the female is typically the dominate one and the use of the male counterpart is strictly for reproductive purposes. As she continues with these examples throughout the play, the male's role continues to become more minute and insignificant, mirroring Bills fall from high-powered politician into penny-less, powerless and grovelling old man.
Although some aspects of the performance might make some feel uncomfortable or perhaps, touch a bit too close to home, Domesticated definitely strikes a nerve by shining a light on fascinating and subconscious aspects of the male and female mind. Take the performance in good humour, remember its intention is not only to entertain but also to move you and you'll be sure to have an unforgettable, wild experience
Domesticated is playing November 17 to December 19 at The Company Theatre.
Visit their website for info and tickets.