Most people are familiar with Georgia O'Keeffe's large flower paintings. They are recognizable and have been duplicated in posters as well as onto goods from mugs to accessories and beyond. While you may think, "Oh, I've seen her work before" it's definitely worth taking advantage of this opportunity to see the originals. Having said that, when you visit her exhibition at the Art Gallery of Ontario (AGO), be prepared to see much more than blossoms.
The American painter's major retrospective exhibition spans over 6 decades and features over 80 works of art by one of the most influential modern artists in the 20th century. Surprisingly, this is the first time a Georgia O'Keeffe show of this scale has been in Canada that is exclusively of her work.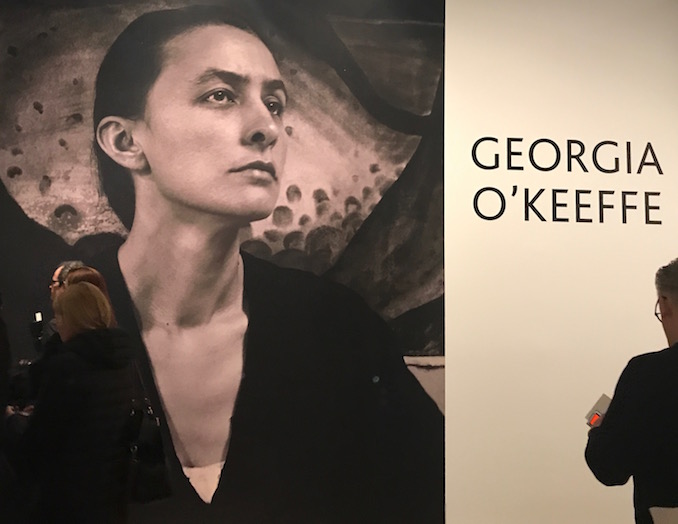 Organized by the Tate Modern, where this exhibition started its tour, in collaboration with the Bank Austria Kunstforum, Vienna and the AGO, the show offers a rich timeline of O'Keeffe's progress throughout her career. Many of the works shown in the tour are from private collectors as well as from many museums including the Metropolitan Museum in New York, MoMA, National Gallery in Washington, and from the Georgia O'Keeffe Museum in Santa Fe.
Amongst those who are familiar with the artist's work, there will forever be smiles at even the mention of O'Keeffe's flower paintings. Some suggest her work  were studies of female genitalia. Truth? Well, according to the curators that's a myth.  O'Keeffe consistently denied this notion and stated "I make them just to express myself and the things I feel and want to say — haven't words for…I wanted to paint these flowers because it takes time to see." But it's quite hard to not think this is the case when you visit and see the paintings for yourself.
As we were given a guided tour of the exhibition by Georgiana Uhlyarik, Associate Curator, there were a few more interesting facts we learned about Georgia O'Keeffe and her work. "It was incredibly overwhelming to open each crate and be really touched by the profound sense of beauty and really be overwhelmed  by the precision and vision that she had from the very beginning. It really sustained her for the rest of her life." said Uhlyarik.
10 Interesting facts about Georgia O'Keeffe
1. Her famous flower paintings make up only 10 percent of her work. The rest include landscapes, nature, skyscrapers and bones. Experimental abstract is where she started and ended her career.
2. It was 100 years ago this April that Georgia O'Keeffe had her first solo exhibition in New York and her career was launched.
3. At the beginning of her career O'Keeffe had a strong and articulate vision. She was highly trained in Chicago, New York and Virginia. She worked as a commercial artist and was on her way to become an art teacher. However, she began (for herself) to explore and undo all the technical learning stating that she didn't want to make copies of what everyone has done before. She wanted to find a way to express shapes, compositions and lines the way she wanted to that no one else had done.
4. She had created a few charcoal drawings and sends them to a friend in New York . Without asking for permission, that friend decides to take the drawings to photographer Alfred Stieglitz. He instantly takes interest in O'Keeffe work…and her. He, without her permission, hangs her work with other artists in an exhibition at Gallery 291. At that time everyone who was in the modern art scene was there and exhibited there including Matisse and Cézanne.
5. As of 1918 O'Keeffe decides to be an artist exclusively and from very early on her work does well and is reviewed well. Winters were spent in New York but the summer months were spent at Lake George. According to the curator, this was a critical time in O'Keeffe's life. This is a period where there was very little studied. It's only recently that there's been interest in learning about her time spent there. In fact, O'Keeffe was known to complain about how green Lake George was. People took that as a cue that this wasn't an important time in her career but in fact it was as she spent a decade going there each summer. She built a studio there and called it "Shandy" and was exposed to a lot of nature. It was here that she first planted petunias and they were the first flowers she painted.
6. The only work O'Keeffe did of Canada is part of this exhibition. In 1932 she painted the Gaspe Peninsula. O'Keeffe had  said, "I would never have left Canada if it wasn't so terribly cold!" … and she said that in June.
7. O'Keeffe's Jimson Weed/White Flower No. 1 is  her most famous. It hung in the White House during President George Bush's term in office. The large-scale single blossom became the most expensive painting sold at auction by a female artist. Sotheby's sold it for $44.4 million (US) in 1994.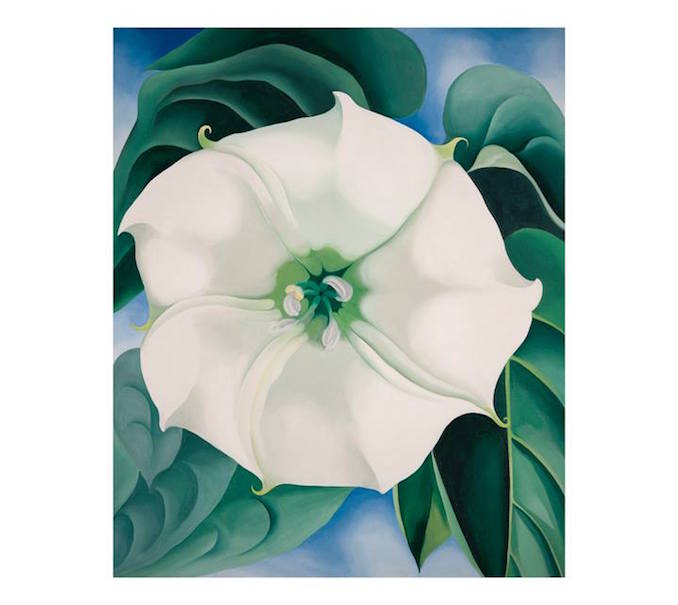 8. O'Keeffe was also very particular in how her paintings were framed. There are inscriptions on the back of the paintings that describe the profile of the frame in detailed. When you see the Eggplant painting the frame description mentioned black lacquer and no visible seams. However, it was mentioned that painting Jimson Weed/White Flower No. 1. Laura Bush had altered the original frame to give it a hint of gold for an event.
9. O'Keeffe and her husband, Stieglitz wrote 25,000 pages of love letters to each other.
10. She never signed her paintings and expected people to recognize them.
***
Georgia O'Keeffe at the Art Gallery of Ontario opens from April 22 to July 30, 2017. There are also a number of events, workshops, family activities and talks scheduled during the exhibition's engagement. For full details visit ago.net