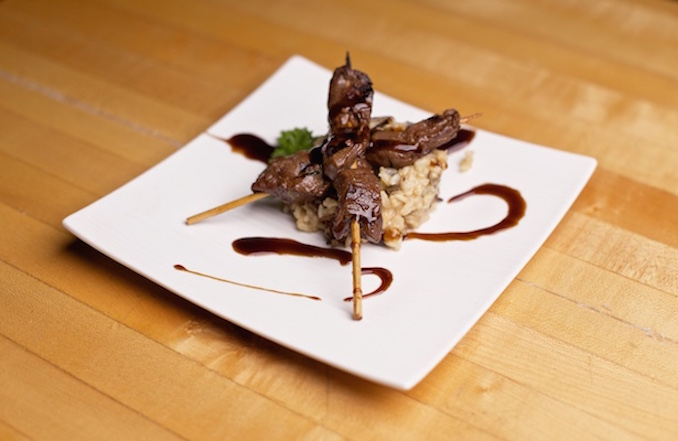 Internationally recognized Aboriginal Chef David Wolfman's tasty recipes will be featured on the #YouAreWelcome Food Truck hitting the streets of Toronto today!
"Before Canada was a poutine nation, traditional Aboriginal foods like corn, beans and Pontiac potatoes were enjoyed by First Nations communities. As the official Host First Nation of the Toronto 2015 Pan Am/Parapan Am Games, the Mississaugas of the New Credit First Nation (MNCFN) are delighted to proclaim You Are Welcome to Torontonians, visitors, dignitaries and athletes by inviting everyone to sample authentic and local flavours with the launch of the #YouAreWelcome food truck on Friday, July 10."
Ingredients:
For Glaze:
1⁄2 tbsp (7.5 ml) – Crushed black peppercorns
2 tsp (10 ml) – Fresh rosemary, chopped
1 tsp (5 ml) – Fresh thyme, chopped
2 – Garlic cloves, minced
1 tsp (5 ml) – Dijon mustard
2 tbsp (30 ml) – Balsamic vinegar
2 tbsp (30 ml) – Packed brown sugar
1 tbsp (15 ml) – Olive oil
3 tbsp (45 ml) – Soya Sauce
3 tbsp (45 ml) – Lime juice
1⁄2 tsp (2.5 ml) – Salt
1 tsp (5 ml) – Birch syrup
340 g (12 oz) – Deer medallions cut into 1-1/2 inch long strips
453 g (16 oz) – Cooked brown rice, cooked in beef broth instead of water
2 tbsp (30 ml) – Toasted pine nuts
Directions:
– Soak eight wooden skewers in warm water for 30 minutes
– In a stainless steel bowl, mix peppercorns, rosemary, thyme, garlic, Dijon, balsamic vinegar, brown sugar, olive oil, soya sauce, lime juice, salt, and birch syrup; mix well.
– Divide mixture into two and place half the mixture in a sauce pan and simmer on very low heat for 15 minutes, reserve to glaze finished kabobs.
– With the remaining mixture add the venison/deer and turn to coat evenly; let marinate at room temperature for 1 hour.
– Drain and discard marinade. Thread deer onto wooden skewers.
– Grill over medium-hot heat or broil 2 minutes per side, turning occasionally, do not over cook.
– Serve 2 skewers over 4 ounces of cooked rice. (per serving)
Makes: 4 Servings
Notes:
– A flavoured balsamic syrup can be substituted for birch syrup
– Beef tenderloin can be substituted for venison
– Birch syrup can be purchased on line at www.wildfoods.ca
Recipe courtesy of Chef David Wolfman
You Are Welcome Food Truck 2015