March Break is quickly approaching and if you're looking for activities to do with your kids, here are some of top picks in and around Toronto!
Maple Days at Black Creek Pioneer Village: March 13 to 17. It's maple syrup season at the Village! This tasty educational and fun outdoor experience returns with discovery of old fashioned skills of creating the sweet treat. Families can learn the skills and tricks of collecting tree sap and learn how it magically turns into the sugary goodness. More information available on their site.
Sugar Shack TO at Sugar Beach: March 11 and 12. FREE general admission.  This annual outdoor event will transform Sugar Beach into a fun filled weekend featuring all things maple. Two sugar shacks will serve up fresh made maple sugar taffy and there will be all sorts of maple infused food available for purchase. Maple Taffy $3 for 1 or 2 for $5. Cash or Debit only. Live entertainment and interactive activities for all ages. Dress for the weather.
Imagine Dragons at Casa Loma: March 11 to 19. Travel back to a world of fantasy and fables at a fairy-tale castle in an era of dragons and adventure, as Liberty Entertainment Group presents the return of its best-selling immersive theatrical experience, Imagine Dragons. Featuring Paramount Pictures upcoming release Dungeons & Dragons: Honor Among Thieves. Multiple interactive live performances in the castle featuring period costumed characters will transport visitors both young and old, back in time to a bygone era of knights and maidens, fairies, and other worldly creatures. Follow the 800-foot underground dragon-infested tunnels to meet the beast… in the veritable Dragon's Den. Themed programming includes A Tale of Two Brothers – fun, interactive and educational play demonstrating medieval sword action in the castle's Conservatory, to next-level Knight School, located in the Library – where guests may participate in basic swordsmanship taught by the knights, including types of swords and the how's and whys of basic sword play, from which students will graduate as Knights of Casa Loma, with an authentic certificate.
Medieval music concerts by five-piece ensemble, The Casa Loma Minstrels under the baton of Maestro Paolo Busato. Performing live in the Great Hall, visitors may meet the Maestro and interact with the ensemble and their musical instruments. An aerialist will demonstrate feats of wonder in the Great Hall, and guests are encouraged to visit the dungeon for Dungeons and Dragons film-themed art and crafts, before daring to visit the Dragon himself in his mythical lair. Tickets and times available on their site.
WinterStation at Woodbine Beach (FREE): The annual public art installations return to the Toronto east end beaches. Set along the waterfront award-winning artists and design firms transform existing lifeguard stations into structures worthy of a visit or two.  This year's theme is RADIANCE. Dress for the weather and the terrain. Then pop up to Queen Street for a a bite to eat or a hot chocolate to warm up.
Lumière at Trillium Park, Ontario Place (FREE): March 10 to May 7. Explore the park and experience 16 illuminated installations developed by Ontario artists before stopping by the bonfire to warm up. Utilizing innovation, light and discovery, Ontario artists and creators will "illuminate" the park under a curatorial theme of "renewal", celebrating the change of seasons from winter to spring. Dress warm and wear comfortable footwear for this outdoor experience. Lumière is open daily from 5 p.m. until 11 p.m. with a bonfire hosted on Fridays and Saturdays from 5 p.m. until 10 p.m. More details on their site.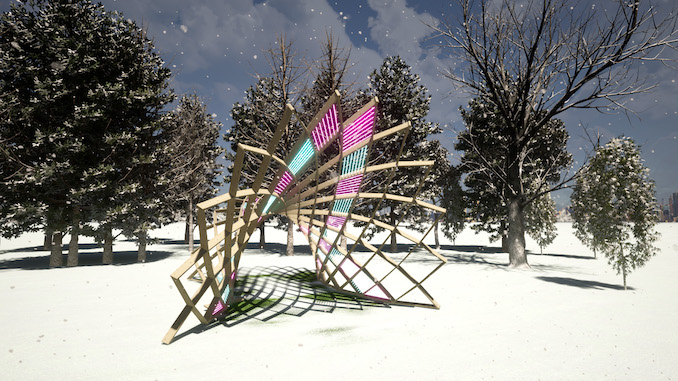 HAMILTON THE MUSICAL: Princess of Wales Theatre continues to August 20, 2023. If you're looking for something to see with your older teen, this comes top of mind. The much buzzed about musical is a history lesson made for modern times. The story is about Alexander Hamilton's life and legacy including his creation of the U.S. financial system. Grammy, Emmy and Tony award-winning playwright, actor and filmmaker, singer, rapper (the list is long) Lin-Manuel Miranda brilliantly weaves in music genres that are appealing multi-generations from hip-hop, soul, R&B, rap to traditional musical tunes. It's an innovative and epic mash up that makes this a stand out. BTW, there will be 40 tickets at each performance available for $10 each. You may want to try your luck at to grab them in the #HAM4HAM Lottery. Details here.
Harry Potter and the Cursed Child: CAA Ed Mirvish Theatre until June 9, 2023. Adventure runs in the family. When Harry Potter's head-strong son Albus befriends the son of his fiercest rival, Draco Malfoy, it sparks an unbelievable new journey for them all—with the power to change the past and future forever. Prepare for a mind-blowing race through time, spectacular spells, and an epic battle in this incredible stage production.  Worth checking out is the Golden Snitch Ticket Lottery where you can nab $19 tickets to the show. Details on how to try your luck can be found here.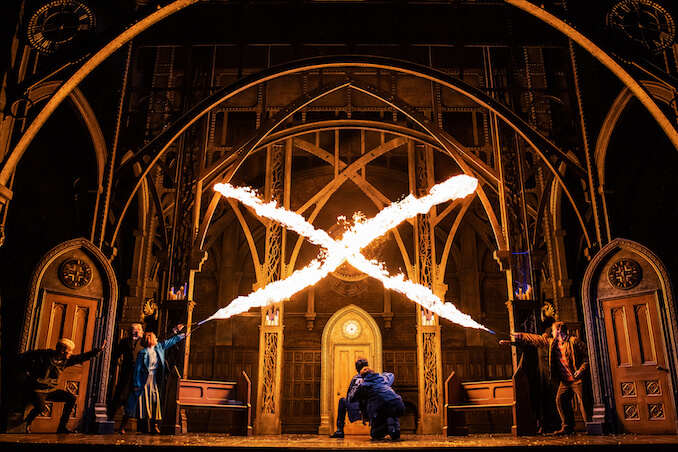 AGO PLAY: March 11 to 19. Art Gallery of Ontario's kid-focused March Break programming includes artmaking, family-friendly tours of AGO Collection, a drop-in film screening in Jackman Hall andmaker stations throughout the Gallery and are all included in general admission as well as for members and annual passholders. Full listing of events can be found here.
T.REX THE ULTIMATE PREDATOR at the ROM: Opens March 11.  Just in time for March Break comes a brand new spectacular exhibition from the American Museum of Natural History. Featuring more than 40 models and casts, many full-sized and towering over guests. Visitors will also be invited to delve into the paleontological process with a special ROM Spotlight section highlighting actual fieldwork from a recent ROM-led tyrannosaur dig. Fans of this celebrity dinosaur will also have the opportunity to experience up-close an imposing real fossil T. rex skull almost five feet long along with other fossil specimens. Tickets are already on sale for this special exhibition.
March break at the ROM will also have family-friendly activities celebrating the beginning of spring. Highlighting the museum's Art & Culture, and Natural History collections, their family-friendly activations feature many ways that wildlife prepare for changing seasons and showcase cultural springtime celebrations around the world.
Disney Animation Immersive Experience: One Yonge Street. Extended to July 9, 2023. Disney fans have a chance to explore the magical world in a unique and memorable way. Step into the world of some of the most beloved Disney animation films of all time in this larger than life experience. Created by Oscar winning producer J. Miles Dale (Shape of Water) leading a global creative team, Disney Animation Immersive Experience is a journey through the history of Disney Animation Studios from Snow White to Peter Pan and from Frozen to Encanto and many more. Tickets and more info can be found here.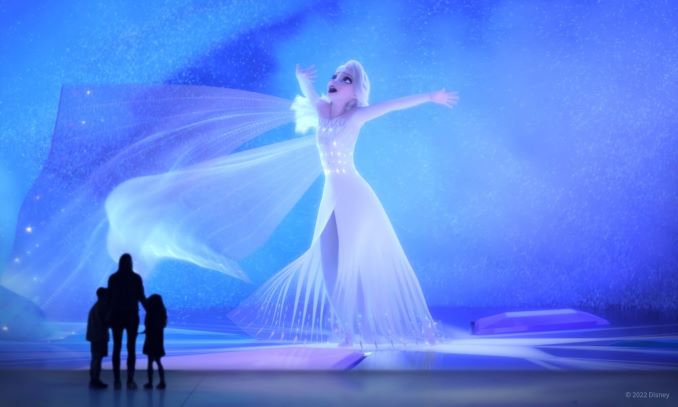 Toronto ComiCon at the Metro Toronto Convention Centre: March 17 to 19. Experience the ultimate playground for fans of Comics, Sci-Fi, Horror, Anime, and Gaming. Three BIG days of citywide events, family-friendly attractions and world-renowned celebrities meet and greets to be had. For families with young kids, check out the Family Zone featuring games and activities for all ages. There will also be a kids cosplay contest. So get creative! Some of the confirmed celebrities in attendance include Laz Alonso (The Boys, Avatar, Fast & Furious), Tomer Capone (The Boys, Fauda, When Heroes Fly), Claudia Doumit (Timeless, Call of Duty: Modern Warfare, the Boys, Where'd You Go, Bernadette). Complete list on site.
The Darkest Dark at Young People's Theatre: on until April 2.
A groundbreaking, magic-filled adaptation of Canadian astronaut Chris Hadfield's bestselling children's book comes alive on stage. It's 1969 and Apollo 11 is about to land on the moon. Nine-year-old space-loving Chris spends his days dreaming of becoming a brave astronaut. But at bedtime, the night closes in and so too does his fear of the dark. For Chris, watching history being made hinges on conquering his fear – and embracing the unknown.
Storm Crow Manor: This is more than a restaurant, it's a fun place to explore for both adults and kids. Set in a historical house on Church Street is a multi-level space is filled with film props and pop culture themed decor. For families with young kids check out their Brunch Cartoons Days. Families with older kids may want to book in for the Mandalorian Dinner that includes showing of the latest season. Details on their site.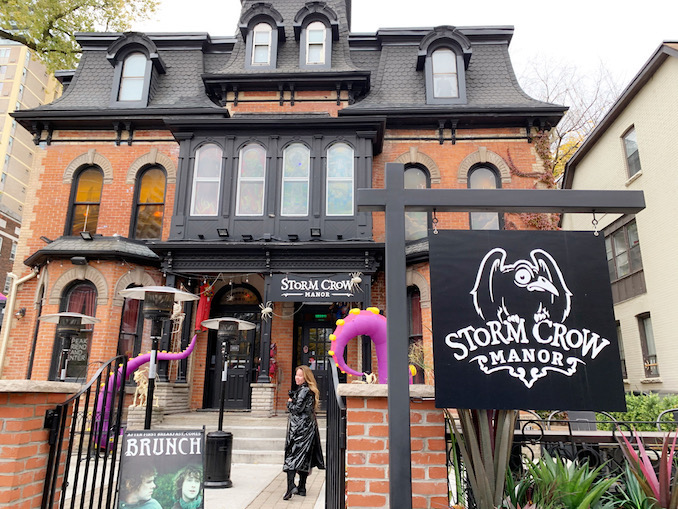 Little Kitchen Academy March Break Camp: Montessori-inspired cooking school for kids ages 3 to 13 offers March Break programming in line with the mini-chef school's philosophy of education, able, and healthy society through healthy eating choices. They provide children with the tools and experiences in their cooking journey. Create meals together while incorporating  math and science concepts, reading skills, social etiquette and tables manners. Also learn about sustainable decision making including discovering what's local, in-season, and organic. Several locations including The Beaches, Leaside, Mississauga, Oakville and the new space in Vaughan (opening March 6).
Pizzeria Libretto Pizza Making Classes: from March 13 – 16 from 4 p.m – 5 p.m., children aged 2-10 will learn how to make Neapolitan pizza from a skilled pizzaiolo, including the proper techniques to stretching and dressing an authentic Neapolitan pizza. For the finale of this rewarding tutorial, children will also be served a scoop of authentic Italian gelato. Book online.
FUWA FUWA Pancakes is worthy visit for their Japanese soufflé fluffy style goodness. Customers can watch Fuwa Fuwa chefs create iconic, Instagramable dishes like Japanese-style souffle pancakes as well as Basque burnt cheesecakes, Korean-style fatcarons and their latest must-try indulgence, croffles (a favourite a the CNE last year), in beautiful, light-filled open kitchens delivering a truly unique experience. Book online.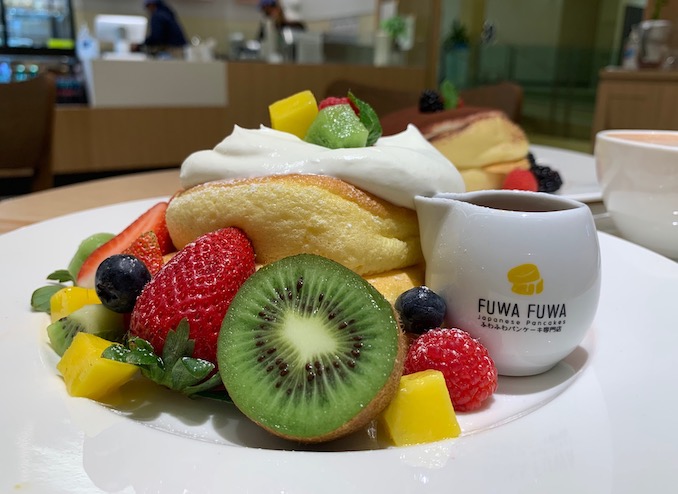 Eataly Toronto Kids Pasta Class: For parents with children 5 – 14, Eataly Toronto's La Scuola is offering pasta-making classes for all the inquisitive minds looking to introduce fresh pasta to the rotation. There's also a Kid's Cannoli Class for parents with children aged 2 – 6. Both classes are in-person but FYI there are Marguerita Pizza and Cannoli making kits available to recreate in the comforts of your own home, or grandmas. Book online.
Winter Wonderland March Break at Friday Harbour: If you're looking for a day trip or a few days getaway, Friday Harbour is an ideal spot that's not too far out of the city. Approximately an hour's drive takes you to the great outdoors with loads of fun things to do with the family. Check out the Harbour Skating Trail or Piazza Skating Rink. Hang out in the chalet-style cabins offering savoury eats and sweet treats. Get your cameras ready for photo opps along the Promenade. Make your own bird feeder. Huddle up to the campfire pits for s'mores. Check out the Ice Princess, Olaf, Fire & Hoola Hoop performances for free, and much more!