There are several giant rabbits that have been spotted inside and outside of Brookfield Place this week. We were expecting their arrival – the works of Australian artist Amanda Parer, as she recently announced the launch of the North American tour of her highly acclaimed public art installation, Intrude. Toronto is the first stop on this bunny hop which is here until March 23rd before moving onto San Francisco, New York, Houston, Los Angeles and Denver. The lit up rabbits have also made appearances previously in London, Perth, Paris and Boston.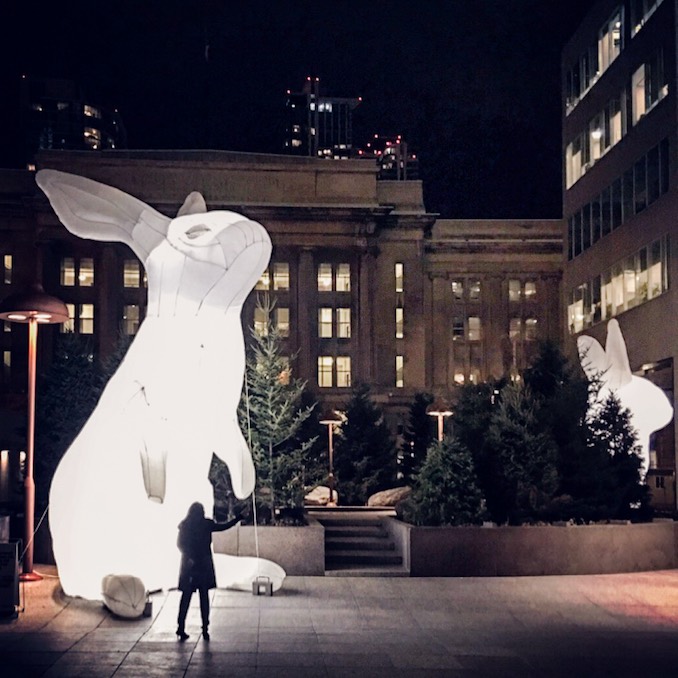 I drove my friends bananas this week as I had insisted on visiting late one night when I felt the illumination of the rabbits would be best suited against the beauty of the space. At first glance, the bunnies shown in a cluster, evoke a sense of joy and are cuteness overload as well. The curious name of the installation, Intrude, draws attention. Parer explains that rabbits are an animal of contradiction. While they often connote a furry innocence, rabbits are considered an invasive pest in the artist's native Australia, where they have caused a great imbalance to the country's natural ecosystems. Through Intrude, she hopes to move people to thoughtfully consider how humans can change and dominate the environment.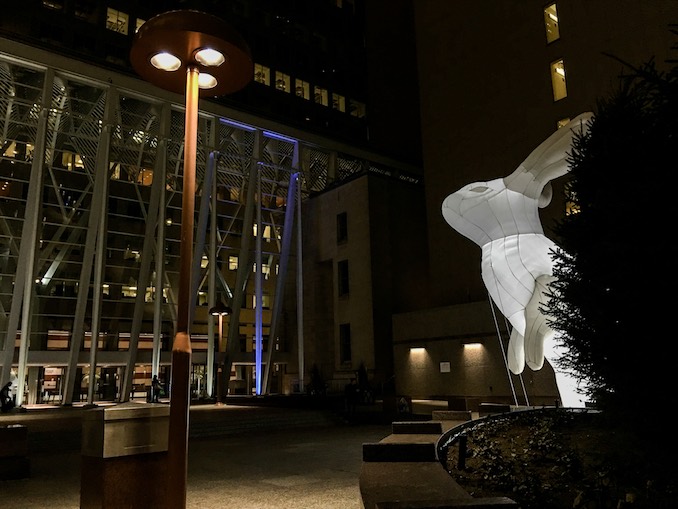 "I expect people will be drawn to the rabbits' playful appearance, and I hope they will also take the time to understand the deeper meaning in the work and discuss how our actions impact the natural world in which we all live," said Parer.
We recently interviewed Amanda Parer about her installation…
Why did you choose to raise awareness about the rabbits?
My artwork has always been about our relationship to the natural world. Before entering installation art, I focused my practise on making paintings and sculptures. Even then I conveyed giant rabbits in a given landscape. In my native country Australia rabbits have a dual symbolism which interest me. At once they are cute, cuddly and remind us of the innocence of childhood, as well as being an animal that caused much destruction to our delicate native habitats. I also use other feral species animals in my work as a metaphor for our mismanagement of the natural world. Rabbits can also be funny which helps in delivering what could be considered a seriousness message.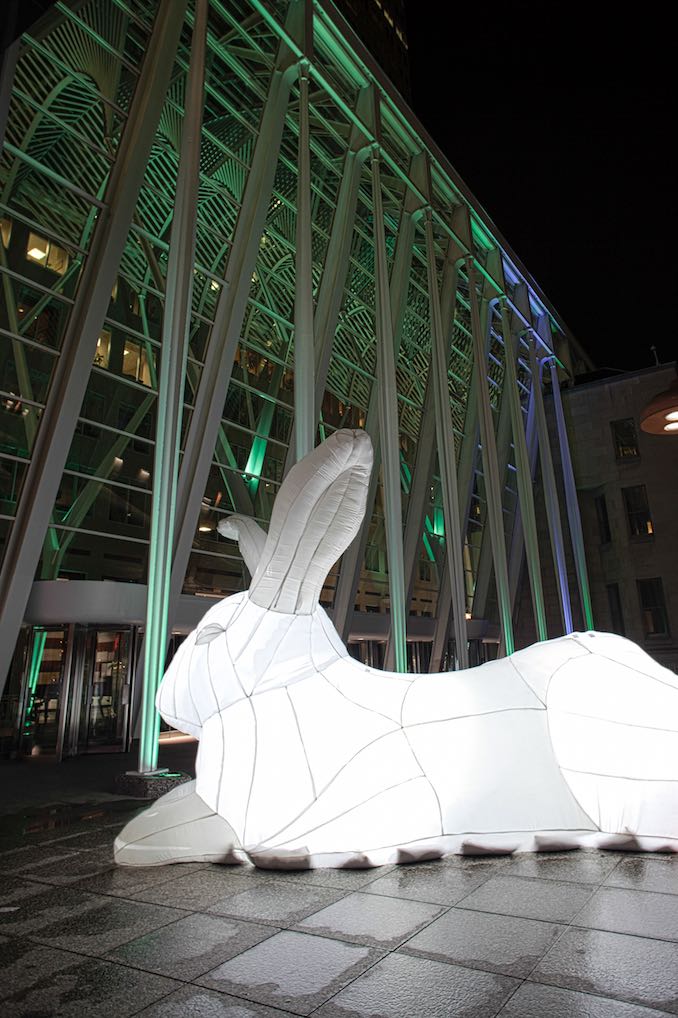 You must see the joy it brings to people, any surprising reactions?
Words cannot express how it makes me feel to see how people react and interact with the bunnies of Intrude. It is overwhelming to say the least. As an artist you can spend years or even decades producing work, and it is important to keep your integrity and not make work that you think will please people. I have made artwork before that alot of people have 'liked' but this is way more that I could have imagined. Since Intrudes first showing at Sydney's Vivid Light Festival in 2014 the artwork has been displayed in 19 cities around the globe and as it stand I get a request to show them somewhere else in world on a daily basis. Crazy but wonderful stuff, I am extremely humbled and grateful for this experience.
I also would have expected that the environmental themes of the work might have been taken as Australia-centric, but where ever I show them these ideas have been picked up. I feel demonstrating that these are indeed global concerns.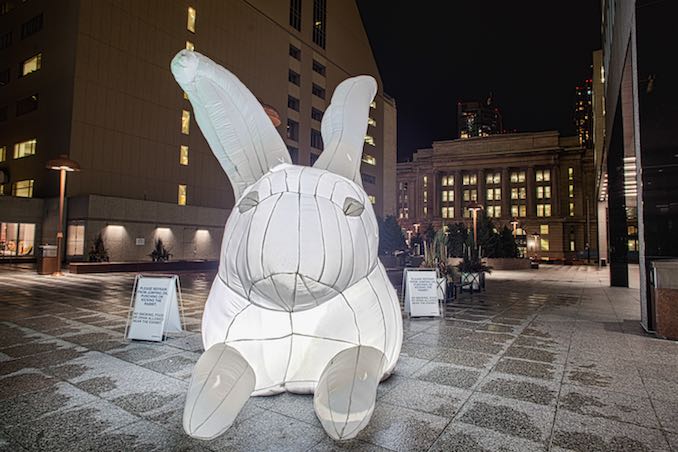 What's the process in moving these bunnies around on the tour? 
One of the benefits of this particular installation is that you get bang for your buck. The orginal set of 21ft high rabbits pack down to fit onto just two pallets. The rabbits themselves get rolled up like giant sleeping bags, moved on to the next site to be blown up (awoken) once more.
Also, in the original set of Intrude there are five 21ft high rabbits of which I have 6ft high versions for sale, if people wanted to have a little bit of Intrude home with them (available on my website http://amandaparer.com.au/intrude-small/).
After Toronto, Intrude will embark on a 4 city US tour, sponsored by Arts Brookfield where they have also commissioned two new GIANT rabbits one sitting at 30ft and the other lying down at 50ft. All will be revealed in New York! See here for dates: http://amandaparer.com.au/category/exhibitions/new-work/